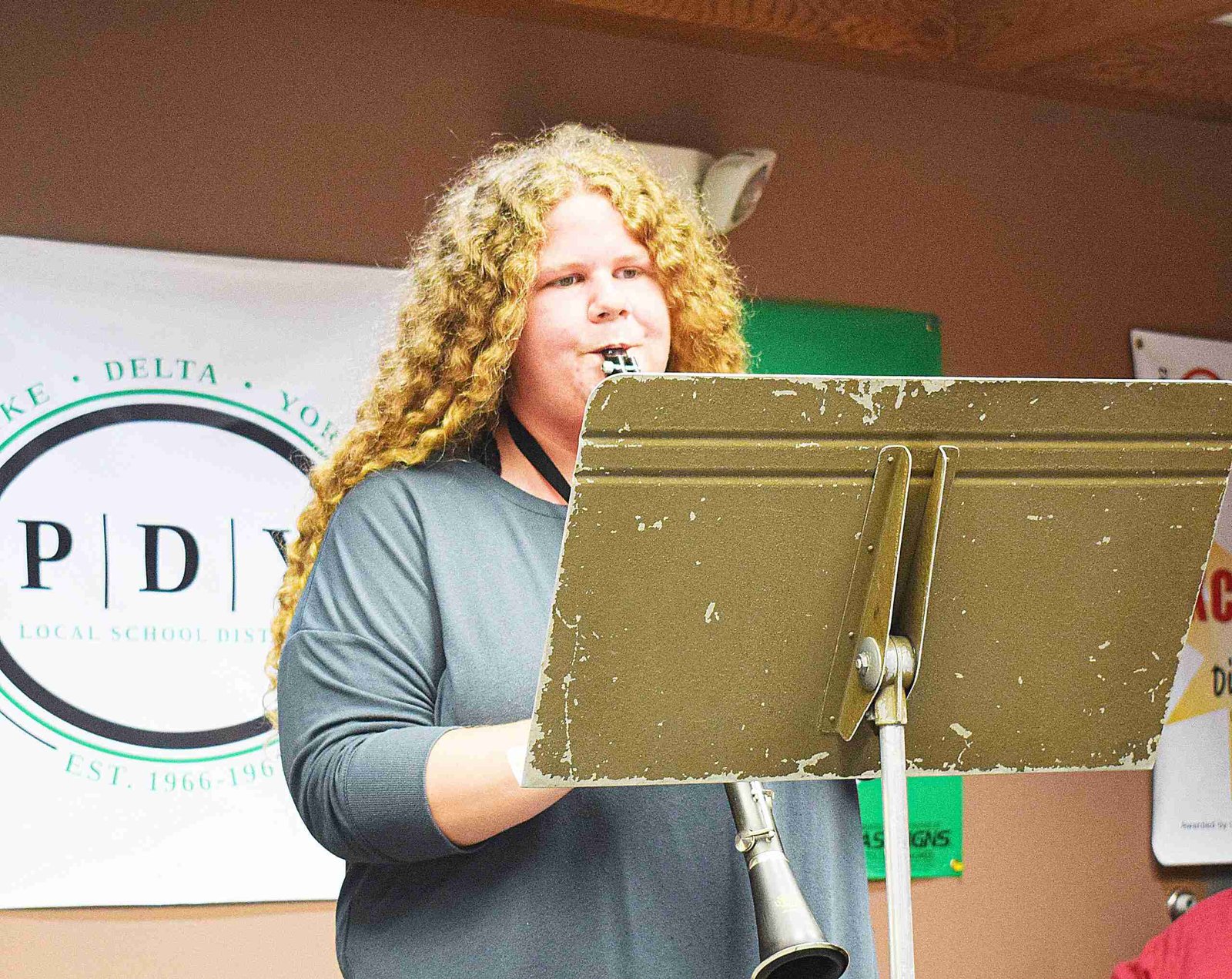 PERFORMANCE … Student of the month, and Pike-Delta-York Senior, Jessica Galliers, performed a clarinet solo for the Board of Education and guests, of Paul Jeanjean's "Arabesque." (PHOTO BY LINDSAY PHILLIPS, STAFF)
---
By: Lindsay Phillips
Pike-Delta-York Board of Education began their meeting at 6:30 p.m. on Wednesday, May 18, with a call to order, and the Pledge of Allegiance.
Minutes from the previous regular meeting on April 20, 2022, were approved, along with minute from the April 27, and May 4 special meetings.
Delta Elementary Principal, Ellen Bernal, presented the students of the month for the elementary, Luke Boger and Iverson Pelland.
Middle School Principal, Pete Nafziger, presented the middle school student of the month, eighth grader Corey Case.
High School Principal, Douglas Ford, presented high school student of the month, twelve grade student, Jessica Galliers.
Following the recognition of Students of the Month, Senior, Jessica Galliers performed a Clarinet solo of Arabesques by Paul Jeanjean.
Treasurer, Matt Feasel presented the Board with financial reports from the month of April and a Five-Year Forecast, which were approved.
Superintended, Ted Haselman, presented personnel recommendations of thirty-three staff members including certified contract renewals, classified contracts, and resignations, that the board went on to approve.
K-12 students are invited to participate in summer tutoring to combat the impact COVID 19 has had on learning. The program will begin May 31 and conclude June 31. Hours will be Monday through Thursday from 8:00 a.m. to 12:00 p.m.
A five-year contract for Ted Haselman was approved, effective August 1, 2023. Ellen Bernal shared all state testing was completed at the end of April, and results will be available in June.
Tuesday, May 3, was a busy day for PDY third grade students, who had their consumer fair in the morning. Third graders profited eighteen hundred dollars, that will be split several ways through a pizza party at the park, donations to the six-grade camp and the Backpack Buddies program.
Pete Nafziger, shared, in the final weeks of April the Middle School wrapped up their state testing, with a ninety-eight percent attendance rate.
Some field trips middle school students were able to enjoy include: The sixth-grade class going to see the Toledo Mud Hens, May 5, seventh grade class went to Urban Air in Holland, May 6, and fifth grade students went to the Imagination Station, May 11.
Panther Pantry, operated by the Cross-Categorical Room with Mrs. Schaffner is underway and serving eleven families every Friday afternoon.
Douglas Ford, shared, all safety drills were completed this year, along with teacher evaluations in the Ohio Evaluation System.
Mr. Ford, stated, "We have two long time employees retiring, Carole McConkey who has served the school for forty-six years, and Nancy Butcher from the cafeteria, who has served for many many years."
During Items from Individual Board Members, Vice President, Tammy Sprow, shared, "I just want to acknowledge Mr. Hange, I'm also sorry to see him go, he's done a lot of good things, and I can't imagine how challenging being an Athletic Director during COVID must've been."
Sprow addressed Board Member, Tim Bower, and stated, "I've been approached by multiple people in the last couple of days about the news of your court date."
Sprow went on to state, "I want to go on public record and say, I don't think it's right for someone who has been convicted of theft, or plead guilty of theft, to be on our school board." Mr. Bower did not comment following Sprow's statement.
With no further business, the meeting was adjourned at 8:04 p.m.
Lindsay can be reached at publisher@thevillagereporter.com
---