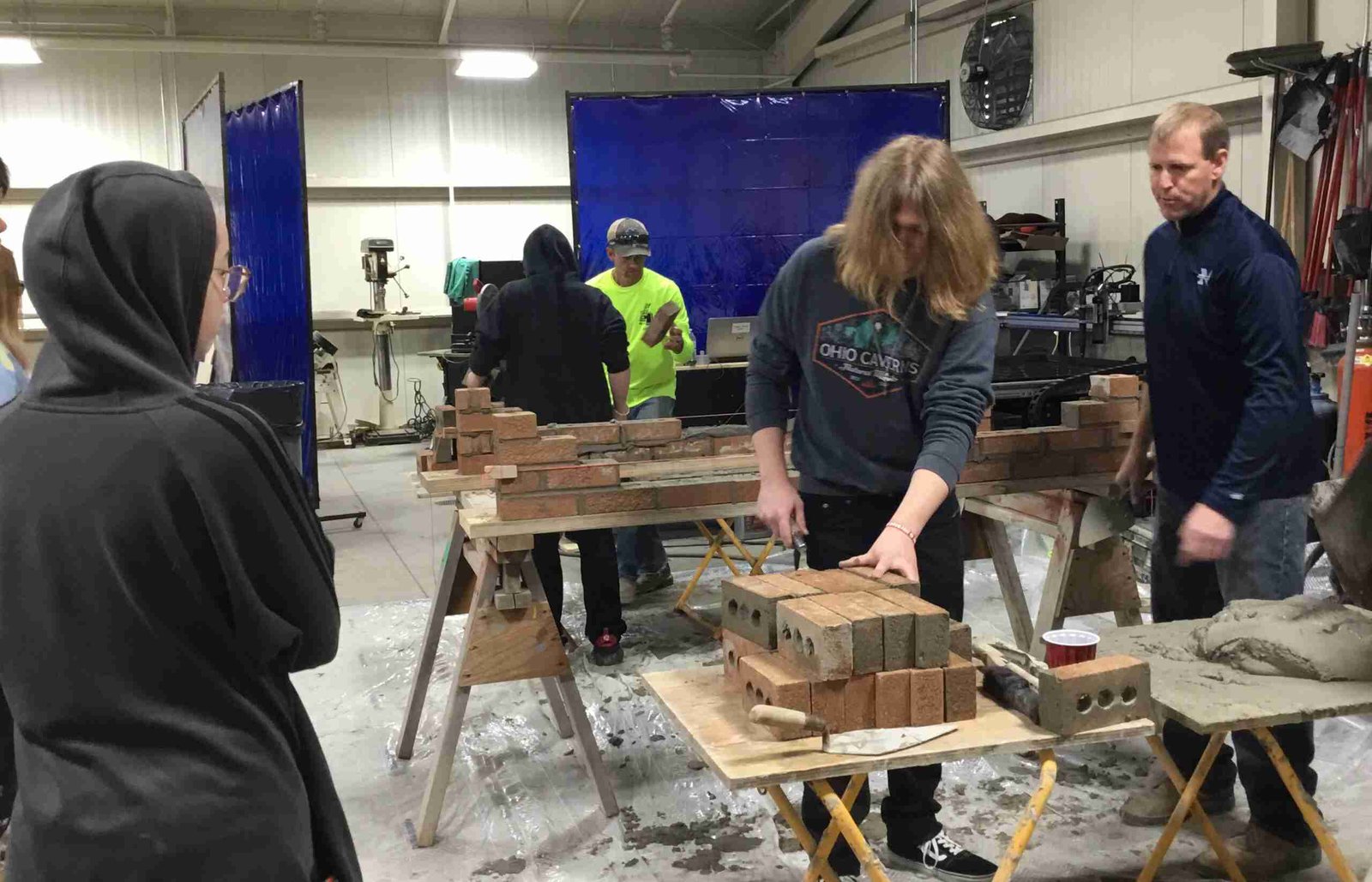 BRICK LAYING … At the station for Hagerman Construction, students were given the opportunity to work with the "mud and bricks" to actually learn how bricks are laid. Jayden Husted is seen here under the instruction of Brad Miller. Behind them is Matthew Jackson learning from Brian Cooley. (PHOTOS BY REBECCA MILLER, STAFF)
---
By: Rebecca Miller
E3 is a program designed to help High School students determine what they want to do after they graduate and prepare them for that plan. On April 28, 2022, Montpelier High School students were given a special day to focus on their choice.
Students who have chosen the path to prepare for college were busy visiting four different colleges in the area. Those who have determined that they want to go into the military out of High School spent the day in Toledo with ROTC.
Employment straight out of High School is a choice for many of the students, and those were hosted for a special day right at the school.
Those participating in the Employed Day were split into seven small groups and rotated through the employment opportunities that were set up for them.
As they went to each station, the students were given information and opportunities to try their hand at some of the possible things they would be doing if they chose to go into that profession.
Available stations included two that were set up outside, Northwestern Electric and Village of Montpelier Electric. Inside, the students were able to learn from National Seating and Mobility, Distinctive Roof, Hagerman Construction, Montpelier Fire Department, and their shop teacher Bernie Davis.
Northwestern Electric gave a thorough lesson on the dangers of High Voltage and the importance of safety as the students listened intently.
They were then given an opportunity to put on some heavy-duty gloves and try to untwist the heavy wires which linemen work with every day.
Rebecca can be reached at rebecca@thevillagereporter.com
---
HARDER THAN IT LOOKS…The heavy wires with which linemen work are big and twisted, requiring strong muscles and heavy gloves.
NATIONAL SEATING AND MOBILITY … Hunter Beck tried out a special chair, which this company sells and maintains.
CORRECT WAY TO POUND A NAIL … Montpelier Shop teacher Bernie Davis demonstrated for students the correct way to hold a hammer and get a nail into the wood more easily.
---