---
FLOWERS … Total Accounting Xperts and Lovin' The Dye Life provided a colorful and peaceful float to spread joy, love and tranquility by handing out smiles and flower pens. (PHOTOS BY LINDSAY PHILLIPS, STAFF)
---
By: Lindsay Phillips
Edgerton Chamber of Commerce held their annual Homecoming festival July 21 through July 24. Thursday, July 21 was the town wide yard sales starting at 8:00 a.m.
These sales continued throughout the weekend into Saturday evening. A map with addresses was found on the Facebook page, with signs posted around town.
To kick off the festival festivities, Miller Park had multiple activities going on. The evening began with Hicksville's Bank Fun Run and 5K, registration opened at 5:30 and the race took off at 6:30 p.m. sharp. A fee of $15 dollars was required, and the first seventy people to sign up received a t-shirt.
The Car Show took place on Friday for a $10 registration fee. Many classic and new sports vehicles were located at Miller Park, along with historical vehicles as well.
Also at Miller Park were Joyful Birds with burgers and hot dogs, Eck Ent. With lemonade, tea and donuts, and LuJo Ent.
With corn dogs, curly fries and fried snacks. At 7:30 p.m. the Community Choir performed in the park and a Poker Tournament was held.
Edgerton Chamber of Commerce members routinely updated their Facebook page with the current events throughout the festival.
Saturday, July 23, started off with thunderstorms, which postponed the parade until 1:00 p.m. and Miller Park events until 4:00 p.m. The Men's Methodist Chicken Dinners were available under the tent after the parade.
The Saturday Miller Park activities included inflatables, a petting zoo, a dunk tank, and face painting. Axcapades from Edgerton had a portable ax throwing trailer set up.
Edgerton Highschool Cheerleaders held a fundraiser with hair braiding. Food trucks open were River A Smoking Q, Rolling Wood Fired Pizza, Eck Ent. And Lujo Ent. To end fun day, a Canyou Drive Concert was enjoyed until dusk when a firework display lit up the sky above Edgerton.
Sunday, July 24, marked the last day of the Homecoming festivities with Kayak and Canoe Races. The entry fee for the race was $30 and included the use of a Kayak from St. Joe Canoe & Kayaks for a chance of winning a new Pelican Kayak.
Lindsay can be reached at publisher@thevillagereporter.com
---
SINGING … Edgerton High School Choir performed for the those in attendance downtown for the parade, as they paused to honor the veterans and those in the service.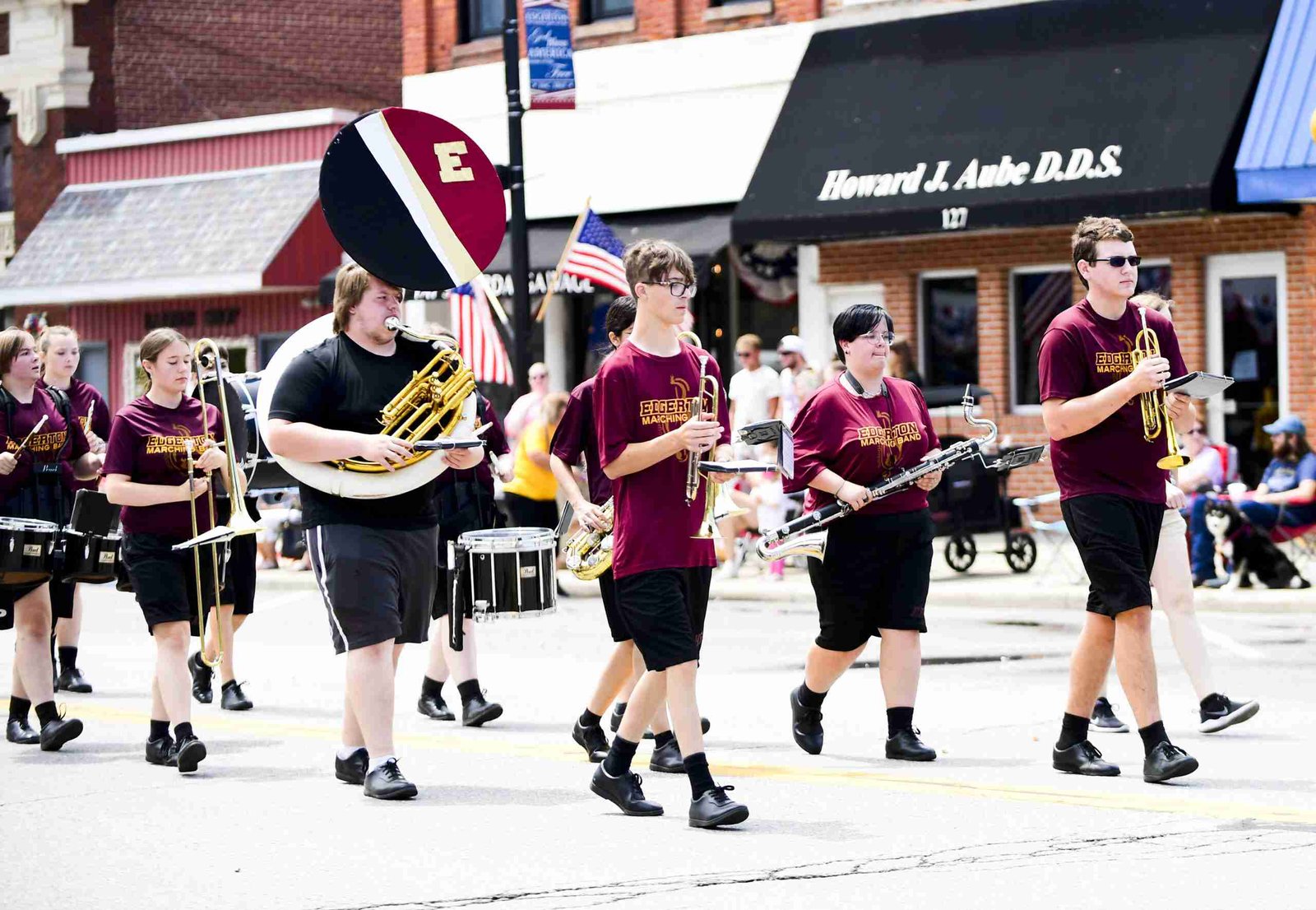 BAND … Edgerton High School Marching band pictured pausing the parade to perform downtown Edgerton.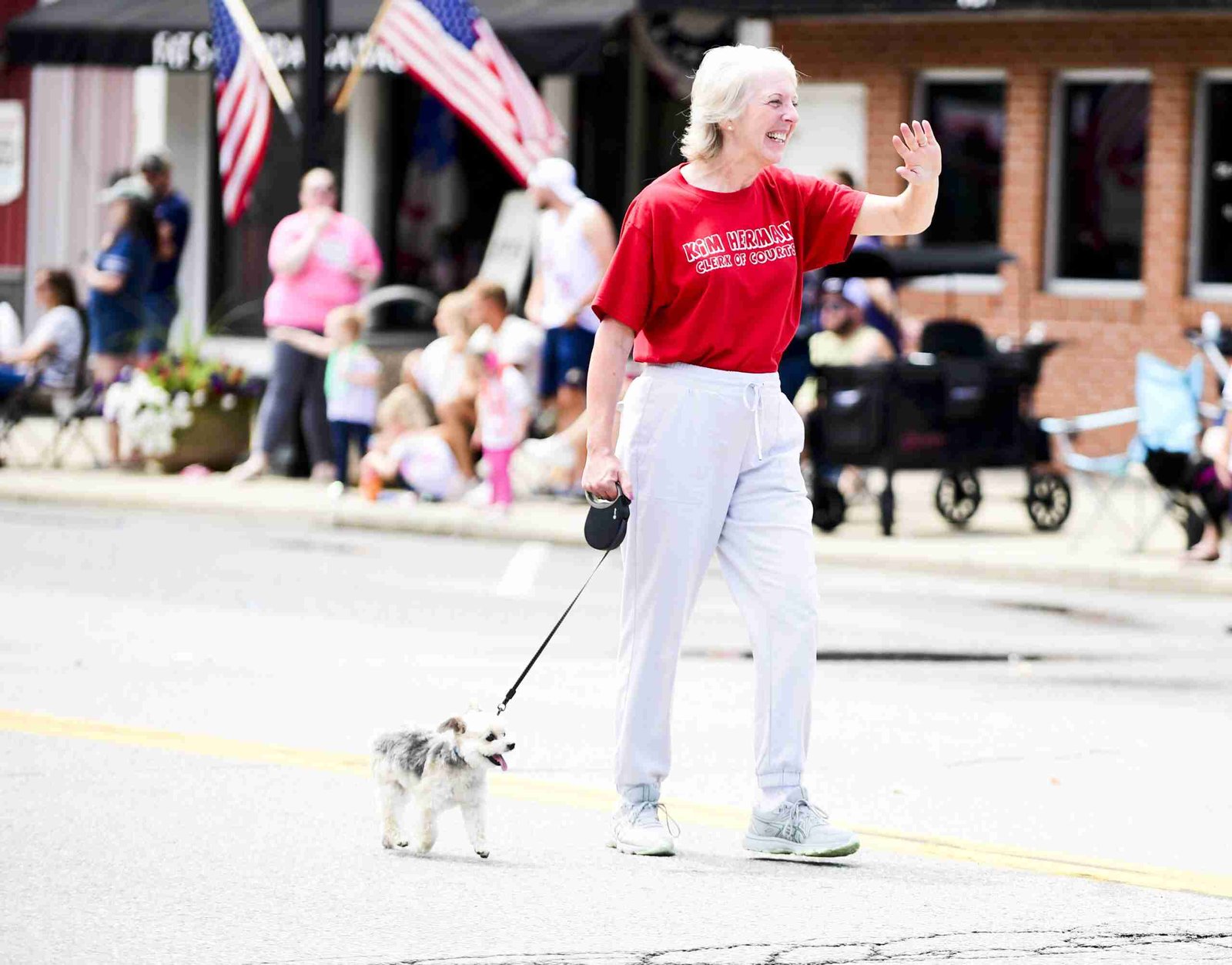 COURTS … Clerk of Courts, Kim Herman pictured in her red shirt walking her dog and waving through the parade.
CHEER … Edgerton High School Cheerleaders walk through the parade and stop to perform a short and sweet cheer routine downtown Edgerton.
---