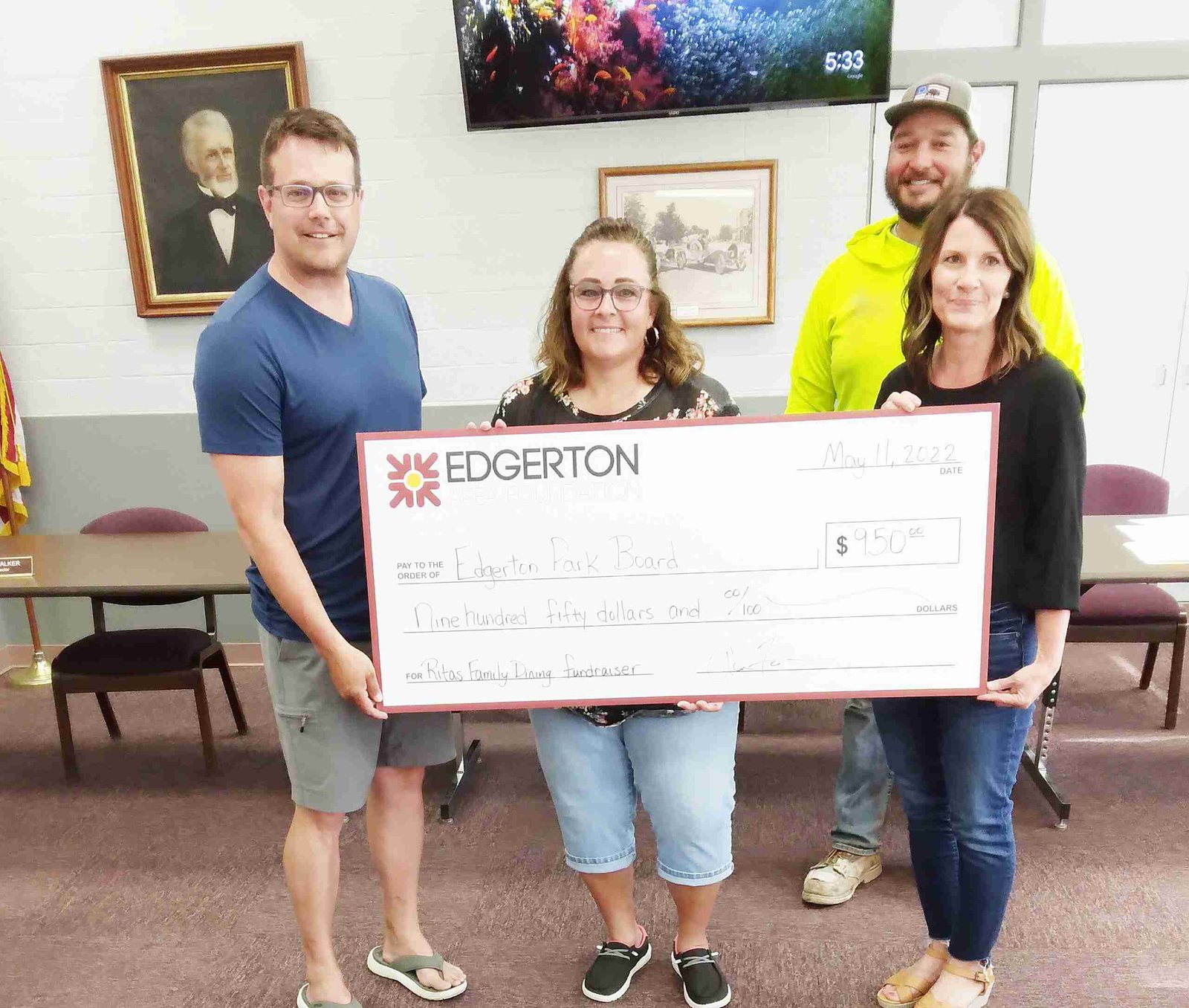 DONATION … Pictured, left to right, are park board member Bill Swank, Edgerton council member Leslie VanAusdale, park board member Amanda Giesige and in back, park board member Cameron Cochran. VanAusdale presented the group a check for $950 from a fundraiser. (PHOTO BY DANIEL COOLEY, STAFF)
---
By: Daniel Cooley
The Edgerton Park Board meeting of May 11 began with the Pledge of Allegiance, followed by a prayer from Mayor Robert Day.
The meeting began with council member Leslie VanAusdale presenting the Park Board with $950. The money raised came from a fundraiser held at Rita's. The money will go as part of the Picnic Pavilion Project.
In addition, another $1,000 was given to Edgerton Village Council, also to go to the Picnic Pavilion Project. The money came from a Public Entity School Safety Grant.
There are two posts that will replace the old pavilion post. A color for the post was talked about and the current color of choice is white.
Reportedly, there is a need to come up with $8,500 more for repairs for the picnic pavilion. The Park Board said they could possibly get local people to work on the project, but need to find the right people to get on it and to find out when they can do it.
The Touchless Water Fountains finally arrived and they will be put in at both Gerhart Park and Miller Park. They are working with an electrician to find out when they can be put in. He will have to work on the drains and water lines.
The renaming of the Paw Pound was briefly discussed, but will talk about it more in the near future.
Bill Swank reported that there are some used basketball rims and backboards that are in very good shape and are available at a cost of $1500, to replace th4e current outdoor basketball courts.
Mayor Day said he will take a look at them before making a final decision. They may also have to find a place to store them, before the posts, rims and backboards could be put in.
Mayor Day is looking at putting in pickleball to replace the worn tennis courts at Miller Park.
As far as the used playground equipment that Edgerton has, Blake from Play World looked at them and said that they would just need to replace an old pole, to make them structurally sound.
Blake also made a suggestion that he has a small set of equipment that would save more money than putting in the old equipment. The amount, to go to Gerhart Park, is $41,000.
Mayor Day reported that an Edgerton art teacher said she will get some art students to look at the veterans memorial and to possibly see what could be done.
Day also reported that the new street lights in front of the pavilion work very well. He said that there are a couple of ladies who have volunteered to put flowers around the pavilion and street lights.
The Park Board then voted to adjourn the meeting.
Dan can be reached at publisher@thevillagereporter.com
---