---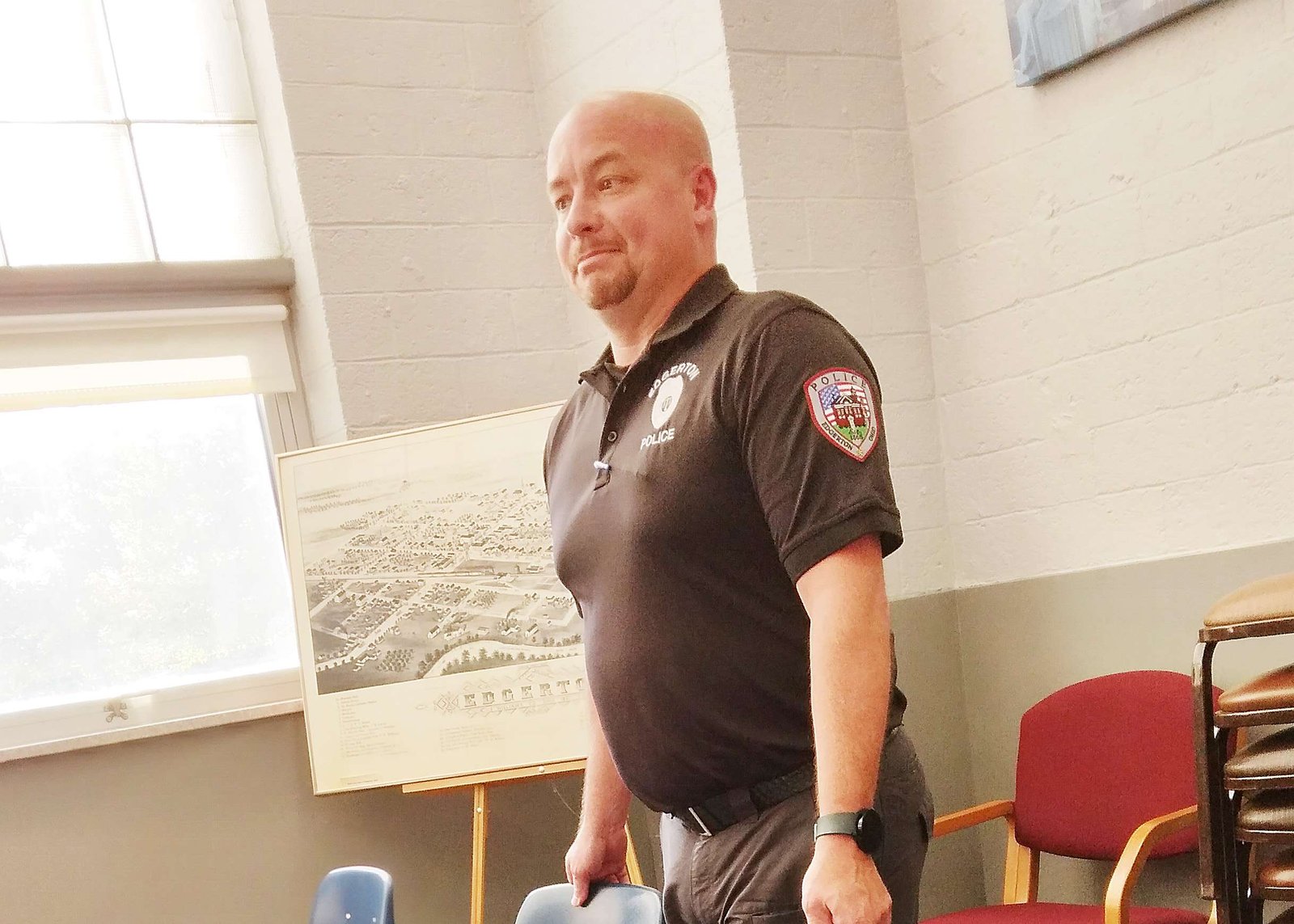 END OF PROBATIONARY PERIOD … Edgerton Police Chief Gary Plotts asked council to approve moving Ashley Eberly from probation status to regular employee and patrol status. Council approved the request. (PHOTO BY DANIEL COOLEY, STAFF)
---
By: Daniel Cooley
The Edgerton Village Council meeting began on June 9, with a joint meeting with the St. Joseph Cemetery Committee.
The joint meeting started with roll call. Present at the meeting were cemetery board members Richard Moffett, Dennis Grizych and Edgerton council members Jason Gruver, Sharon Blinzler, Pam Wampler, Leslie VanAusdale and Chuck Wallace.
The meeting was postponed from June 7, because of power outages in the village of Edgerton. The joint members then approved of the joint cemetery meeting minutes from May 3.
The cemetery committee decided that they want to put a renewed tax levy. To do so, the renewal must be certified by August 10, so that it can be put on the ballot in November.
With that in mind, Edgerton council approved of Resolution 2022-011. This resolution, according to the agenda sheet, requests "that the county auditor certify the total current tax valuation and dollar amount to be generated by a cemetery levy…"
Edgerton Village Administrator Dawn Fitzcharles stated that the village should hear back from the auditor within 10 days.
Village council should then be able to vote on the tax levy renewal at the next Village of Edgerton meeting, on Tuesday, June 21, at 7 p.m.
The joint meeting then adjourned by a unanimous vote.
The regular Edgerton Village Council meeting began on June 9, with the Pledge of Allegiance, followed by a prayer from Mayor Robert Day. Five council members, Pam Wampler, Leslie VanAusdale, Jason Gruver, Chuck Wallace and Sharon Blinzler, were present.
In the first order of business, council approved the meeting minutes from the May 17 meeting.
Mayor Day then spoke about Monday's power outage. "The destruction that was left behind was overwhelming," Day said. "The miracle is that even though we paid a price in the power side, none of the equipment damaged was ours. There was divine protection over us."
'This is the third major crisis event that this village has faced in the last 15 months," Day continued. "I want to mention each member by name (who helped) , because it is that important."
"The Electrical Department of Troy Nihart and Trevor Lawson, Fire Chief Scott Blue and his crew, Police Chief Gary Plotts and officers, Street Department members Jeremy Wright, Bo Aldrich, Jimmy Walker, Keith Winebar, Water Department members Ron Brust and Gene Wilson, our front line of Yvonne Pierce, Administrative Assistant Amanda Herman, Fiscal Officer Denise Knecht, Public Works Supervisor Kip Pahl, Village Administrator Dawn Fitzcharles, Toledo Edison and our AMP Crew."
"We had a visit from Mayor Schlade, a call from Mayor Kidston of Pioneer and a call from Bob Latta's office. It is good to know that we are all available to help one another."
Village Administrator Fitzcharles then gave a report, starting with the village wide power outage that took place on Monday.
Fitzcharles stated that the First Energy transmission line will be replaced and ready to go on Sunday. To do that, Edgerton will need five hours of outage, beginning at approximately 6 a.m.
This time frame was chosen because this is when the energy use level is at its lowest. Fitzcharles called churches and businesses ahead of time, so that they could properly prepare for the outage.
Fitzcharles further stated that once they attempt to bring the village online, they will first have to test it. Thus, it could take up to five hours before everything is brought back to normal.
Fitzcharles said they are still working to find out the cause and the cost of the problem.
Fitzcharles also stated that power was originally able to be brought back up on Tuesday and then residents were asked to conserve on Wednesday, when the village operated on low wattage. She said that residents responded well.
"They were asked to conserve and they did," Fitzcharles said. "The good thing is that the system did not sustain any damage, so we were able to get things online quicker than we thought we would. In the meantime, some of the businesses are helping us out by running on their own generators."
Fitzcharles also spoke on other issues. She stated that the relays are on order and are in the process of being manufactured and the Oak Street Project will be kicking off soon.
Also, there will be a preconstruction meeting on the water tower on June 15 and the first responders will be involved with a water rescue drill.
In addition, State Bank is planning a community cookout on July 19. The village will also be holding a parade on June 23.
Fiscal Officer Knecht said that the final audits have been sent out and within three weeks, it will be finalized. RITA will refund the tax amount and that drops the cost to 1.6%. The council then voted to pay the bills.
Police Chief Gary Plotts then stated Ashley Eberly is coming off probation and Plotts asked council to approve her being put on regular patrol.
In regards to a question by one of the council members, Plotts stated that currently in the village of Edgerton, that no ATVs and UTVs are allowed on the roadways. When asked about his recommendation,
Plotts recommended that those vehicles be allowed on the streets, but cannot go over 35 miles per hour, just like the Ohio Revised Code of 4511.215.
Law Director Chris Walker said that he will put an amendment together on the ATVs and UTVs.
Next, the council approved of the reclassification of Eberly, from probational to regular employee status. The council then approved the hiring of Kenneth Cheek, as a part-time general laborer.
That was followed by council approved of advertising for a part-time Utility Clerk position, not to exceed 29 hours of work per week.
Village council then approved Ordinance 1103, to create positions for an internship program, for shadowing and learning the job.
Next, council approved Resolution 2022-012. Here, $104,698.68 will be transferred from the general fund to the American Rescue Plan Act.
Council then approved of the hiring of an Administrative Assistant, Trinity Nichols, for the summer months.
The village council then voted to adjourn. The next village council meeting is slated for June 21, at 7 p.m.
Dan can be reached at publisher@thevillagereporter.com
---