---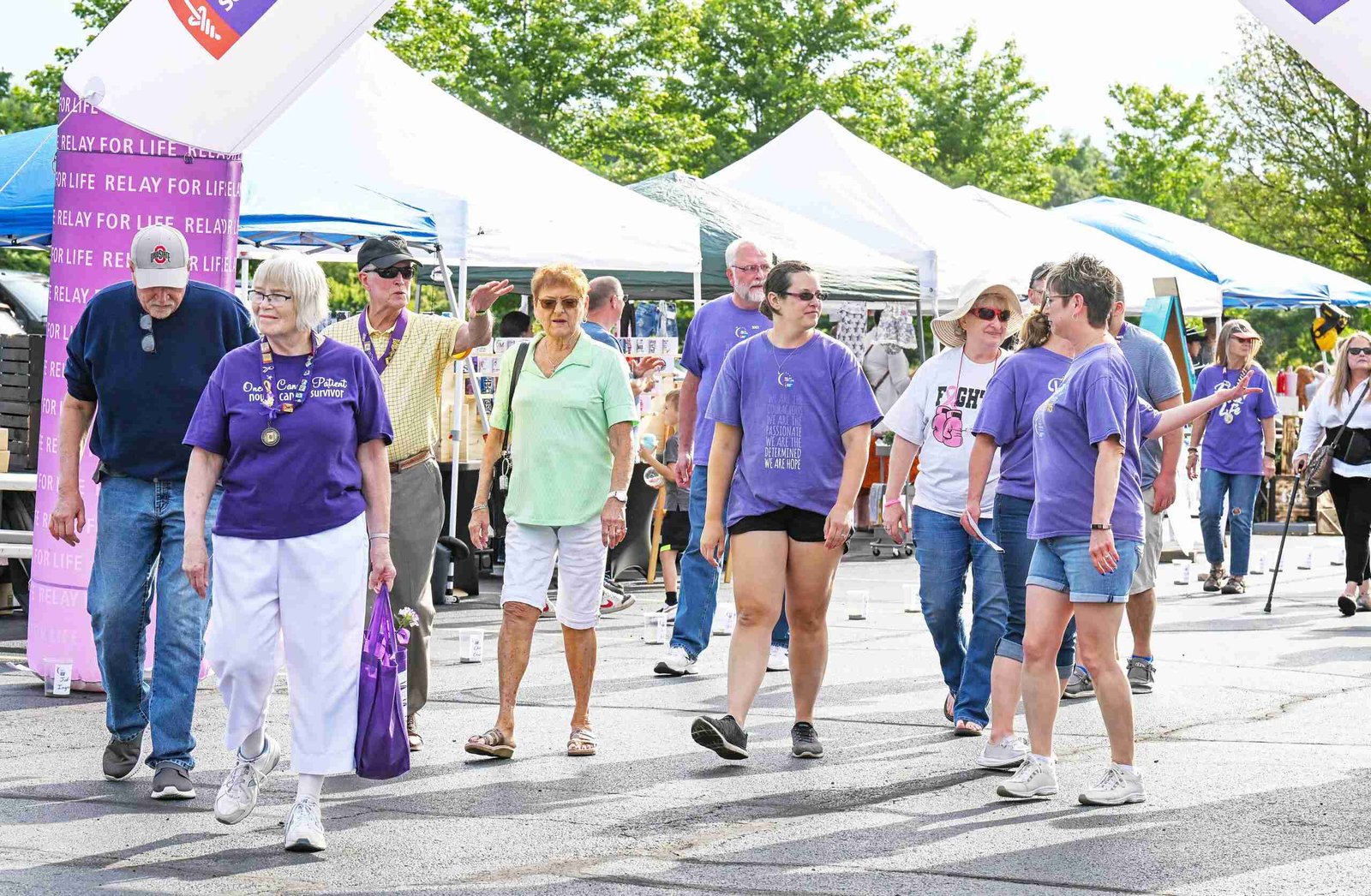 RELAY … The 2022 Fulton County Relay for Life has begun. Survivors walked through the arch on their way to complete their first lap around the track. (PHOTOS BY JACOB KESSLER, STAFF)
---
By: Jacob Kessler
Fulton County residents fought back against cancer on Friday, June 10th at the annual Relay for Life event. This year is the 27th time the event has been held in Fulton County.
The Relay was held at St. Casper's Church in Wauseon with most activities taking place out in the parking lot. Survivors of cancer were honored inside to a survivor's dinner before the events took place.
According to the American Cancer Society, Relay for Life started back in 1985 and has since raised more than $6.5 Billion as of 2019. Over 3,500 events are held worldwide in order to achieve a world without cancer.
The American Cancer Society states the following. "Founded by Dr. Gordy Klatt in Washington in 1985, Relay for Life events can last up 24 hours symbolizing the battle waged around the clock by those facing cancer."
"In the weeks and months leading up to the event, volunteers, teams and individuals use their creativity to raise cancer-fighting dollars."
"On event day, volunteers, teams and individuals typically gather at a school, park, or other venue and take turns walking around a track or path in honor of survivors and caregivers and remembering those we've lost to the disease."
The American Cancer Society also estimates that one in three people in the US will be diagnosed with cancer in their lifetime and that Relay for Life continues to empower communities and give them the opportunity to take action against cancer. That is exactly what those who participated in the Relay did on Friday. They fought back against cancer.
Risa Trumbull was the event lead for this year's Relay for Life event. She began participating in Relay for Life seventeen years ago. She is also a survivor of cancer that she began fighting 16 years ago.
To Risa, these events help to support those fighting. "Relay for Life means support. It means that there is a community behind you and that you aren't fighting alone."
"It is truly overwhelming and emotional. It is definitely a community event that gives hope for those battling. It helps to know you're not alone for everyone including their loved ones."
---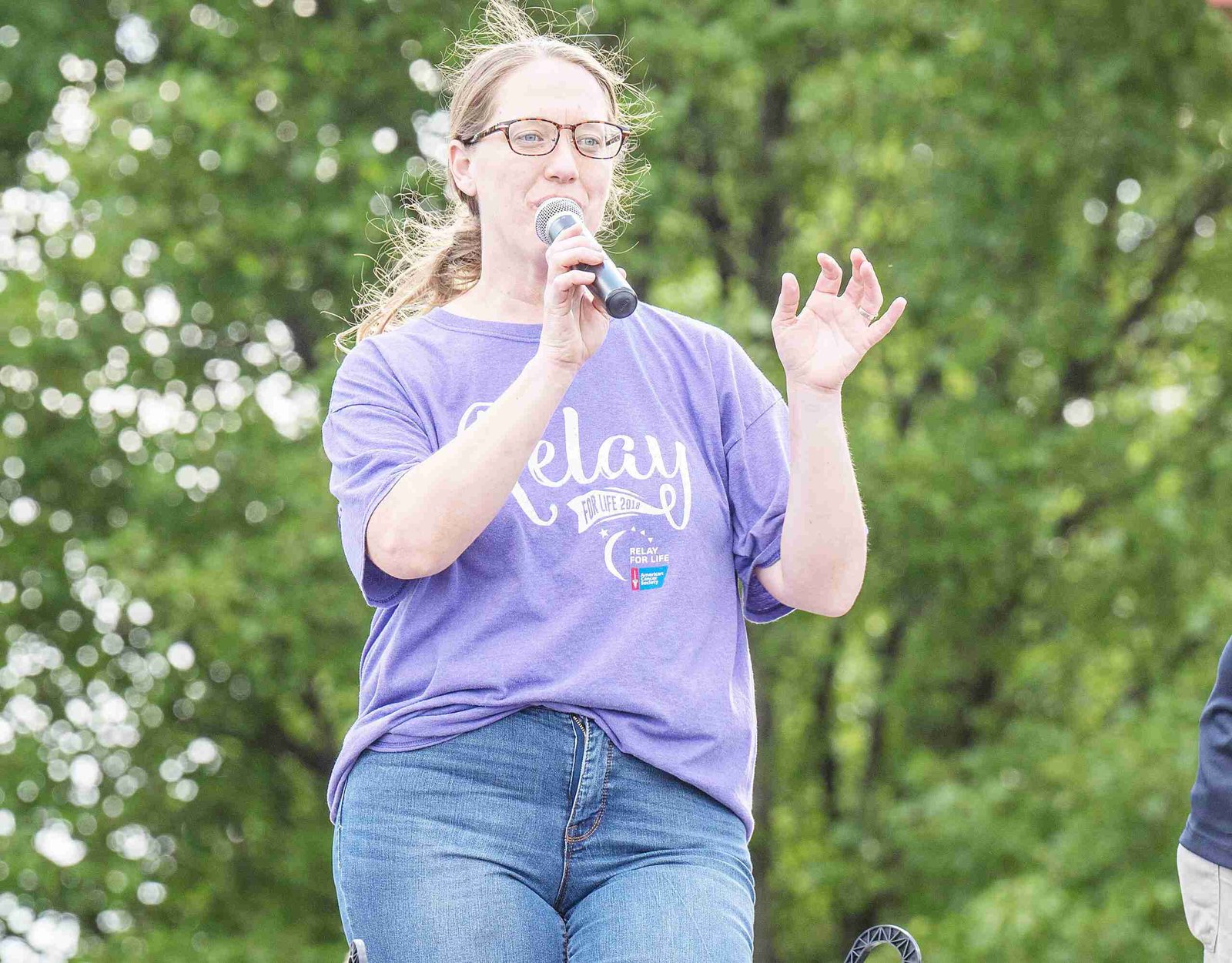 OPENING CEREMONY … Event lead Risa Trumbull begins the 2022 Relay for Life event and starts the opening ceremony.
---
The Relay began with an opening ceremony that included a speech from Shannon Mcvey-Zimmerman. Shannon was the Honorary Chair and was there to represent survivors and those going through treatment.
Unfortunately, due to having recently under gone treatment, Shannon was not able to come on stage and her speech was read aloud for her.
Following the opening ceremony all survivors were called to the front to take the first lap around the track. The second lap was then opened up for survivors and their care givers with the third lap then being opened up for anyone who would like to participate.
The track was set up in the parking lot using luminarias. Each luminaria was dedicated by someone to a loved one that had been lost, someone that is currently battling cancer, or for anyone who has overcome it.
The event also saw numerous vendors and food trucks on site as well. Vendor types ranged from those selling crafts, to Mary K, Usborne Books, financial help and more.
Food onsite also ranged from subs, tacos, hotdogs, hamburgers, ice cream and coffee. Team sites were also put up for those who had signed up for the events contests.
Numerous games were played such as swap or no swap like Let's Make A Deal, how well do you know your friend, a frozen t-shirt contest, stage games with audience participation, a design challenge and more.
For the design challenge, teams were given zero prep and had to make a space theme design using only items provided. The winner was determined by the number of donations collected.
The Relay for Life event this year took place from 6:00 p.m. to midnight. For six hours people came to give respect to those that lost their battle, support those who are still fighting, and congratulate those who have beaten cancer.
To those who are there, who have fought and are still fighting, it means everything to see people come out and give their support.
Knowing of organizations out there like the American Cancer Society that are trying to make a difference, it is that support and care that helps them push onward to keep fighting.
Jacob can be reached at jacob@thevillagereporter.com
---
---