Edon Board of Public Affairs heard department updates from Water/Wastewater Superintendent Chris Decker during its regular session held Tuesday, June 11, 2013 at Edon Village Chambers. Mayor Darlene Burkhardt called the late afternoon meeting to order with members Chip Hulbert, Andy Ledyard, Warren Henry, Fiscal Officer Heidi Bidwell and property owners Roz and Conrad Stark in attendance.
Following up on sewer concerns voiced by the Starks at last month's Village Council meeting, Decker noted the biggest undertaking over the past few weeks was associated with the east end neighborhood septic tanks. "We've installed check valves on [the four tanks in question] at the bottom of the hill," he said. "With losing a lift station and the I & I (Infiltration and Inflow) issues we do have, [sewer water] wasn't getting out of the system quick enough. The check valves should help alleviate the problem of water going back out the septic tank."
[emember_protected custom_msg="Full content protected for online subscribers. Purchase a one week subscription from the top menu bar for just $1.99 to read all online content (full access). Longer subscription plans are also available. Subscriptions cover our costs to attend local events; bringing forth Hometown News Coverage to our communities."]
With issues clarified and further questions addressed in the ensuing conversation, the Starks thanked Decker for "getting down there right away" to deal with the problem. "I'll keep working on it," he assured them. "And I'll continue to investigate I & I to see where the water is coming from; I won't quit."
Decker noted additional work taken up by his departments included residential issues, i.e. pumping, inspecting and replacing septic holding tanks and tank lids, assisting with water service leaks along with grading stone around the Wastewater Treatment Plant's equalization tank, servicing its blowers and replacing the equalizer pump. He also shared camera work of manholes, lines and tap installations in the field west of Bunny Lane confirmed some of the Village's suspected I & I issues; both manholes will likely need to be lined to eliminate groundwater intrusion.
In action taken, the Board:
Approved the Minutes, Financial Report and Bills as presented.
Was informed work on the Water Plant's generator pad and exterior tank railings is temporarily placed on hold.
Heard Artesian of Pioneer replaced the Water Plant's lower manifolds ($7500).
Learned the Wastewater Treatment Plant's rebuilt lift pump was in; Industrial Fluid Management will install at a later date.
Heard Ohio RCAP's (Rural Community Assistance Program) follow-up study assessing Village Water Plant upgrades is still being reviewed.
Learned Ohio Rural Water is set to smoke village sewer drains in July.
Was informed the annual Water Report had been submitted.
Commended Superintendent Decker on the good job he's been doing at keeping tabs on the Village's septic holding tanks, identifying problem areas and continuing to spot check them until resolved. Residents are reminded to contact Superintendent Decker if and when they experience sewer or water issues; he's there to help and will address them right away.
Learned the insoluble FOG (animal fast, oil, grease) was finally out of the Wastewater Treatment Plant system; operations are getting back to normal.
Signed the Shut-Off List.
Edon Board of Public Affairs will hold its next meeting Tuesday, July 9, 2013 beginning at 4:30 p.m. in Village Chambers.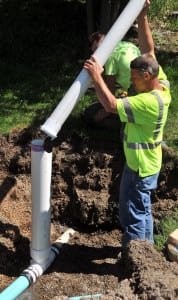 [/emember_protected]