FAYETTE COMMUNITY FINE ARTS COMMITTEE … On Opening Night, this crew was all smiles as they welcomed the guests who came to hear the Hand Hewn Strings Band. From left to right are Steve Snider and Tom Galbraith standing, seated are Lucy Molitierno and Kathie Donaldson, with Tina Snider and Sue Schaffner standing behind them. Not seen but there was Dave Donaldson who ran the elevator that night. (PHOTOS BY REBECCA MILLER, STAFF)
---
By: Rebecca Miller
Fayette Opera House is a beautiful old building which was built in 1898 and is located at 105 E. Main St. in Fayette, Ohio. A group of local people chose to make it their project to bring it back to life and make a place in rural northwest Ohio for folks to enjoy a wide variety of music from around the area and around the world.
Emcee for the 2021 opening night, Steve Snider, welcomed everyone on the evening of September 25, 2021 and thanked a few groups and people for making it possible.
During the pandemic as the Opera House was shut down, they took time to get the building in tiptop shape. Snider gave a special thank you to the show sponsor, Creighton Electric out of Archbold.
He also expressed their thanks "to Austin Serna of Maumee Valley Planning Organization, Fulton County Commissioner Jon Rupp and Senator Theresa Gavarone for their help in applying for and obtaining a grant from the Ohio Facilities Construction Commission."
With that grant they were able to do some much needed renovations to the building including a new roof to replace the 123 year old original roof, and a new heating and cooling system in the auditorium.
Thanks was extended as well to DeeAnn and Al Lawrence for "all the time and effort put in to gather all the information needed for the grant, to Kevin's Plumbing and Heating for installing the new HVAC unit, to Toledo Roofing and Siding for the completion of the new roof, and AB Perfectionist Painting for the wonderful job painting the auditorium."  It certainly did look beautiful and reminded one of the times in which it was built.
For that first show of the year, Snider welcomed Hand Hewn String Band out of Archbold, featuring Jerry Eicher, Brenda Holdridge, Don Pawlicki, Doren Wells and Layne Holdridge with Gabe Holdridge running the sound.
Billed as "Bluegrass at it's Finest" the Hand Hewn String Band hit the decks running, with some numbers that got the toes tapping and the smiles on faces.
Eicher is known in the area for a radio program he produces and broadcasts on 95.3 FM WQTE Adrian, Michigan, called the Old Hippie Bluegrass Show.He also broadcasts on the World Wide Bluegrass Web.
The members are not always the same, as they step in as available. On this evening there were three generations of Holdridges plus Eicher, Pawlicki and Wells.
The youngest member, Layne Holdridge was performing on his F-style Mandolin next to his grandmother Brenda Holdridge on the fiddle.
Eicher took center stage and did the majority of lead singing and played his guitar while Pawlicki mesmerized the audience with the deep sounds of his bass and also was lead singer for a few songs.  The band was rounded out by the pickin' and grinnin' banjo of Doren Wells.
The appreciative audience would applaud and sometimes whoop or cheer when excellent solos were played. The young fella on the mandolin, who as they said "can play pretty good for a young guy, well actually he plays pretty good for any age!" treated the audience to a number of mandolin solos that took some major picking!
Then his grandmother would wow the group with her fiddle, stepping up to the mic so it would be heard well in the high ceilinged auditorium.
Every now and then Pawlicki would step up to the mic and tell a joke or sing a song like the one about a guy who wanted a Cadillac so badly that he stole one.
He said that he would love to have one, too, but he doesn't have the issues that guy had.  They all enjoyed a good laugh along with the crowd who had come for an evening of music and laughter.
---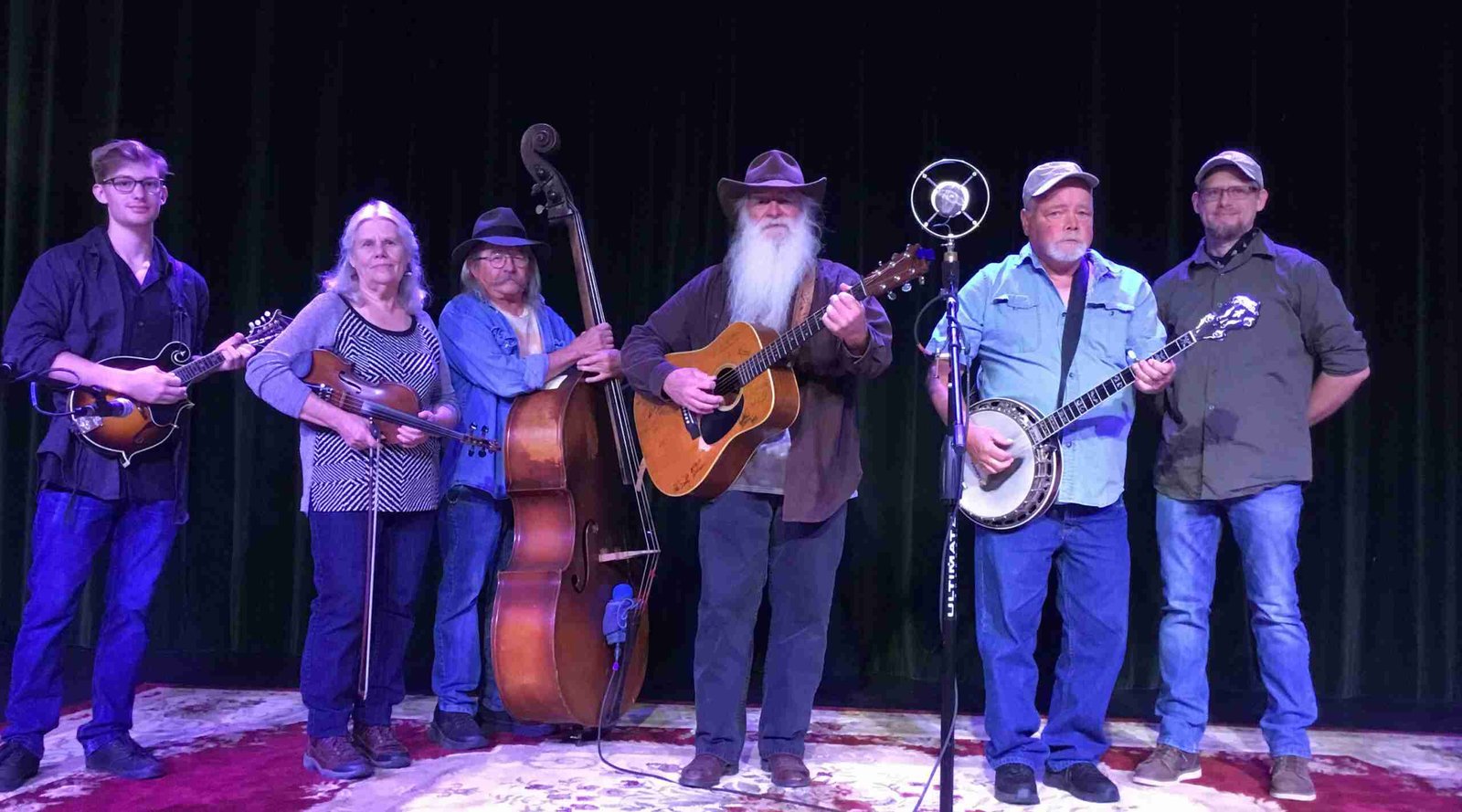 HAND HEWN STRINGS … For the 2021 opening night at Fayette Opera House following a very long period of no performances due to covid, the local group Hand Hewn Strings gave a great performance.  From left to right are Layne Holdridge on the F-Style Mandolin, Brenda Holdridge on the fiddle, Don Pawlicki with his Bass, Jerry Eicher on guitar as lead singer, Doren Wells on the Banjo and Gabe Holdridge who ran the sound.
---
Eicher spoke about The Darlins who got famous on The Andy Griffith Show and shared how they got to be in the crowd when The Darlins were inducted into the Hall of Fame for bluegrass singers.  The Hand Hewn Strings then performed a song that the Darlins used to play.
Brenda, who had already done three shows that day with another group, BLISS, in Waterville, also sang a solo after she kicked off the song with her fiddle. She held her own on that stage full of men.
When she forgot some of the words of "The Great Divide" she just smiled gently at the audience and said, "Someday you'll get old", which was funny because the greatest number of audience members were in their older years. A few could be seen singing along with the songs they knew and loved.
"I cain't tame wild women, but i can make tame women wild" was a real toe tapper and got the crowd spontaneously clapping along. Their music sure could put a smile on your face.
It was so upbeat and was a great way to start the 21-22 season at The Fayette Opera House.  The audience cheered and whistled and clapped when the really fun songs ended.
"Where We Live"was a funny song also about how it is completely flat here with no mountains, and we play some music called bluegrass.  The verses were" about how it is for people who live in the mountains and then it would go into the chorus , but where we live…"
Sometimes their music ran away from them like a train, but they always caught up and reigned it back in together.  Overall it was a delightful evening of knee slappin', hand clappin', toe tappin' music and the audience seemed to truly enjoy it.
With a seating capacity of over 150, the 35 or so people didn't come close to filling the room physically, but their applause and cheers made up for it.
Hopefully, lovers of music in the surrounding area will begin to remember how they enjoy a night out full of great music, and start filling that room for the upcoming concerts. The schedule includes:
October 23 Down Home Show featuring Fossil Creek Band at 7 p.m. ( Fundraiser with all tickets at $10)
November 7 Silent Movie – The Circus starring Charlie Chaplin with Musical Accompaniment by Lynne Long at 3 p.m. (Artist Series event with Tickets at $12 GA; $10 Seniors and Students 10-18; and $8 for Children under 10)
November 20 Motowne Eagles – Eagles Tribute Band at 7 p.m. (prices same as Nov. 7)
December 4 Siberian Solstice -TSO Tribute Band at 7 p.m. (Special Event – All Tickets $15)
December 18 A Kerry Patrick Clark Christmas at 7 p.m. (Artist Series Event with Tickets same as Nov. 4)
The Fayette Community Fine Arts Committee also express their concerns as due to the covid shut down, there was no revenue generated through programming, causing their general fund to be significantly depleted as they used it to keep up with monthly payments.
Anyone who would like to help keep the Fayette Opera House alive and running can become a sponsor. As a supporter your name will appear in the program each and every show.
A form to become a sponsor can be picked up at the Opera House or Tina Snider or Ann Tootsie can be reached for questions at sunshine21185@yahoo.com.
Rebecca can be reached at rebecca@thevillagereporter.com
---