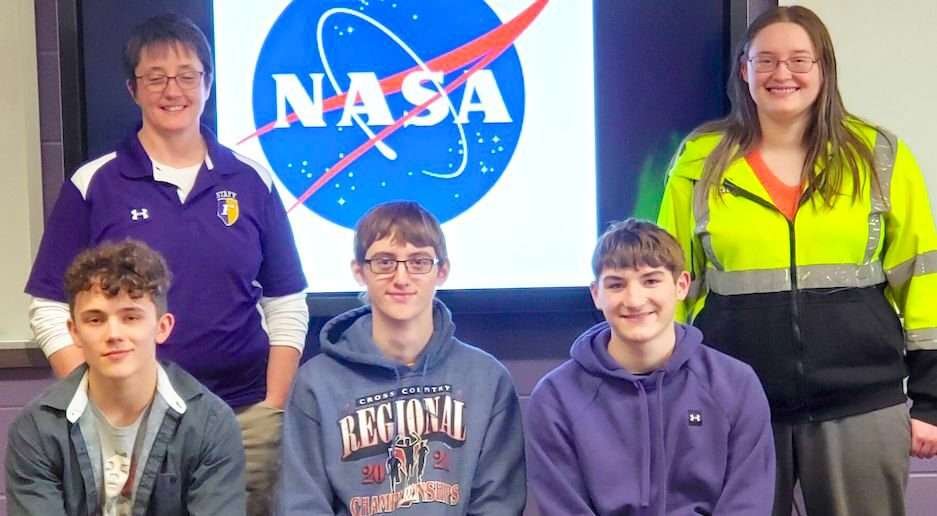 FAYETTE STEAM … STEAM students from Fayette High School, pictured here, stand in front of a NASA sign after learning that their team was chosen for the NASA TechRise Student Challenge. Left to right: Front Row – Quinn Mitchell, Drew Beauregard, Keiler Sliwinski. Back Row – Sheila Killam (Educator) and Shalee Collver. (PHOTO PROVIDED)
---
By: Jacob Kessler
Students from Fayette High School have won a spot in NASA's competition called the TechRise Student Challenge. Students from Fayette competed against 600 teams from across the country.
These 600 teams equated to over 5,000 students who participated in the challenge. In the end, 57 teams were chosen that represent 37 states.
The Fayette team worked to submit a project that involved finding out whether or not density exists in space.
The experiment will be launched on a suborbital rocket operated by Aerospace Company Blue Origin. Once launched, the rocket will stay at the edge of space, achieving microgravity for approximately 3 minutes.
The project will begin as soon as microgravity is achieved by the rocket sending a signal to a programmed circuit board. A container with about 100 ml of combined water and vegetable oil will then be mixed together with a propeller attached to the inside of the container.
The container will be clear in order to allow for a camera on the outside to take pictures of the process to see how density in space compares to that of density on Earth.
The project, which is headed up by Future Engineers, works to help students learn more about engineering in many different fields. It also helps to teach students about collecting data and using it to continue on with their project.
"At NASA, we educate and inspire the next generation of scientists, engineers, and explorers. The TechRise Student Challenge is an excellent way for students to get hands-on experience designing, building, and launching experiments on suborbital vehicles."
"I'm so impressed we received hundreds of entries from across the country, and I want to congratulate the winning teams. I can't wait to see these incredible experiments come to life," said NASA Administrator Bill Nelson.
Fayette Students Quinn Mitchell, Drew Beauregard, Keiler Sliwinski, Shalee Coliver and teacher Sheila Killam worked on this project to have everything turned in by November 3rd, 2021.
Winners were announced on January 21st, 2022, much to the delight of the students and staff working on the project.
Fayette educator Sheila Killam was very proud of the work the students put into the project. "I am so proud of the students and their success. This is what education is all about. As educators we provide opportunities for our students to go beyond the classroom and into the real world."
"These 4 students from a small, rural, farming community in Northwest Ohio, tackled this tech challenge. They will be one of 57 teams in the nation to launch their experiment on a suborbital rocket. It doesn't get any better than that."
Killam also stated that she is looking forward to "students learning the importance of teamwork and communication while experiencing firsthand the design and testing process used by NASA researchers.
The STEAM program at Fayette is all hands-on, so many students engage on hands-on projects daily. We try to simulate real world experiences in the classroom, but this project is as real world as it gets."
Many others at Fayette High School are also excited for the team and their accomplishment.
"On behalf of the Fayette Local Schools, I want to congratulate the members of our STEAM Team and Ms. Killam for their NASA TechRise Student Challenge selection! The Fayette High School community could NOT be more proud of the team's efforts! It has taken hard work, dedication, creative and critical thinking skills to create such a proposal."
"You represent the very best of our student body and we cannot wait to see your experiment put into action as the Blue Origin's New Shepard Rocket flies it into space!"
"Again, CONGRATULATIONS to all members of your STEAM TEAM and Ms. Killam for this fine accomplishment and the entire Fayette Community is proud of you," said High School Principal Jon Molter.
As part of the competition, teams will receive $1,500 to build their experiments as well as a NASA funded spot to test them on the Blue Origin rocket.
The team will also receive a "suite of materials" for preparing their payloads as well as access to flight simulator software and technical support from experts. Experiments are expected to be complete by June 2022 and will launch in early 2023.
Jacob can be reached at jacob@thevillagereporter.com
---