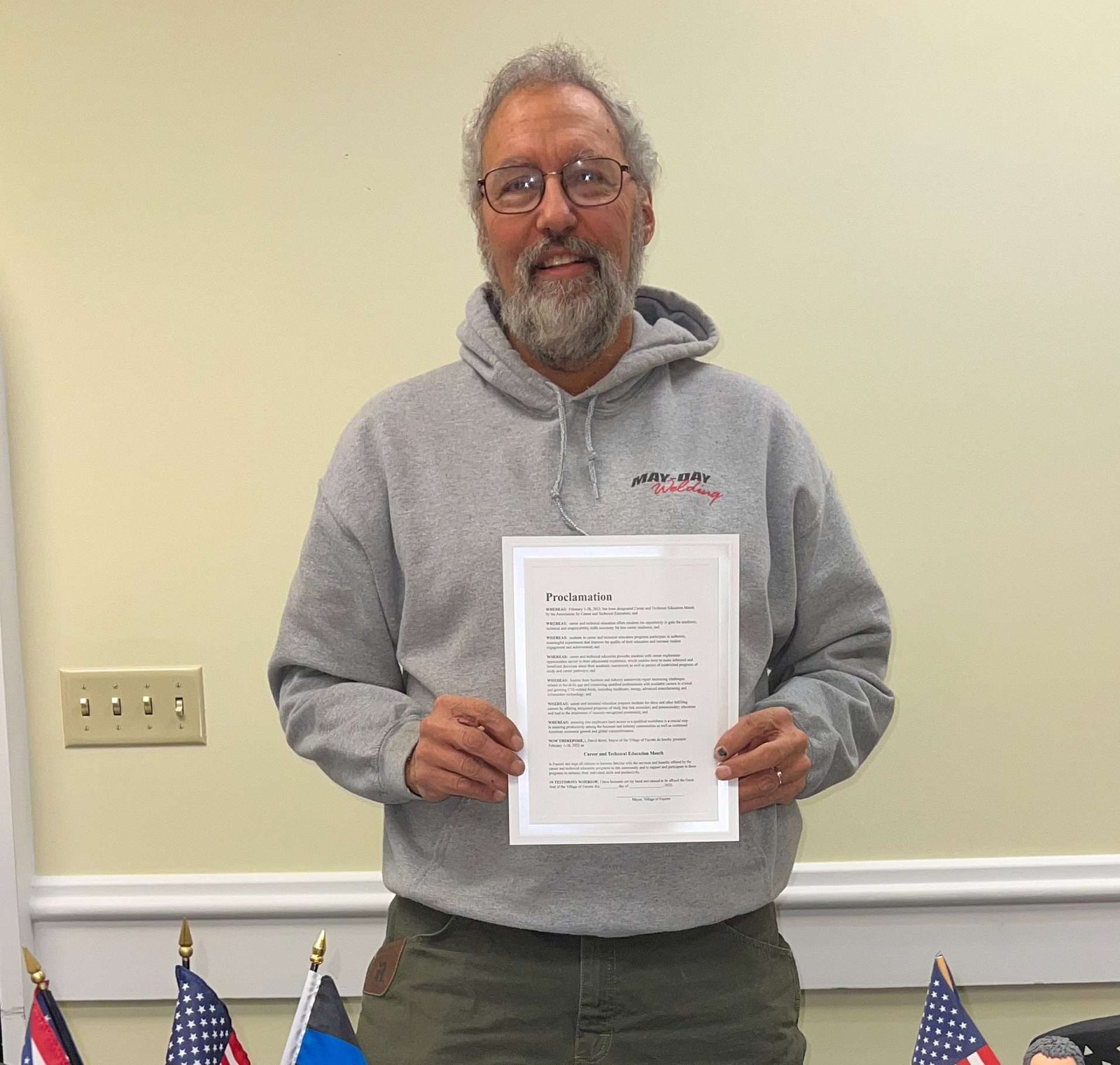 MONTH OF FEBRUARY … Fayette Mayor Borer holds a proclamation making the month of February 2022, Career and Technical Education Month. (PHOTO BY JACOB KESSLER, STAFF)
---
By: Jacob Kessler
The Fayette Village Council held their meeting on Wednesday, January 26th. The meeting was called to order at 6:00 p.m. followed by a prayer and the Pledge of Allegiance. Council first moved to approve the agenda and the minutes for the previous meeting that took place on January 12th.
Minutes were also approved for the Public Works and Finance Committee meetings that took place on January 12th.
Mayor Dave Borer then made a proclamation to make the month of February, Career and Technical Education Month, in the Village of Fayette.
The administrators report then followed with the water distribution system planning being discussed. Planning for the project is still underway.
A lengthy meeting was held previously to figure out everything for the project. The final cost may end of being closer to $16 million or $18 million, but it is important not to look at the numbers yet.
Everything will continue to go up and down. A water main replacement was also looked into for the project, among other things. Discussions have also been taking place with ODNR for water supply and sewer service to Harrison Lake.
Distribution lines and a water tower would be needed for that project, and the cost would be large. More discussions will have to take place due to the cost.
Next was the VFO report with upcoming resolutions being discussed. Council was also informed that an updated bill list was printed. A motion was then made to pay the bills which was approved.
The following resolutions were also approved.
The First Reading of Resolution 2022-02 expressing the intent of council to conduct an internet auction for the sale of un-needed, obsolete, or unfit personal property owned by the village.
The First reading of Resolution 2021-07 authorizing the Village Administrator to enter into and execute an agreement for emergency management services with the Emergency Management Agency.
With no other business, council moved to adjourn for the evening.
Jacob can be reached at jacob@thevillagereporter.com
---