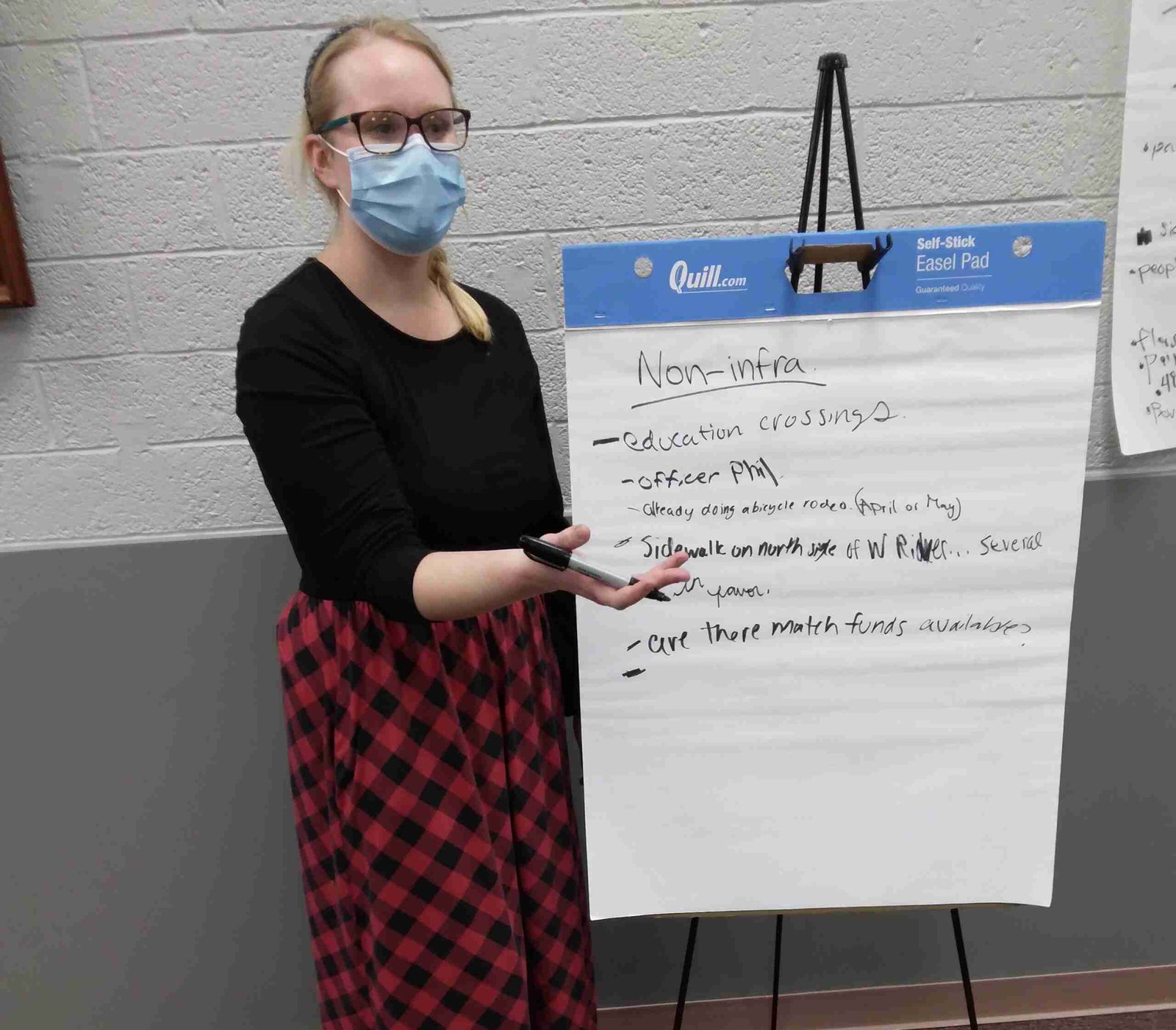 SAFE ROUTES TO SCHOOL … Christina Deehr, a regional planner with the Maumee Valley Planning Organization, led an Edgerton community meeting on the Safe Routes to School Program. (PHOTO BY DANIEL COOLEY, STAFF)
---
By: Daniel Cooley
Christina Deehr, a regional planner with Maumee Valley Planning, met with the Village of Edgerton on Monday for a planning session involving the Safe Route to Schools Project.
In attendance were some Edgerton council members, the Mayor, Robert Day, Village Fiscal Officer Denise Knecht and Administrator Dawn Fitzcharles, along with the village Police Chief, Gary Plotts, Fire Chief Scott Blue and some village residents.
The idea was to brainstorm about ways to make the travel to Edgerton Schools much safer.
The meeting began with Deehr giving an overview of Maumee Valley Planning and Safe Routes to School, starting with the five e's: education for students and parents; encouragement, in making sure students learn more about safe travels; enforcement, in making sure laws are being enforced; engineering, particularly involving the Environmental Design Group and Evaluation, to review the five steps.
In areas involving education and encouragement, Deerh mentioned two things that have worked: putting in a police and student program, as well as a bike rodeo. The bike rodeo helps kids learn how to ride bikes better.
In both instances, Deehr was informed that Edgerton boy scouts hold a bike rodeo and that there is an Officer Phil program that is currently going on. Both programs will be checked into, possibly to see what works well and what could be improved upon.
"Through the work of the Ohio Department of Transportation (ODOT), Maumee Valley Planning and the vision of the mayor (Robert Day) and administrator Dawn Fitzcharles, we want to encourage kids to walk or bike to school," Deerh said.
The Safe Route to school came about when ODOT became involved. Because of the amount of accidents surrounding the Michigan and River streets, ODOT decided that something needed to be done. As a result, ODOT agreed to pay for engineering to develop a safety plan.
One of the ways to look at getting safer routes to school was to send a survey home to parents. That resulted in a good response from parents, with more than 150 parents sending results back.
The biggest concern for parents was the amount of traffic on Michigan Street and the intersection of Michigan Avenue and River Street.
Part of the problem, too, is trying to help solve the family vehicle congestion. More than 50 percent of parents within the village drive their kids to school.
That problem could be solved somewhat through developing safer ways for kids to walk, or bike, to school.
That could be done through putting up crosswalks throughout the village and putting in sidewalks where there aren't any. Regarding sidewalks, it was suggested that a sidewalk could be placed on the north side of West River Street, on the opposite side of the Airway factory.
In regards to crosswalks, a question that came out was the need to get funding for more pay for people working the crosswalks.
One thought that came out too, was the possibility of putting in stop lights during school hours. Deehr said she would ask ODOT if putting in a stop light was a possibility.
One big problem that needed more looking into was how to relieve some of the congestion around the school, just before and after school.
While the congestion surrounding the school ends around 3:15 and Airways gets out at 3:30, a couple of people at the meeting felt that there was still more overlap between the two entities that needed to be looked into.
Deehr then closed the meeting, stating that she felt a lot was accomplished and that she would get back with ODOT and Fitzcharles and Mayor Day, to continue to work on solutions for a Safe Route to School.
Dan can be reached at publisher@thevillagereporter.com
---