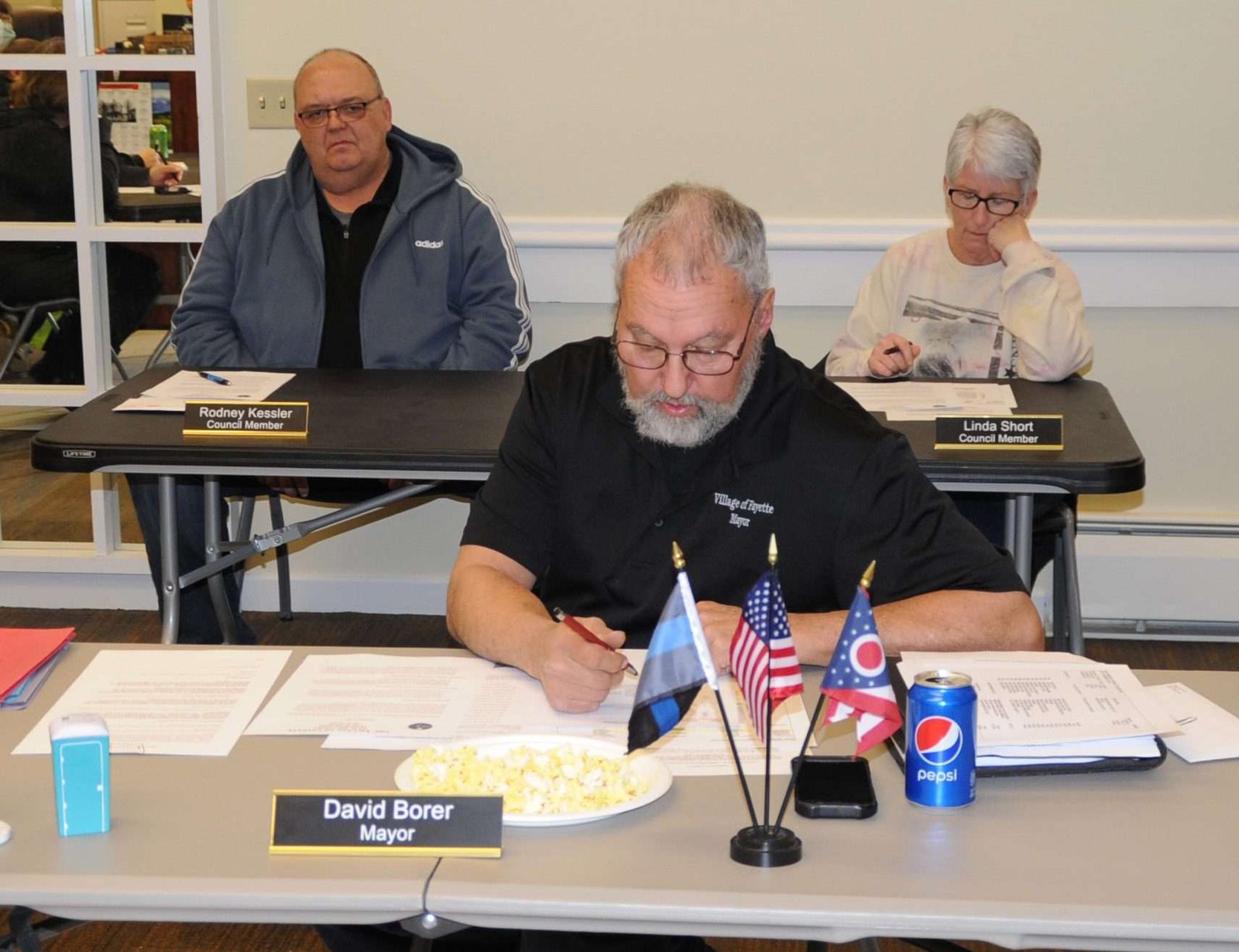 ARE WE GOOD WITH THIS? … Fayette Mayor David Borer asks for approval of the December 30 Council meeting agenda, while councilors Rodney Kessler and Linda Short peruse the items for discussion. (PHOTO BY TIM KAYS, STAFF)
---
By: Tim Kays
Members of the Fayette Village Council convened in their final regular session of the year on the evening of December 30.
Village Administrator Genna Biddix clarified an error on her report from the prior meeting which listed an estimated material cost of $2,000 for water and sewer taps on Ordinance 2020-11. The correct estimated material cost is actually $1,000. Referencing a spreadsheet she had received, Biddix explained, "…it included the $1,000 flat tap fee in it."
"So when I looked at it for the material costs, it was $1,800-some dollars, so that's what I put in for our estimation when it really should have only been $800 if I took that $1,000 tap fee out. That was my fault. So now what is in what's going in the ordinance will be a lot truer to what we actually charge for that fee."
Referencing the CARES Act Coronavirus local government relief funds, Biddix reported, "The spending deadline for the local government relief funds has been extended via federal legislation to December 31, 2021. The Ohio Office of Budget Management is still working on drafting new guidance for this extension."
"The spending extension won't change our plan for how we spend the money, it will simply give us more time to make the purchases and pay the invoices. I will give you updates as I receive them, but they just put out an email today."
"I noticed the Office of Budget Management saying that they're working on drafting new guidelines and working on new FAQs…but we will still do our regular reporting. Our next report is due on January 6, so I will get that done for what was spent through December 31 of this year. Then we'll move on with that as we get closer to the end of our projects, but the water plant gate has been installed, and I think as of yesterday may be up and running, but I did not see it after that."
"So, do you have to have a remote to open and close that, or is there a keypad," asked Mayor David Borer. "There's options for both," Ms. Biddix replied, "…but we have remotes for every employee, every police officer. So we bought a bunch of extra remotes with it. That's the whole reason we did that, so that everybody's not touching the same stuff."
"They were all touching the chain and padlock and everything that held that gate together all the time. And just speaking from experience, when you're out in the cold, trying to mess with that, it is not fun. So on the COVID side of things, it's just better for them not to be touching that 5,000 times a day. So at some point I'd like to do the same thing back at the lagoons and wells, but that's a long ways off."
Councilor Chris Meeker inquired as to the cost of the project. "It was very expensive," Ms. Biddix answered. "It was $24,000, and most of that was the actual motor and gate itself. There was about $4,000 into the electrical work that we needed to run out there from the water plant, trenching it in and actually hooking it up." Meeker replied, "It would be more than that at the lagoons because there's no power there, is there?"
"Right," Biddix said, "…so that would have to be done after our project of running power out to the wells and the lagoons. That's in our total plan. Someday it will be feasible, and that could be part of a bigger project with it, which is something else I'm going to bring up to Public Works here in the next couple weeks at the next committee meeting."
Meeker asked, "Is that part of the RCAP (Ohio Rural Community Assistance Program)?" Biddix answered, "We were adding an additional piece, as of the meeting that I had just this week. We're adding an additional piece to it, to see if we can do a larger water plant project which would include a new roof at the water plant, new aerators, stuff like that. I might see if we might be able to incorporate the fencing of the wells and stuff in that since it's a water piece and it's pretty expensive to do that.
Finally, Ms. Biddix reported on the Capital Bill funding for the proposed Normal Memorial Park Splash Pad. "Back in January," she said, "…before everything COVID happened, we applied for Capital Bill funding to build a splash pad in the park."
"I got a call from our state representative notifying us that we will receive $50,000 in State Capitol Bill funding for project years 2021 and 2022. Our original total project estimate was for $85,000. We applied for $70,000, and planned to kick in $15,000 of our own money. The Finance Committee has decided to plan for a worst-case scenario and estimate for 2021 budget purposes a little high at $100,000."
"We're extremely fortunate to have received the Capital Bill funding, but I also contacted the State of Ohio regarding NatureWorks funding. I want to make sure that we explore additional grant money options. I was able to find out from the Ohio Department of Natural Resources (ODNR) that even though the Capital Bill funds will be administrated through ODNR, the village would also be eligible for NatureWorks funding, which requires a minimum 20% community match."
"Hypothetically if we max out the $100,000 budget using Capital Bill funds, $50,000 and NatureWorks funding at $30,000, the village's share would be $20,000. NatureWorks applications are due by June 1, 2021."
"Once I find out a little more about the specifics of the capital grant, I will start the splash pad planning process. So, I'll be hitting that pretty heavy in the next couple months, but I have to figure out what exactly the process looks like for the Capital Bill, and what exactly they want us to do on that, but it's looking pretty promising so far."
Council approved a request from Ms. Biddix to allow any employees to carry over to 2021 any leftover allotted vacation and personal time, as well as the payment of bills in the amount of $131,789.18.
Council suspended the rules of reading and adopted Ordinance 2020-17 for supplemental appropriations for 2020, and Ordinance 2020-18 making temporary appropriations for fiscal year 2021. Council heard the second reading of the aforementioned Ordinance 2020-11, then adopted Resolution 2020-10, authorizing Ms. Biddix to enter into and execute an agreement for emergency management services with the Fulton County Emergency Management Agency.
Finally, Council adopted Ordinance 2020-16, a measure setting the 2021 wages, salary and medical benefits for the employees and officials of Fayette.
Tim can be reached at tim@thevillagereporter.com
---