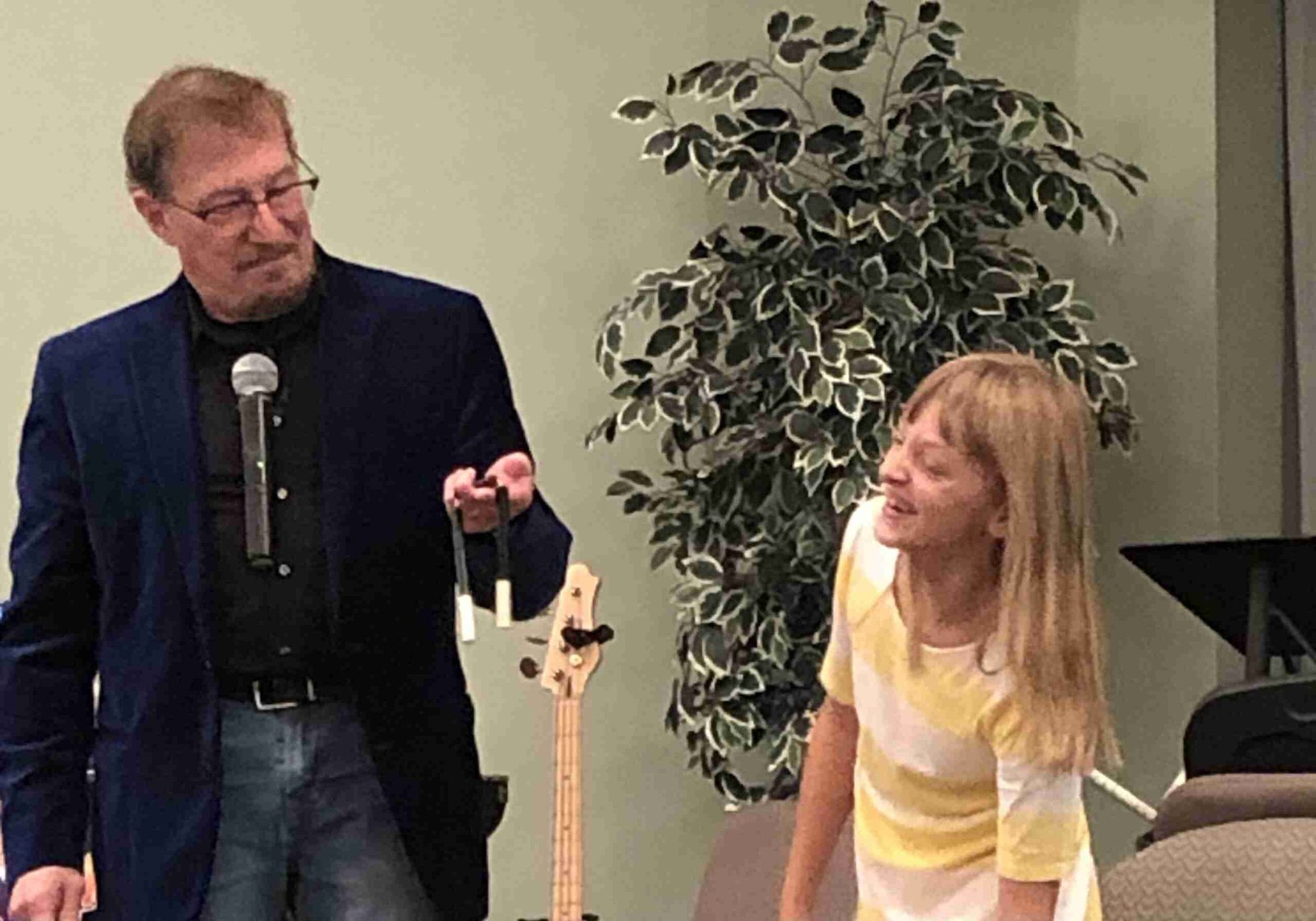 SURPRISE AND LAUGHTER…During his magic show at the First Baptist Church of Stryker on September 1, 2021, Magician/Comedian Jim Barron definitely had Ariel Miller filled with laughter and surprise when the wand he passed her crumpled in her hand. Ariel was one of a number of children who got to be Barron's Assistants, and all seemed to enjoy it just as much as she did. (PHOTO BY REBECCA MILLER,STAFF)
---
By Rebecca Miller
Quite well known in the the tri-state area as the voice who hosts the morning show on WBCL out of Ft. Wayne, Jim Barron is also a magician/comedian. On Wednesday evening, September 1, 2021 he was welcomed at the First Baptist Church of Stryker to help them kick off their Fall Wednesday Nights.
Jim was born and raised in Hamilton, Indiana but has lived in Ft. Wayne for the past 30 years. He shared in a short interview after his show that one of the most memorable experiences for him as a magician was when the magician he admired most, Harry Blackstone, Jr. attended one of his shows in Ft. Wayne.
After the show Jim took his wife to meet Mr. Blackstone and was blessed immensely when Blackstone told him that he had enjoyed his show!
The September first evening began at 6 o'clock in the basement of the church, where Pizza was served for all who came for dinner.
Every week throughout the next few months, a different meal will be served and everyone is invited to come enjoy it, and then join in on the Bible Study for their age group. Next week, on September 8, they will be serving pancakes.
Youth Pastor Tim Martin opened the 7 p.m. portion of the evening, which took place in the sanctuary, by making some announcements and leading some worship songs with Tara Glasgow.
Michael Matthew was on the Base Guitar.  He then invited Barron to come up and get started with his magic/comedy show. Barron proceeded to invite several different children up to assist him over the next hour, making it a fun time for all.
He has been practicing magic since he was ten years old and his favorite magician is Harry Blackstone, Jr., whom he mentioned off and on throughout the show.
His show consisted of the well known trick of the Restored Rope all the way to making a delightful little balloon dog appear in a brown paper bag which he had just popped with a loud bang.
His banter with the "assistants" who joined him on stage was funny and enjoyable for the crowd even though it may have been a little embarrassing for the assistants.
His slight of hand was incredibly well done, causing gasps and appreciative oooh's and ahhh's from the audience.
Barron also mixed his faith in Christ Jesus into the show, using his magic tricks as examples to show how important it is to know Jesus.
The combination of magic, laughter and faith made for a delightful evening for all, even those who had seen him before.
Rebecca can be reached at rebecca@thevillagereporter.com
---