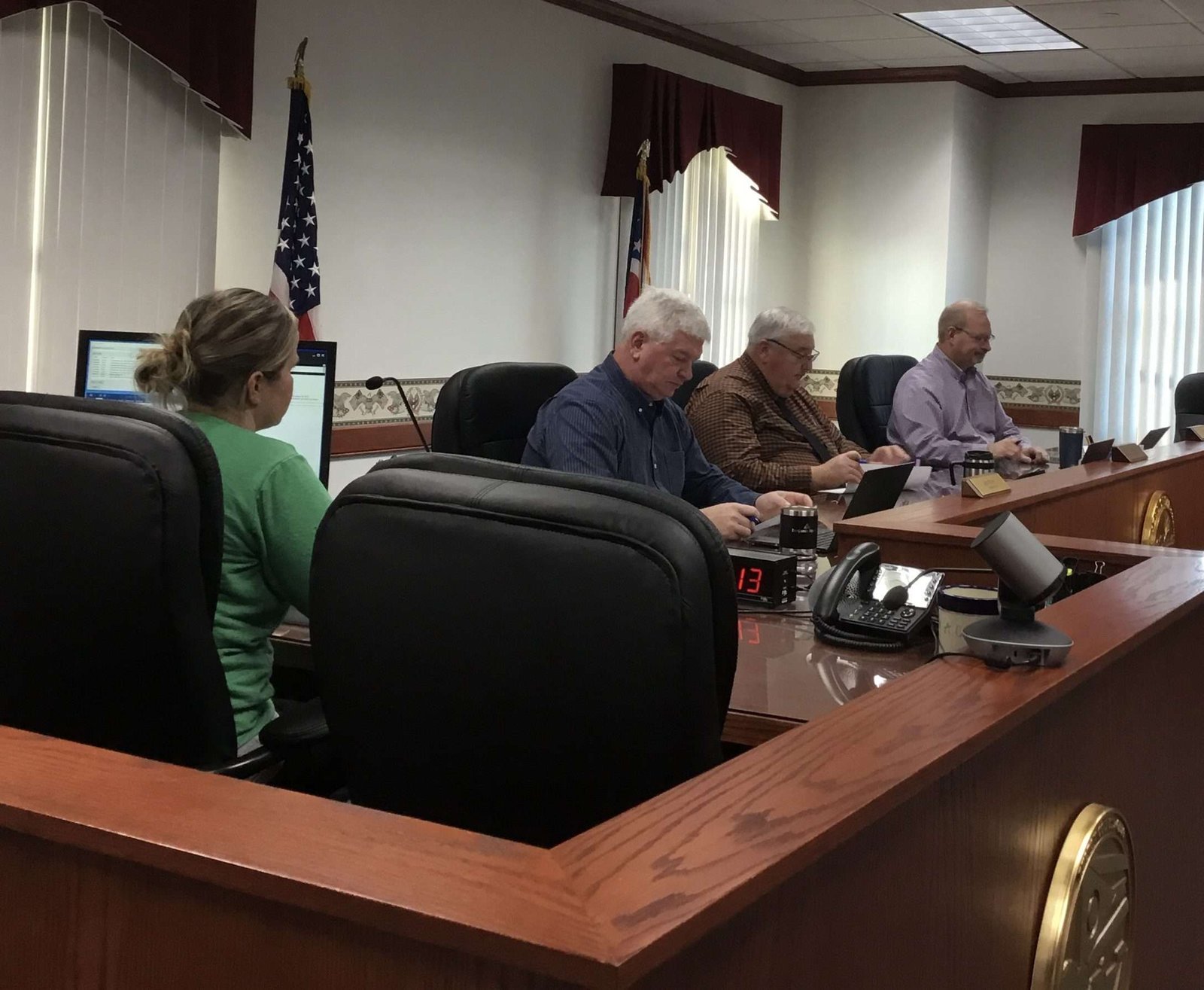 MOVING INTO NEW YEAR … Much the same each year, the Fulton County Commissioners can be seen each Tuesday and Thursday signing documents. Jessica Schuette moved into the position of clerk during 2021 as did Commissioner Joe Short. From left to right are Commissioners Jeff Rupp, Jon Rupp and Joe Short. (PHOTO BY REBECCA MILLER, STAFF)
---
By: Rebecca Miller
The Tuesday morning FC Commissioners meeting, January 4, 2022 held the approval of the following:
-Minutes from December 30, 2021, agenda as presented, increase and transfer of appropriations, and purchase orders and travel requests
-Resolution 2022-004 Approve Job Certification Summary for Aaron and Sheri Call and MCS Manufacturing, LLC
-Resolution 005 Extend various contracts on behalf of FC Public Utilities
-Resolution 006 Approve Amendment #6 to Contract 2020-72 with Current Office Solutions
-Resolution 007 Reject all Bids for Grant Writer Services
The commissioners also reviewed and signed:
-Weekly Dog Warden Reports for December 11 and December 18, 2021
-December 2021 Month End Financial Report
-December 2021 Sales Tax Report
-2021 Bridge Inspection Report
The Thursday, January 6, 2022 meeting contained the organizational aspects for the year. They began the day with the regular agenda which included a review of Weekly Dog Warden Reports for December 25, 2021 and January 1, 2022, and Recorder's Annual Notice of Duty to Record Zoning Resolutions and Amendments, and then moved on to approval of the Minutes for January 4, 2022, agenda as presented, Increase and Transfer of appropriations, and purchase orders and travel requests.
The Organization for 2022 included:
-Resolution 011 Organize Board of Commissions for 2022: putting Jon Rupp in as President of the board with Jeff Rupp as VP again
-Resolution 012 Establishing Commissioners Meeting Schedule for 2022: these will continue to be held every Tuesday and Thursday beginning at 9 a.m., unless otherwise advertised on posted agenda
-Resolution 013 Establishing Holiday Schedule for 2022
-Resolution 14 Appointing members to various boards and committees for 2022
-Resolution 15 Designate 2022 Official Representative and Alternate for the purpose of voting in Annual CCAO Membership Meetings: Jon Rupp official and Jeff Rupp alternate
-Resolution 16 Establish 2022 Mileage Reimbursement rate for county officials and employees: IRS standard rate – 58.5 cents per mile for business use, up 2.5 cents from 2021
-Resolution 18 Appointing Apiary Inspector for Fulton County for 2022: Michael Horst (with raise from $12 an hour to $15 an hour, not to exceed $1600 for the year)
-Resolution 19 Approving waiver of Charges for ALS Transports (five of thirty one were waived, the rest were written off as "bad debt")
-Resolution 20 Commissioners' order approving Contracts, Final Assessments and Establishing Ditch Maintenance for Single County Ditch 2136 Lowell Richer
-Resolution 21 Authorizing the Advertisement for Bids for Grant Writer Services: bids will be received until 4 p.m. on January 28, 2022
With no further business, the commissioners adjourned for the first week of the new year, 2022.
Rebecca can be reached at rebecca@thevillagereporter.com
---