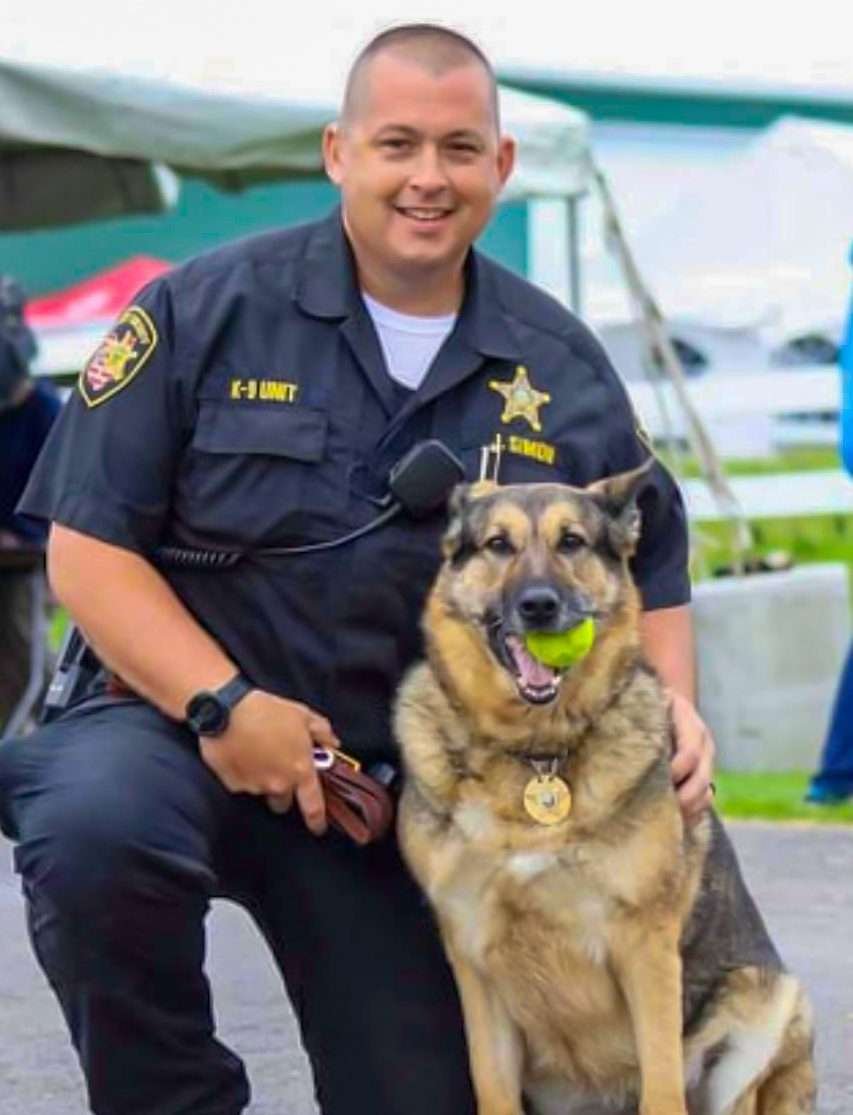 JEREMY AND MAGGIE … Deputy Simon and K9 Maggie kneel for a photo. They will be greatly missed by the local communities and his department.
---
By: Jacob Kessler
Fulton County Sheriff Deputy Jeremy Simon and K9 Maggie are set to retire on October 31st. Deputy Simon has been working for the Fulton County Sheriff's Office since December 26th, 1992.
Before joining the department, in 1990 he started riding around and participated in the explorer program in order to get a feel for what the job was like.
"It started out as dare. Me and a buddy were riding around, and he pointed over to the Sheriff's Office and dared me to go in and talk to them."
"It wasn't something I really thought about too much but later on an older schoolteacher saw me and said that I followed along with my dream. That tells me there must have always been something there. When I started riding, I realized this was what I wanted to do," said Deputy Simon.
In 1991 he joined the academy and was hired on as a dispatcher. He was moved to the road at the end of 1992. He continued working the road until he received his first K9 named Arny in July of 2003.
Deputy Simon went and worked with The Rudy Drexler School For Dogs in Elkhart Indiana to bring Arny to Fulton County. They worked together until Arny was retired on December 31st, 2013.
That is where Maggie and Jeremy's journey begins. They met in July of 2014 and have been partners ever since. While their time on the road is coming to a close, there are still memories that the two will have to look back on.
"There have been so many good memories. My favorite part of the job has been to help people and being a K9 Deputy. I have always liked tracking. We have been out looking for missing people, murder suspects, burglary suspects, and others."
"Its watching your dog and seeing them follow through as you trained them. It's just amazing to watch them stick their nose to the ground and take you to the person you're looking for," said Deputy Simon.
Those memories and the job itself will be missed by both of them. Leaving a job that you have loved and done for so long is a big decision and a hard one to make. But Deputy Simon believes that the time has come.
"We have one heck of a Sheriff. He has never been opposed to helping us out and always letting us do what we need to do to get the job done. That's going to be one thing I will miss. The hardest part will be not working with the dogs or the guys anymore."
"I don't think it has truly hit me yet but, in the end, I think it was time to head out and do other things," said Deputy Simon.
Not only will he and Maggie miss being out in the community, but the community will miss them. An outpouring of support and sharing of his retirement has been taking place on social media. Officers from the Sheriff's Department and other agencies around the county will also miss the duo.
"You'd be hard pressed to find someone who didn't know Maggie and Jeremy out in the community." "It shows a lot to his commitment to community policing, and they are going to be greatly missed not only by this office but by the community," said Sheriff Roy Miller.
Jeremy and Maggie's last day on the road will be Friday, October 29th before the official retirement date of October 31st. Together the two of them will still be in the community, just in a different way.
Jeremy is the owner of Tony's Pet Shop in Wauseon and with all the free time, is planning on some additional offerings. So, stop by Tony's in Wauseon and congratulate the two as they move forward on to their new path.
Jacob can be reached at jacob@thevillagereporter.com
---