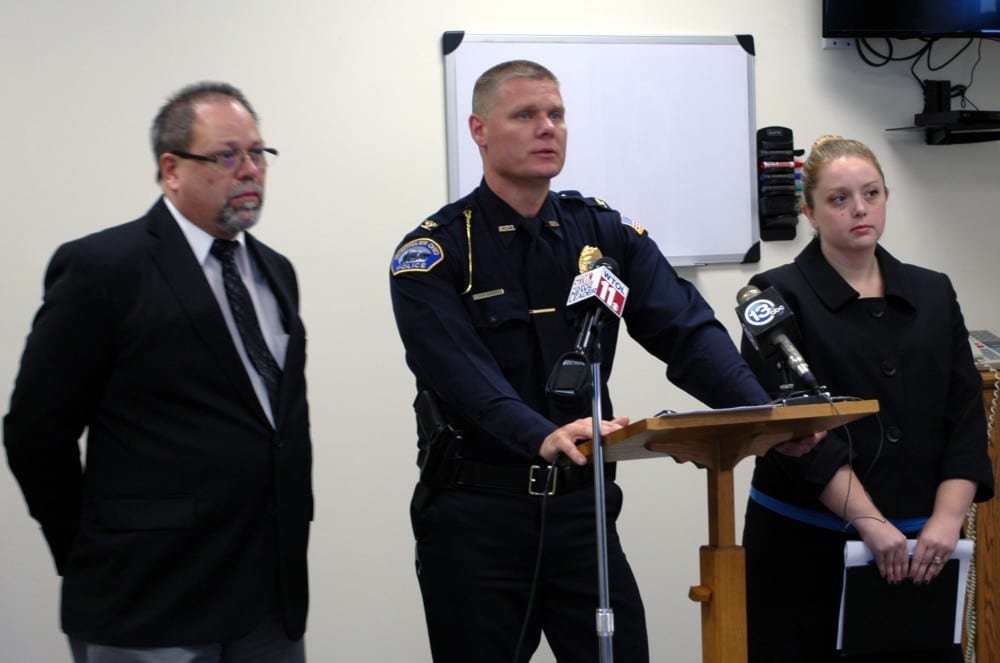 A Williams County Grand Jury found sufficient evidence to indict Bradly Gilbert on nine counts in conjunction with the recent homicide in Montpelier. The nine counts include two counts of Aggravated Murder, two counts of Kidnapping, two counts of Aggravated Burglary, and one count each of Petty Theft, Theft, and Grand Theft of a Motor Vehicle. The Grand Jury also found sufficient evidence to add firearms specifications to seven of these counts.
In a joint press conference held by Montpelier Chief of Police Dan McGee, Williams County Prosecutor Katherine Zartman, Williams County Coroner Dr. Kevin Park, and Montpelier Mayor Steve Yagelski on November 11, Zartman explained that the duplicate charges are due to differences in statutory language and are all in relation to the same incident involving the body found near the St. Joe River trail.
Gilbert's initial appearance in court was held by video on November 12. Gilbert appeared without council and the court found that he is indigent and appointed Stacey Stiriz, Esquire, as court appointed attorney. The video arraignment was continued to November 19, 2015 at 8:45 AM and Gilbert's bound was set at $2 million straight bond.
In the same press conference, Chief McGee recapped specifics of the investigation but noted that the investigation is ongoing and that some details will not be released until the investigation is closed. McGee also shared his belief that "The family members – from both sides of this – did not ask to be thrust into this," as well as his somewhat strong feelings on social media. "We will share our information with the professional media," the Chief explained as he noted that the information often found on social media, while seeming to satisfy the need for immediate information, is inaccurate and usually based on someone's opinion much more so than any fact. "If you think you know this case, you don't," he asserted as he reiterated "if your information didn't come from the professional media, it didn't come from us."
Dr. Kevin also spoke briefly regarding the time line of forensic evidence in relation to the case. The official identification of Jonathan Hophner, he noted, took some time as Williams County does not have all of the necessary labs, meaning the case was moved Lucas County. Parks also noted that entomology, anthropologic, and toxicology tests are also being done but could take six weeks or longer if the toxicology is abnormal.
Mayor Steve Yagelski said little on the matter but did express his full support of the Montpelier Police Department, the Williams County Prosecutor's Office, and the Williams County Coroner as well as of Chief McGee's general comments in relation to social media.
In the same press conference, McGee also gave information on the recent robbery of Rings Pharmacy. The robbery, which occurred on November 3, is also at the time of this printing still under investigation with the Montpelier Police Department seeking assistance in the matter. The suspect entered the store shortly after closing, wearing a striped stocking cap and a bag over his head while holding an employee during his taking of several non-scheduled and filled prescriptions. The suspect stands approximately 5'8" to 5'10" and is medium in build and it is known that he left in a small vehicle. With the case still under investigation, few other details are being released at this time. However, audio of the 911 call, in which the suspect's voice can be heard, can be found on The Village Reporter's facebook page. Anyone who has any information should call the Montpelier Police Department or Williams County Crime Stoppers, who has set forth a $500 reward.
Chelsie can be reached at
chelsie@thevillagereporter.com