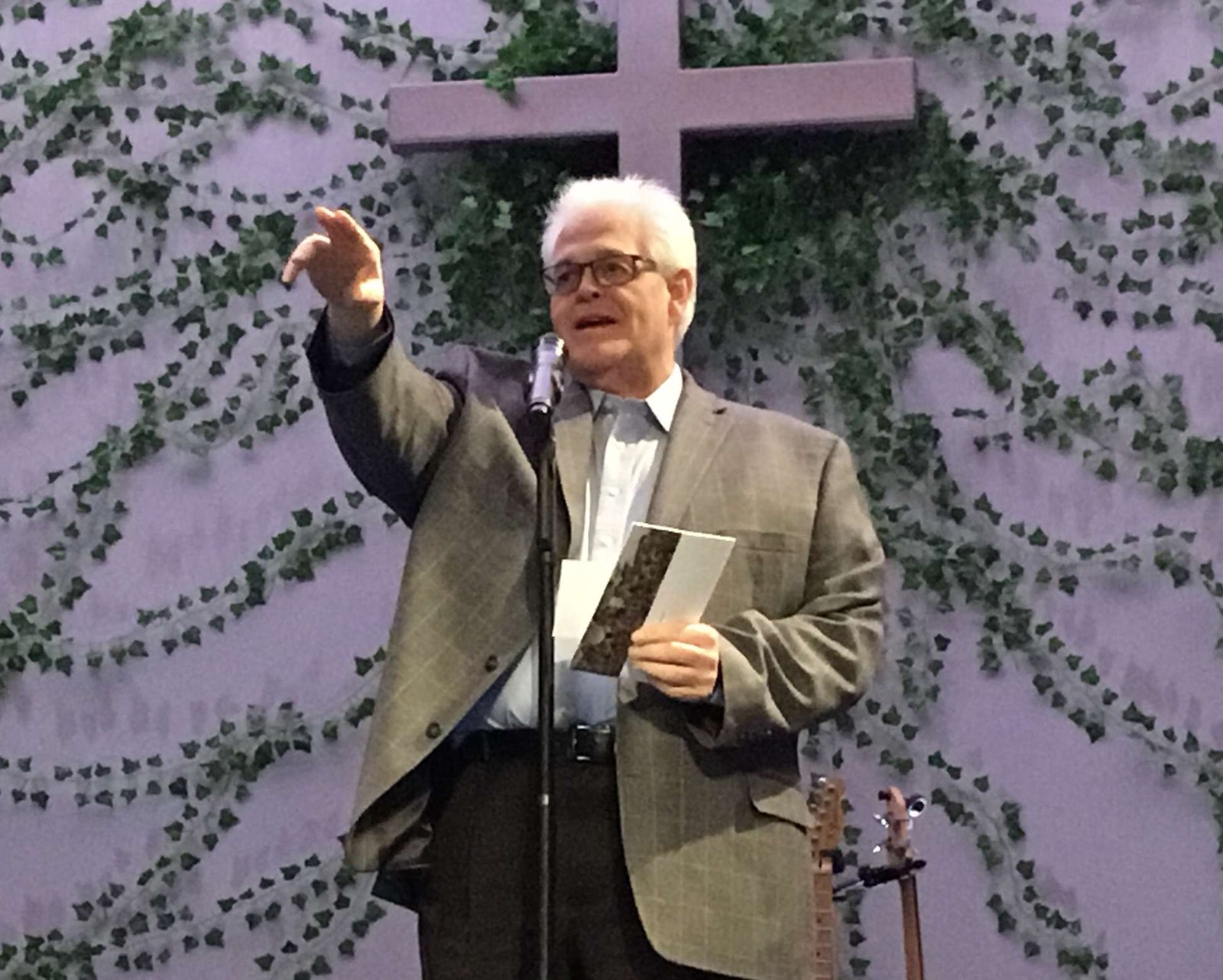 SERVICE TO OTHERS … Pointing out some of the volunteers who helped to make the Gospel Echoes Banquet, held on April 29, 2022, a successful evening, Mr. Glendon Bender thanked each one, reminding everyone that without servant minded people and volunteers, the Prison Ministry could not go on. (PHOTO BY REBECCA MILLER, STAFF)
---
By: Rebecca Miller
What a thrill it was to have a packed room for the Gospel Echo Prison Ministry Banquet, after two years of not being able to hold it.
"Gospel Echoes Team is a prison ministry sharing the Gospel throughout the U.S. and Canada, through music, seminars, rallies, and literature in prisons, churches and community events."
The team which comes to Ohio is based in Goshen Indiana. For more info they can be found at www.gospelechoes.com or emailed at gbender@gospelechoes.com.
Pettisville Missionary Church was the host facility and the sanctuary was set up with beautifully decorated round tables to seat six at each.
The delicious dinner, cooked by Nicole St. John and family and many friends, was ham loaf, mashed potatoes, green beans, dinner roll and either lemon or chocolate pie bars.
Mr. Glendon Bender who was the spokesman for the Gospel Echo Teams at the "Archbold banquet held in Pettisville," took a few moments to thank all involved in making it a successful banquet:Banquet Coordinators Paul and Diane Heisey and Andrew and Nadine Heisey; Food coordinator Nicole St. John; Servers – Local church youth; hosts and sponsors; Decorators Heisey family; Chaplains Shirley and Larry Stuckey; and the Pettisville Missionary Church for the use of the facility.
The purpose of the banquet which has been held for many years, except the last two, is to give an update or Praise Report to the supporters of this ministry and to give everyone an opportunity to sign up to support again or start as a new supporter.
Music was the base for the evening, with the Mercy Road Team joined by the Harvest Team this year. Mercy Road Team is made up of Jon, Karleen, Alexis (16) and Tyler (13) Sommers and Kendal Eigst, while Harvest Team is Glendon and Lorna Bender.
Mercy Team sang quite a few songs as people were coming in and getting settled for the evening and a few near the end of the meal.
Harvest joined them for the major portion of the program, with many lovely solo moments for each of the singers. Seeing a group with such a wide variety of ages was refreshing and their voices blended beautifully.
As they sang a wide variety of numbers from hymns to gospel to newer songs, a video of prisoners was playing out on two large screens.
After each song, the sound would come up for the video and a testimony was shared. Prisoners spoke of how they have been blessed through the ministry of Gospel Echoes and how much they love the Bible Study program.
Some of their testimonies were gut wrenching, others were tearful and some were joyful as they shared of God's touch.
One gentleman named Larry Skrant, shared his story of being in prison three times in Ohio and how God turned his life around. He ended his talk by saying, "If the change is real…and it is, and the Changer is real…and He is, shouldn't we be telling somebody?"
This seems to be the theme of the Gospel Echoes Prison Ministry which has been ministering in prisons ever since it was started in 1969 by Marvin Beachy.
In the Praise Report, Mr. Bender shared some highlights of the past year. 74,440 Bible Study Curses were done; 431,018 Scripture address booklets were distributed as well as 4,324 New Life
Study Testaments; there were 3,951 Bible Course Graduates, 600 Bible Study Graders and thousands of volunteer hours.
Bender shared how hard it was for all of them not to be allowed in the prisons due to covid and that they are happy to see the prisons starting to reopen to volunteers.
A video ministry was started about a year and a half ago, to minister through in prison broadcasts. They now have "You Are Not Alone" a Christmas edition, and "Look to Jesus" with an Easter theme. Over one thousand videos have been sent to prisons for broadcast.
A statement made in Matthew 25:36 says, "I was in prison and you visited me." This verse was on the screen at the beginning and the end, reminding all that Jesus calls all to serve.
Bender shared that someone asked him what to tell young people that will keep them out of prison and he said, "Stay busy serving others!"
All throughout the program the glory for all accomplished was given to God and near the end the group sang, "Hallelujah! What a Savior!" reminding everyone there that the life changes in the prisoners who have met Christ and in the lives of anyone else who has met Him, are due to Christ and what He did on the Cross.
Rebecca can be reached at rebecca@thevillagereporter.com
---