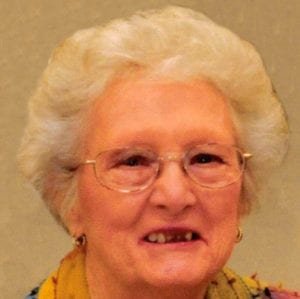 Helen L. Brown, 84, of Montpelier passed away Friday morning at her home.  She was born on September 30, 1933 in Montpelier to Ralph L. and Gertrude I. (Root) Spencer.  Helen graduated from Montpelier High School in 1952.  On June 22, 1952 she married Ronald J. Brown in Montpelier and he preceded her in death September 13, 2016.
Helen was a member of St. Paul's United Methodist Church in Montpelier.  In her early years of marriage, she was in a local Montpelier Bowling League.  She was taught the game of golf by her husband and became a frequent tournament winner.  In 1965, when Ron became a sales representative for Mohawk Tools, they moved their family to South Hadley, Massachusetts for nearly 30 years, returning in 1995.  She and her husband also enjoyed downhill skiing in New England and in Europe.  Helen was a very talented seamstress, making clothing and hand stitching penny rugs.  When her daughters were growing up, Helen was a Girl Scout Leader.  In 1999, she achieved the rank of Life Master Award in the American Contract Bridge League.
She is survived by her two daughters, Rickalene (Ron) Chamberlain of Montpelier and Gretchen (Stephen) Noiseux of Ipswich, Massachusetts; four grandchildren, Travis S. Chamberlain, Jared K. Chamberlain, Adam G. Chamberlain and Stuart D. Noiseux; one great grandchild Caddisy R. Chamberlain; and one sister Waneta (Joe) Wisman in Montpelier. Helen was preceded in death by her parents, Husband of 64 years Ronald, sister Edith Ricketts and infant children Kim and Tim Brown.
Visitation for Helen will be on Wednesday, February 21st from 4-7pm at the Thompson Funeral Home on Main Street in Montpelier.  Services will be Thursday at 11 am at the funeral home with Reverend Richard Blank to officiate.  Interment will follow at Riverside Cemetery in Montpelier.  Memorial contributions may be given to St. Paul's United Methodist Church.  Condolences can be left at www.thethompsonfuneralhome.com.