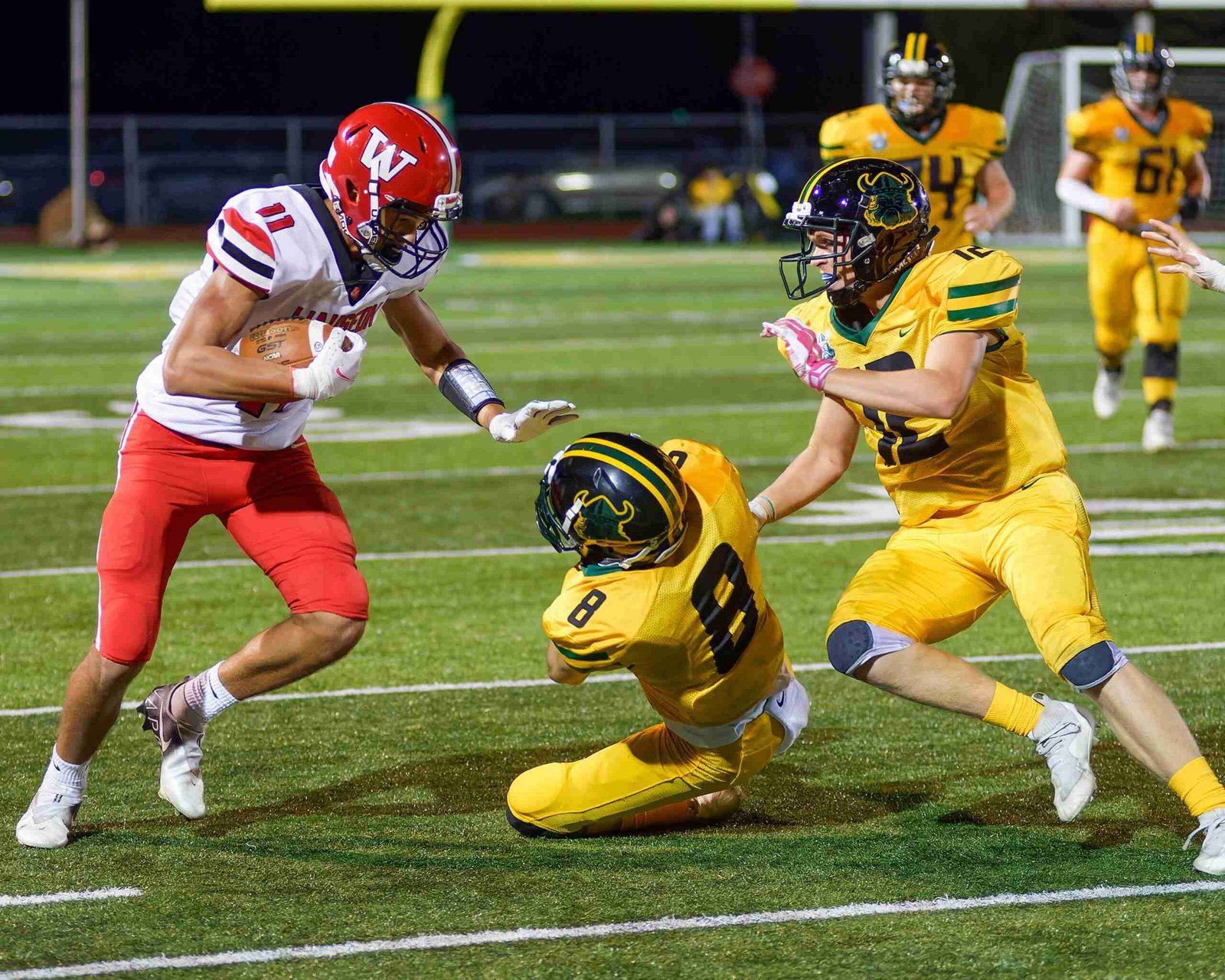 SPEED AT WIDEOUT … Sam Smith is one of three Wauseon receivers who will look to make big plays in the passing game against the Patriots secondary. (PHOTO BY JACOB KESSLER)
---
By: Nate Calvin
The calendar turns to October which means plenty of games with league title implications and playoff implications. With the playoffs expanding to 16 teams per region more teams will be playing meaningful games as we hit the final four weeks of the regular season.
GAMES TO WATCH:
Patrick Henry (5-1) at Wauseon (4-2)
This will be the game of the night in the NWOAL with the Patriots at 3-0 in the league, along with Archbold.
Patrick Henry rallied last week in the fourth quarter versus Bryan to keep their perfect record in the league.
This is the first game of a brutal stretch for Patrick Henry with games against Liberty Center, Delta, and Archbold to finish the season.
Patriots quarterback Nash Meyer has put up big numbers in the first year of the spread offense at PH going 99/146 for 1,333 yards and 11 TDs.
For the Indians, they are in a battle for a playoff spot while still having hopes of remaining in the league title hunt.
Already with one loss in the league this figures to be an elimination game for Wauseon as being saddled with a second league loss would substantially hurt their chances in the league race.
Wauseon signal caller Elijah McLeod enters the game leading the NWOAL in completions, passing yards, and touchdowns by going 105/161 for 1,469 yards and 15 touchdowns thru the first six games for Wauseon.
This also starts a tough string of games to close the season for the Indians with games at Delta, home with Archbold and then home against Bryan on October 22nd.
---
Bryan (3-3) at Liberty Center (4-2)
Bryan was on the verge of pulling the upset at Patrick Henry last week, until the Patriots stormed back with a 21-point fourth quarter to get the win.
Two of the top running backs in the league will be on display in this one with Korbin Shepherd (162 carries, 785 yds) leading Bryan and Matthew Orr (95 carries, 566 yds) pacing the Liberty Center ground game.
Sitting at 1-2 in the league, a loss by the Golden Bears will eliminate what small chance remains to get a piece of the league crown.
Liberty Center bounced back last week from their loss at Archbold with a convincing win over Swanton.
The Tigers, 2-1 in the league, are still contenders in the league race with a big game next week against Henry County rival Patrick Henry but they'll have to get by Bryan first.
---
OTHER GAMES:
Edgerton (3-3) at Hicksville (1-5)
Edon (5-1) at Hilltop (0-6)
Delta (3-3) at Swanton (0-6)
Evergreen (2-4) at Archbold (6-0)
Northwood (2-2) at Montpelier (0-4)
St. Mary Central Catholic (2-3) at Stryker (1-2)
Nate can be reached at publisher@thevillagereporter.com
---