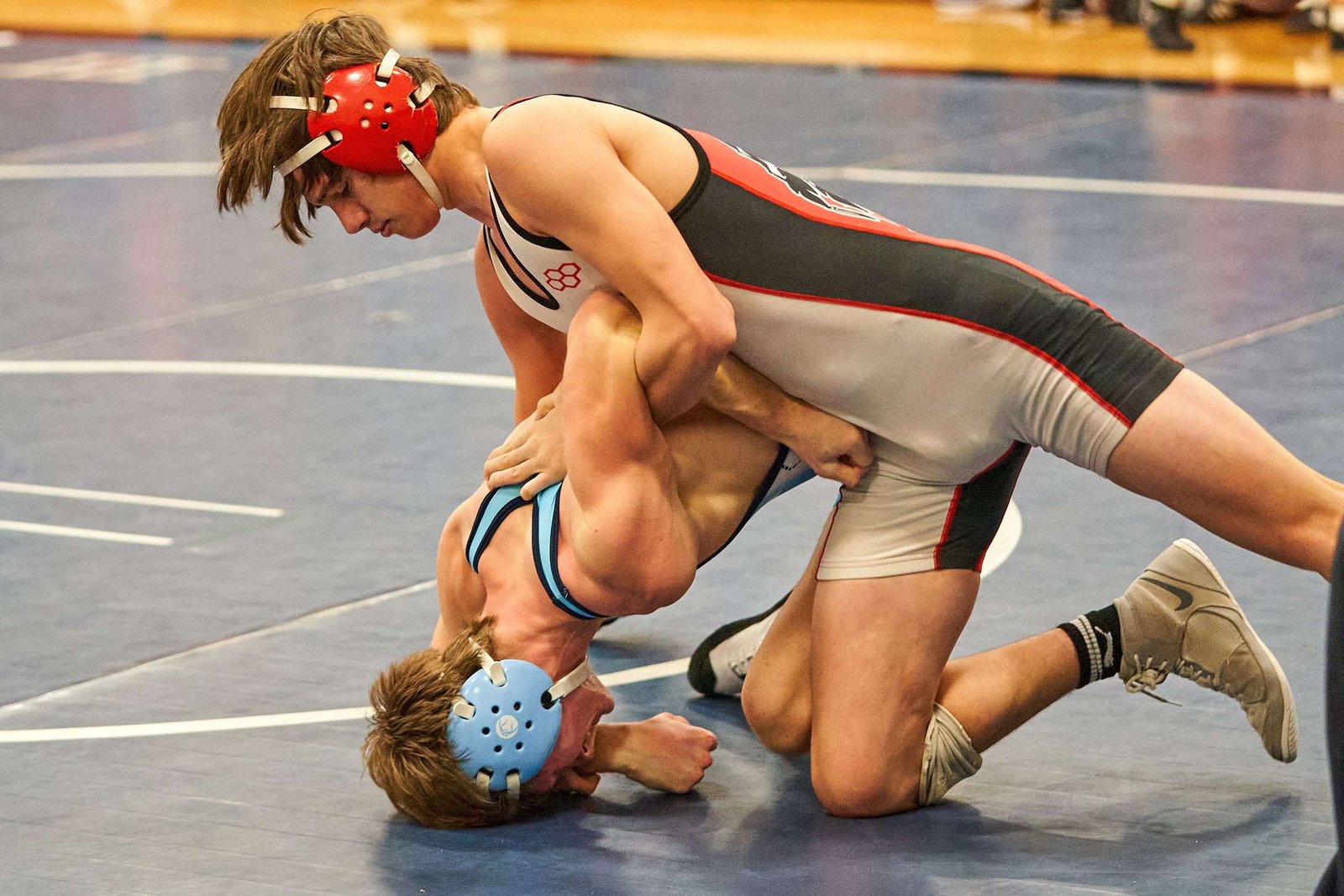 138 POUND DIVISION … Wauseon's Brennan Long gets the upper hand in his match against Landon Brigle of Montpelier. Long finished as runner-up at 138 while Brigle took third. (PHOTO BY RICH HARDING, STAFF)
---
WRESTLING
Jim Derr Invitational (24 teams)
1. Perrysburg 198.5; 2. Toledo Waite 193.5; 3. Whitmer 193.0; 4. Woodmore 182.0; 5. Lake 162.0; 6. Evergreen 144.0; 11. Swanton 87.0
AREA TOP 4 PLACERS: (113) 1. Setmire (E), 3. Fanelli (S); (144) 4. Studenka (E); (150) 1. Pennington (E); (165) 3. Richardspn (E); 215: 4. Kirtz (S)
Findlay Duals
1.Brecksville-Broadview Hts; 2. Wauseon 4-1 (d. Bowling Green 53-15; d. Hoover 42-26; d. Olmstead Falls 66-10; d. Columbian 57-16; lost to Brecksville-Broadview Hts. 47-19; 3. Hoover; 4. Napoleon; 5. Findlay
Cory Rawson Invitational
Archbold 5-0 (d. Ada 57-18; Arcadia 58-12; d. Cory-Rawson 60-16; d. Delphos Jefferson 54-24; Van Buren 61-15)
Montpelier Ironhorse Invitational
1. Fairview 160.5; 2. Wauseon (White) 159; 3. Edgerton 140; 4. Montpelier 133; 5. Parkway 130; 6. Bryan 91; 7. Antwerp; 8. Napoleon 67; 9. Hicksville 50
AREA TOP 4 PLACERS: (106) 1. Cretors (M), 2. Lane (B), 3. Rezabek (B); (120) 1. Herman (E), 2. Altaffer (M), 3. Wasnich (W); (126) 1. Miller (W), 2. Fisher (W), 4. Carollo-Jones (B); (132) 1. Schneider (W), 4. Vitek (B); (138) 2. Long (W), 3. Brigle (M); (144) 4. Kretz (W); (150) 4. Nagel (W); (157) 2. Waxler (W); (165) 2. Murphy (E); (175) 1. Flower (E); (190) 2. Martin (E), 3. Shartzer (B); (215) 1. Huffman (E), 4. Edgnar (B); (285) 1. Treesh (M), 4. Jasso (W)
BOYS BASKETBALL
Varsity
Eastside (IN) 65 Bryan 27
BUTLER, IN – The Golden Bears slid to 0-3 on the young season after a 65-27 loss to Eastside (IN). No stats were reported.
Wauseon 59 Fairview 43
SHERWOOD – Wauseon found themselves in a 20-12 hole after the first quarter but charged back with a 27-11 second quarter to pickup their first win of the season. Jonas Tester led the Indians effort by pouring in 27 points to go along with six rebounds and six steals.
Evergreen 63 Otsego 37
TONTOGANY – Evergreen evened their record at 2-2 with a 63-37 road win. No stats were reported.
Stryker 65 Hilltop 32
WEST UNITY – Stryker traveled to Hilltop and picked up a 65-32 nonconference win over the Cadets. No stats were reported.
Archbold 59 Kalida 54 (OT)
ARCHBOLD – The Bluestreaks outscored Kalida 16-12 in the fourth quarter to force overtime where they had a 9-4 advantage to get the win. DJ Neman paced Archbold (2-0) with a game-high 26 points while Alex Roth added 18.
Pettisville 53 Paulding 39
PETTISVILLE – Cayden Jacoby recorded a double-double (21 points, 10 rebounds) to help the Balckbirds move to 2-2 on the season. Jaret Beck added 16 for Pettisville, who shot a blistering 19/30 (63%) from the field.
North Central 69 Lakewood Park Christian 68
PIONEER – Trailing 55-51 entering the fourth quarter, the Eagles outscored Lakewood 18-12 in the final eight minutes to escape with a 69-68 win in their season opener.
North Central's Zack Hayes led all scorers with 31 points as he closed to within three points of 1,000 in his career. Hayes was joined in double figures by Joey Burt with 12 and Landon Justice added 11.
JV SCORES:
Wauseon d. Fairview 45-42
N. Central d. Lakewood Park 39-37
Evergreen d. Otsego 51-48
Delta d. Montpelier 37-27
Eastside (IN) d. Bryan 33-29
Paulding d. Pettisville 37-31
FRESHMAN SCORES:
Otsego d. Evergreen 44-27
GIRLS BASKETBALL
Varsity
Evergreen 49 Otsego 9
METAMORA – The Vikings raced to a 37-9 lead at halftime and then kept the visitors off the scoreboard in the second half to earn a 49-9 victory. Bekah Bowsher knocked down four triples and totaled 23 points for Evergreen (3-2).
North Central 44 Liberty Center 41 (OT)
LIBERTY CENTER – Darbi Stewart drained a three at the buzzer to force overtime where Lauren Balser and Isabelle Burnett each hit a triple as North Central pulled out a 44-41 win.
Madison Brown posted 16 points to lead the offense for the Eagles (3-3), leaving her just four points away from 1,000 in her career.
Toledo Bowsher 55 Swanton 25
TOLEDO – Swanton dropped to 3-2 overall after a nonconference loss to Toledo Bowsher 55-25. No stats were reported.
Woodmore 67 Delta 40
WOODMORE – Delta fell behind 12-4 after one quarter and couldn't recover in a 67-40 loss to Woodmore. Khloe Weber led the Panthers in the scoring column with 17.
JV SCORES:
Evergreen d. Otsego 46-10
L. Center d. N. Central 28-11 (2 quarters)
---