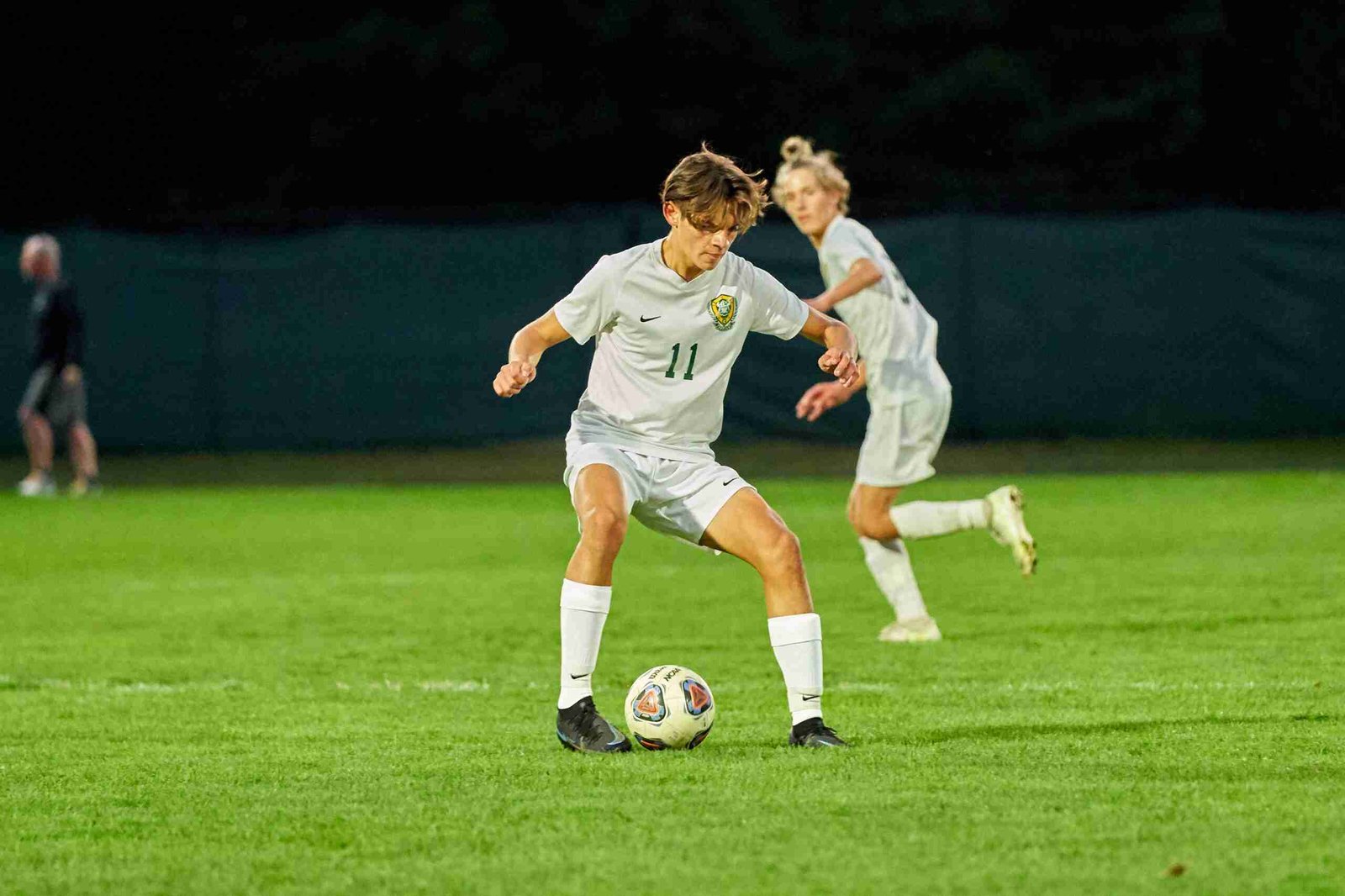 NWOAL VICTORY … Evergreen's Elijah Hernandez handles the ball in open space during the first half of a 6-1 win at Bryan. (PHOTO BY RICH HARDING, STAFF)
---
BOYS SOCCER
Evergreen 6 Bryan 1
Tyson Woodring scored eight minutes into the match and he later assisted Alex Peete on a goal with seven minutes left in the half as Evergreen rolled to a 6-1 win. Anthony Tomaszewski was responsible for the Golden Bear goal on an assist by Quinn Brown.
Wauseon 12 Swanton 2
Wauseon raced to an 8-1 lead at halftime cruised to a 12-2 NWOAL win at Swanton (1-9, 0-4 in NWOAL). Gavin Gerig led the onslaught for Wauseon (7-3, 3-0 in NWOAL) with four goals, Eli Delgado added three scores and Benicio Torres had four assists.
Archbold 4 Liberty Center 0
Kaden Rufenacht scored twice for Archbold (3-5-1, 2-2 in NWOAL) to lead the Bluestreaks past Liberty Center 4-0. Brodie Dominique and Ethan Stuckey registered the other Archbold goals in the match.
Pettisville 15 Northwood 0
Pettisville received three goals from Zakkai Kaufmann and Hayden Jones scored twice in a 15-0 rout of Northwood. Harley Crossgrove, Bryce Beltz, Augustine Vallejo, Angie Rosillo, Quinn Wyse, Cayden Jacoby, Jaret Beck, Joey Ripke, Griffin Eash, and Zach Morris had a goal each for the Blackbirds.
GIRLS SOCCER
Archbold 4 Continental 0
Briena Partin and Carlee Meyer found the net for Archbold in the first half to propel them to a 4-0 win. Meyer added another goal early in the second half and Janae Kinsman capped the Archbold scoring with a goal at the 17:29 mark of the second half.
VOLLEYBALL
Stryker 3 Fayette 0
Sage Woolace was a perfect 32/32 serving with 10 aces and had 19 digs to lead Stryker past Fayette (0-12, 0-1 in BBC) 25-9, 25-8, 25-14. Haylee Fulk added 17 assists to the Stryker (6-10, 1-1 in BBC) attack while Mallori Blevins was 22/25 hitting with seven kills.
Pettisville 3 Holgate 1
Susan Ringler recorded 10 digs, 30 assists, and was 21/22 serving to help the Blackbirds knock off Holgate in four sets 25-14, 23-25, 25-22, 25-14. Rosemary Baer added a 18/18 serving night with eight digs and six kills while Paris Coopshaw went 11/13 serving (six aces) and 19 digs for Pettisville (3-10, 1-1 in BBC).
Edon 3 Montpelier 0
The Bombers are now 2-0 in the BBC after a 25-19, 25-15, 25-18 win over Montpelier. Emma Hickman led Edon with 19 assists and Carlie Kiess added five kills and 12 digs. The Locos (6-8, 0-1 in BBC) were led by 11 kills and six blocks from Ariel Page.
Archbold 3 Liberty Center 0
Archbold moved to 5-0 in the league with a 25-16, 25-14, 25-17 victory over Liberty Center. Chaney Brodbeck and Keely Culler had 11 kills each and Addi Ziegler tallied 33 assists for the Streaks.
Bryan 3 Evergreen 0
The Golden Bears upped their record to 3-2 in the NWOAL and 6-11 overall after defeating Evergreen 25-16, 25-13, 25-17. Maya Keil paced Bryan by going 25/25 serving, Crystal Fillman had 20 assists, and Gwen Spengler added eight kills and 10 digs.
Wauseon 3 Swanton 1
The Indians handed Swanton their first league loss of the year in four sets 18-25, 25-23, 25-17, 25-23. Swanton led 23-17 in the fourth before an eight-point serving run by Hayley Meyer ended the match for Wauseon (12-4, 4-1 in NWOAL)
Patrick Henry 3 Delta 2
The Patriots won the first two sets and then recovered after being forced to a fifth set to get the NWOAL win over Delta 25-17, 25-15, 22-25, 21-25, 15-8. No stats were reported.
Hicksville 3 Edgerton 1
After dropping the first set, Hicksville stormed back to get the win in four sets over Edgerton (25-27, 25-8, 25-21, 25-15). The Bulldogs (4-8, 0-4 in GMC) were paced by Sadie Walther (52/54 hitting w/14 kills), Taylor Smith (76/76 setting, 18 assists, 15 digs), and Noelle Ritter (21/23 hitting, 17/19 serving).
JV SCORES:
Stryker d. Fayette 2-0
North Central d. Hilltop 2-0
Edon d. Montpelier 2-1
Pettisville d. Holgate 2-0
Wauseon d. Swanton 2-1
Evergreen d. Bryan 2-0
Archbold d. Liberty Center 2-0
FRESHMAN SCORES:
Evergreen d. Bryan 2-1
Swanton d. Wauseon 2-1
GIRLS TENNIS
Archbold 5 Toledo Christian 0
SINGLES: 1. Schramm (A) d. Toth 6-1, 6-2; 2. Stuckey (A) d. Foley 6-1, 4-6, 10-6; 3. Taylor (A) d. Peters 6-3, 6-2; DOUBLES: 1. Short/Rose (A) d. Moore/Rogers 6-1, 6-2; 2. Wolf/Delaney (A) d. French/Kaufman 6-4, 6-2
Bryan 5 Elida 0
SINGLES: 1. Posey (B) d. Long 6-2, 6-1; 2. Adams (B) d. Guth 6-0, 6-0; 3. Seaman (B) d. Khork 6-1, 6-0; DOUBLES: 1. Bassett/Grothaus (B) d. Troyer/Crates 6-0, 6-0; 2. Taylor/Wheeler (B) d. Mack/Valory 6-0, 6-0
Wauseon 4 Ayersville 1
SINGLES: 1. Barnes (W) d. Becher 6-0, 6-0; 2. Wright (A) d. Starkweather 3-6, 6-2, 7-10; 3. Bowers (W) d. Burke 6-4, 6-2; DOUBLES: 1. Roblero/Holcomb (W) d. White/Swift 6-0, 6-0; 2. Zientek/Burt (W) d. Honenberger/Braham 6-0, 6-0
---