(PHOTOS BY LINDSAY PHILLIPS, STAFF)
---
By: Lindsay Phillips
The Sunday before Memorial Day, May 29, was a beautiful and sunny day for Hilltop Cadets to graduate. The gymnasium was filled with family members, friends and loved ones, to see their graduate cross the stage and receive their hard-earned diplomas.
The Class of 2022 Hilltop Highschool Commencement Ceremony began at 2:00 p.m. with graduates walking down the two center isles to raised seating in three rows.
Following a well-rehearsed piece from the band, everyone stood for the Star-Spangled Banner performed by the Cadet Chorale.
Class President, Gabe Mathews welcomed attendees and gave a short speech, followed by an introduction from Highschool Principal, Steven J. Riley.
Everyone in attendance watched as the band performed "The Raven" by Barry Kopetz with director Eric Cooper. Another great performance was had by the Cadet Chorale of "You will be found" by Mac Huff.
Honor student, Jamie Chester, was the first to deliver a speech out of four honor students, that gave moving addresses. Chester stated, "Chase the dream that seems out of reach, just don't chase someone else's dream even if it seems easier or more rewarding."
Following the hand claps of the audience, Kacy Connolly was second to speak. Connolly shared, "So I would say for the most part, our class has gone through some tough times, but we've made it here through the support of our teachers, families and friends, thank you."
Ian Hoffman took the platform next and stated, "Teamwork is another thing our class is really good at. To this day, our class has had at least one person on six different championship teams, six sectional titles, three division titles, and two regional final softball teams."
Last, but not least, Hunter Leupp gave his class a piece of advice, "It is said from one of the most inspirational and brilliant persons, Kanye West, when you're the absolute best, you get hated on the most, so do with that what you will, thank you."
Students wearing red, white and blue cords were asked to stand, for they will be entering the military. Following the applause of those students, active military members, and veterans from the audience were asked to stand, and generously thanked for their service.
Each student was called to the stage to receive their diploma, and get their picture taken by a photographer hired by the school.
Before walking out the doors and being greeted by their families, students participated in the turning of the tassel.
Lindsay can be reached at publisher@thevillagereporter.com
---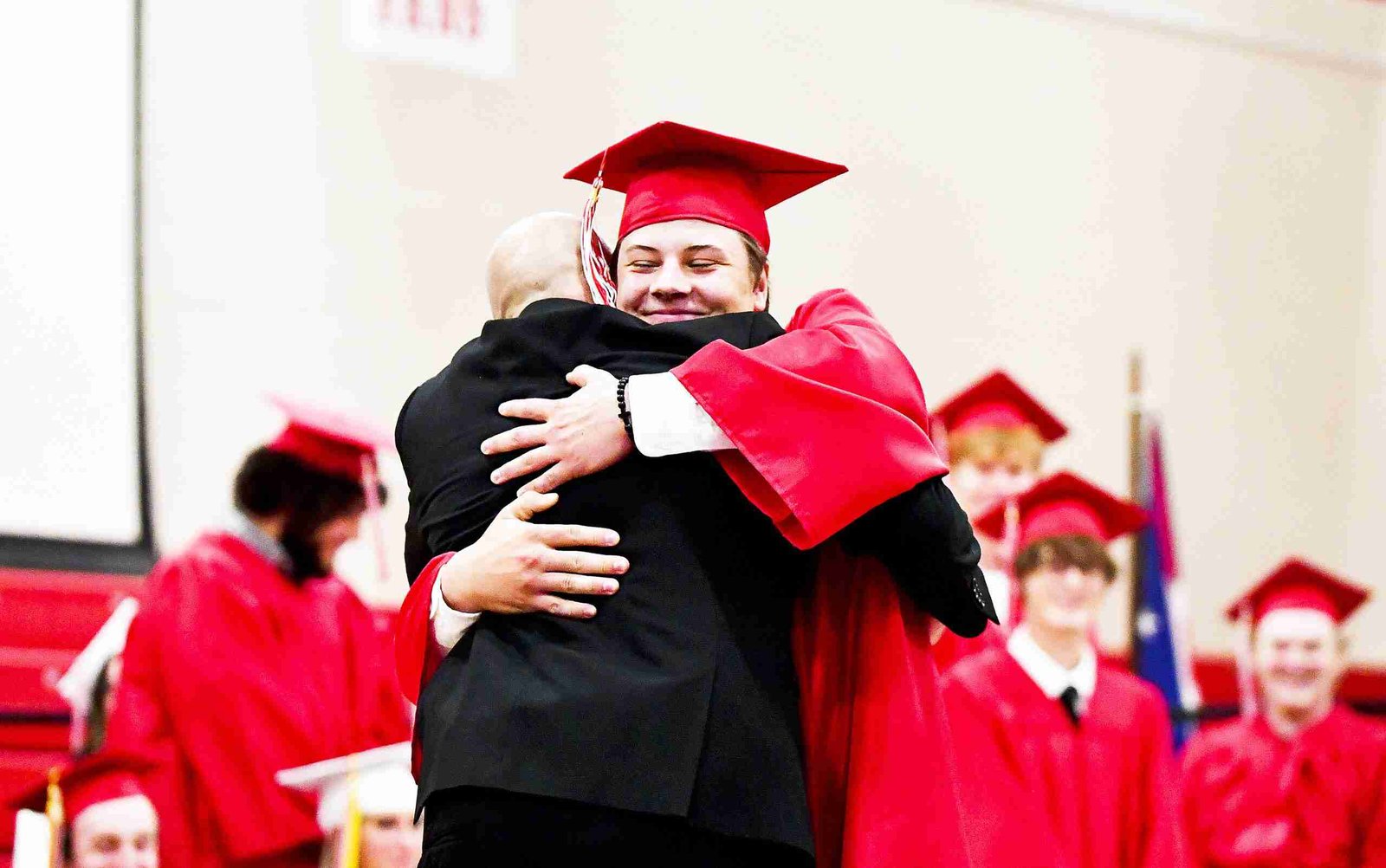 ---