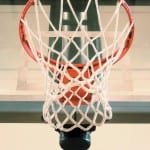 STRYKER – The Stryker Panthers went toe to toe with the Liberty Center Tigers in a December 29 slugfest in The Cage. Thanks to the game-high 19 points from senior Hunter Clingaman, the hometown boys rang out 2012 by ringing up their visitors by a 49-46 score.
First quarter treys from Clingaman and Austin Robison gave the Panthers a slim one point lead that stood until intermission. Both teams came out flat in the third, but it was Stryker getting the upper hand and building a five-point advantage going into the fourth. Liberty Center mounted a furious rally in the final frame, only to be countered by a hailstorm of free throws, deuces from Clingaman and Parker Ruffer, and a rainmaker from Dean Beamont.
Ruffer finished with 16 in support of Clingaman, with Beamont adding 5 points, Cole Heath 4, Robison 3 and Tanner Clingaman 2.
SCORING BY QUARTER:
Stryker  11  11  9  18 – 49
Delta  10  11  5  20 – 46