---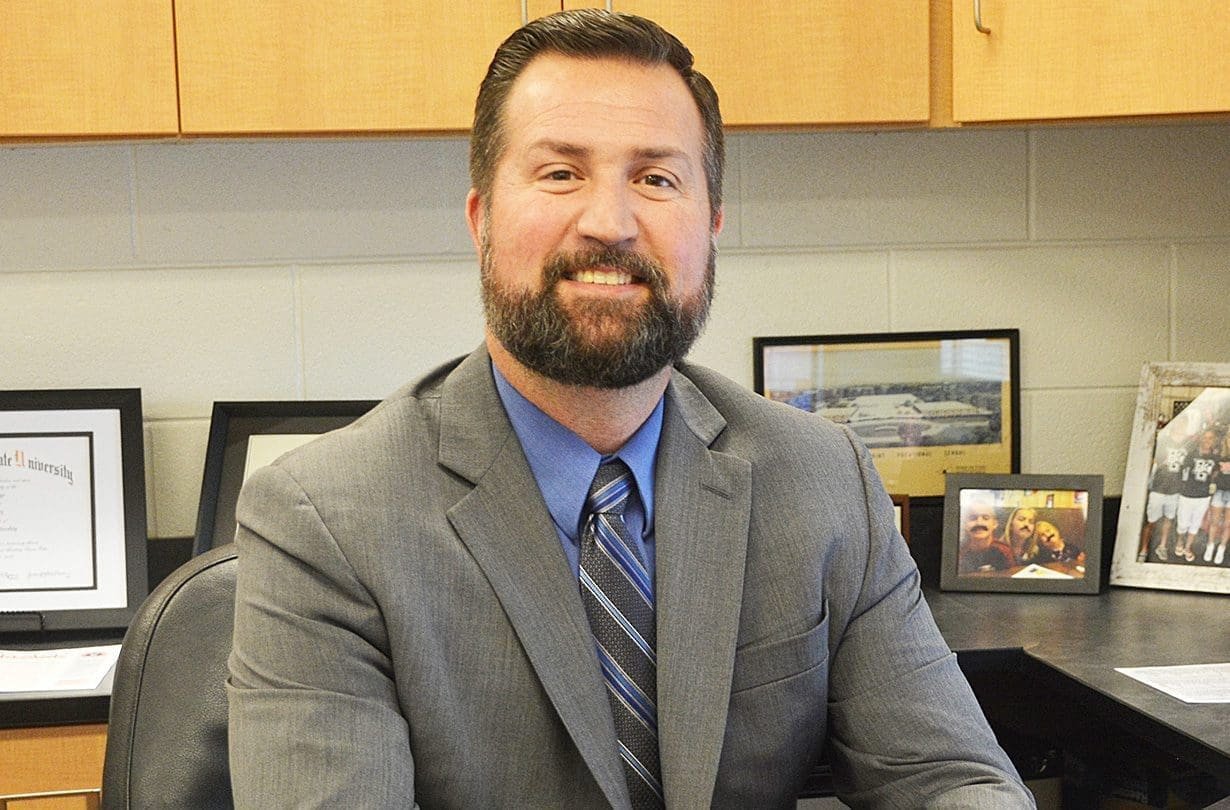 NEW SUPERINTENDENT … Mr. Slattery is the seventh superintendent in the 54-year history of the Career Center. (PHOTO PROVIDED)
---
By:  Amy Wendt
The Four County Career Center (FCCC) started the new year with a new superintendent following the retirement of Tim Meister.
On January 3, Jeff Slattery took the reins and is looking forward to working with the staff and students FCCC.
Slattery, who was born and raised in Hicksville, has been on an interesting journey throughout his career which ultimately lead him to his current position.
Upon graduating from Hicksville High School, Slattery began his career in the private sector working in manufacturing.
After marrying his wife, Jaimee, he went to college and focused on obtaining a degree in education.
His first teaching position was in Indiana with the DeKalb County Eastern Community School District where he taught math, science and social studies at Eastside Middle School for about seven years.
During that time, he also earned his principal administrative degree.
Shortly thereafter, his career path took another turn and he left education to pursue a healthcare administrator position with Trilogy Healthcare.
After about two years of working with Trilogy, Slattery received a call from the superintendent of Hicksville Village Schools asking if he had any interest in being a principal at Hicksville.
Slattery jumped at the opportunity to stay in his home school district where his children were students and he served as Hicksville's High School Principal for nearly 10 years.
"My passion is in education I really do enjoy the students and the opportunities to assist them with their education," Slattery shared.
"It was where I was born and raised and graduated and I enjoyed the people in the (Hicksville) community."
"The last 10 years were amazing there and it was a great run," he added.
When Slattery heard about the upcoming superintendent opportunity at Four County, he was definitely interested in the position but assumed due to his lack of experience as a director or superintendent, he would not have a chance at landing the job.
Nonetheless, he reached out to Tim Meister to get his opinion. Meister told Slattery he would be a great fit with the students and staff and encouraged him to apply.
After discussing the potential career move with his wife Jaimee, and his children, Slattery decided to put his hat in the ring.
Slattery has three children: daughter, Avery, a freshman at BGSU; son, Braydon, a Junior at Hicksville High School; and daughter, Taylor, who is a Freshman at Hicksville High School.
Slattery's first goal at FCCC is to build a relationship with the staff, and student body. He also plans to reach out to the 22 partner school districts.
"I do think that it all starts off with that positive relationship with everyone, learning and understanding the districts," Slattery said.
"Coming from a traditional school district, I know from the outside looking in that it is different here at a career type of educational setting so I need to make sure that I'm educated," he continued.
Slattery hopes his own varied work experience will allow him to offer a unique perspective when sitting behind the superintendent's desk.
"Mr. Meister, the administrative team and staff here have done an excellent job at Four County Career Center over the years," Slattery noted.
"I'm excited to be here. I'm grateful for the opportunity to be superintendent at Four County Career Center and to be able to work with so many different students and so many different communities."
"I look forward to it and I look forward to continuing the positive Legacy that Four County has in Northwest Ohio."
Amy can be reached at amy@thevillagereporter.com
---