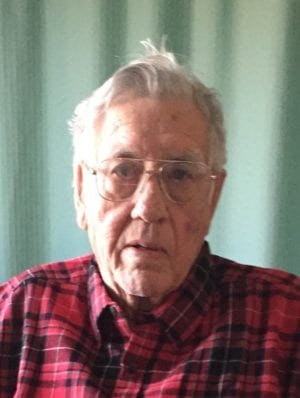 Jumar "Jerry" Kissinger, 93, of Montpelier passed away Wednesday morning at The Village at Hillside Country Living in rural Bryan. He was born on March 15, 1923 in Blakeslee, Ohio to Charles C. and Orilla A. (Linn) Kissinger. Jerry graduated from Edon High School in 1941. He served his country in the United States Army Air Corps Division during World War II. On February 3, 1946 he married Anna J. Schelling and she preceded him in death on June 3, 2011.
Jerry was a member of St. John's Lutheran Church and V.F.W. Post #944, both in Montpelier. He retired from Robinair Manufacturing in Montpelier in 1985 after 30 years as a Design Draftsman in the Engineering Department.
He is survived by; four daughters, Melody (George) Hoffman of Napoleon, Rosanna (Dale) Koch of West Unity, Linda (Dennis) Keesbury of Montpelier, and Sharon (Jeff) Simon of Montpelier; ten grandchildren, eighteen great grandchildren, one great great grandson; and one sister Valencia (Edson) Finkenbiner.
Jerry was preceded in death by his parents, wife Anna and one great grandson.
Visitation for Jerry will be on Friday, May 13th from 4-8pm at the Thompson Funeral Home on Main Street in Montpelier. Funeral Services will be on Saturday at 11am at the funeral home with Pastor Paul Gruetter to officiate. Interment will follow at Riverside Cemetery in Montpelier with the Montpelier Veterans providing military honors.
Memorial contributions may be given to St. John's Lutheran Church in Montpelier. Online condolences can be left for the family at www.thethompsonfuneralhome.com