---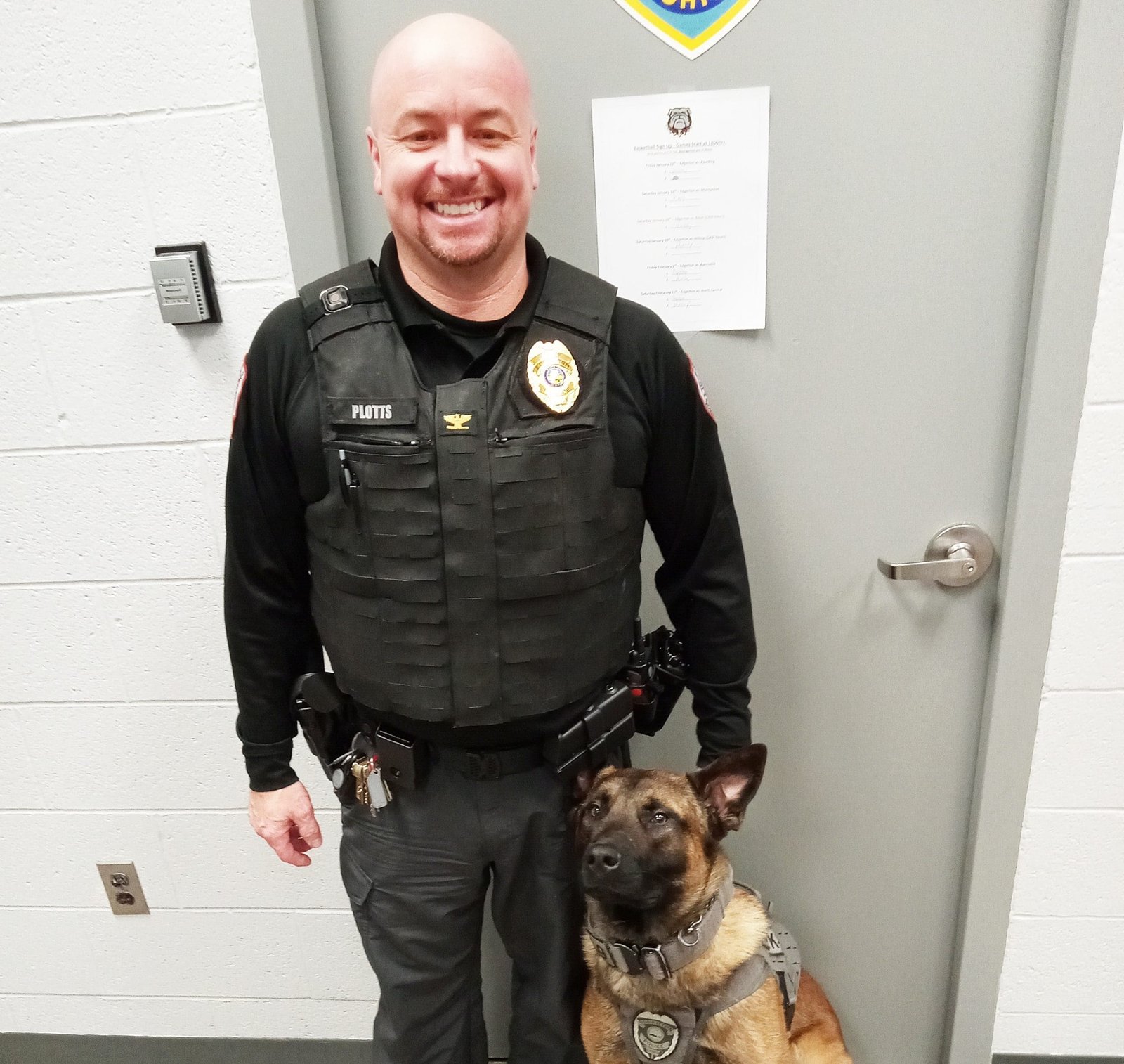 ---
By: Daniel Cooley
It's official. Jaxx the dog, a Belian Malinois, is now a part of the Edgerton police force. Jaxx had to be certified to become a part, going through 14 weeks of training.
"It was a long time, but it was worth it," said Edgerton Police Chief Gary Plotts, who is Jaxx's owner.
As a part of the training, Jaxx can sniff out narcotics (except marijuana), can track weapons and track people.
In order to stay certified, Jaxx must participate in 16 hours training per month.
The initial steps to getting Jaxx was to first of all TO get enough funding. Then, Plotts had to get approval from Edgerton council.
Once those two things were accomplished, Plotts had to find a police dog. Plotts had a stipulation in doing that, too.
"I had to have a dog that would get along well with people and with children," Plotts said.
In searching for a dog, Plotts went through Magnum K-9, out of Quincy, Michigan. Then, it became love at first sight.
"There were three dogs in the vehicle, Jaxx was the first one out and I knew immediately that he was the one for me," Plotts said.
In going through the training, Jaxx was a part of 13 other dogs that were from a variety of places.
Plotts said that Jaxx and the others met at a variety of places for training, often at the site of one of the other dogs, like in Hillsdale, Michigan and Montpelier. That way, the surroundings were never the same.
Jaxx, born June 15, 2020, is now two years and seven months old.
He was born in Czechoslovakia and has been trained like a police dog since he was six months old.
Jaxx was originally trained by Germans, so he responds to commands in both German and English. Jaxx also has perpetual energy.
"He has massive energy and his motor never shuts off," Plotts said. "I took him out one day for a two-mile run. It ended up being four miles and he still wasn't at all tired."
Now that Jaxx is a part of the police force, Plotts takes Jaxx up to the schools, including St. Mary's, at least four times per week.
"The kids love him and he's the ice breaker," Plotts said. "He has brought back police morale."
Jaxx has adjusted well to home life, too. "When he gets home, he puts on a different collar and he seems to know the difference," Plotts said.
"The kids at home love him and take him for a lot of walks. At night, he sleeps at the end of my bed." And if Jaxx is ever assigned overseas police work, he's all set.
"Jaxx has his own passport, already," Plotts said.
Dan can be reached at publisher@thevillagereporter
---