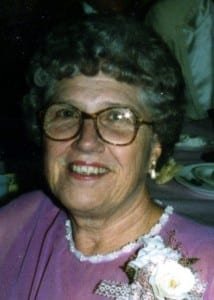 Kathryn L. Hancock, age 97, of rural Evansport, passed away Saturday afternoon, October 27, 2012 at Fountain Park, Bryan. She was born July 12, 1915 in Williams County to the late Clarence and Henretta (Schug) Stratton. She married Herbert L. Hancock and he preceded her in death on October 20, 1972. She was a lifelong homemaker and member of Evansport United Methodist Church, where she was active in the United Methodist Women. She was also a member of the Friendship Club, Farm Bureau and Kidney Foundation.
Survivors:
Two sons, Darwin (Judy) Hancock, of Defiance, Darrell (Shari) Hancock, Bryan, Ohio. One daughter, Mrs. Jeanie (Norma Jean) Hagerman, and husband Terry, of Venice, Florida. One sister, Mrs. Pauline (McFarland) Brillhart, Archbold. 7 grandchildren. 15 great-grandchildren. 2 great-great grandchildren. Kathryn is preceded in death by her husband and brother, Harold Stratton.
Funeral service 11:00 a.m. Wednesday, October 31, 2012, in Evansport United Methodist Church, Rev. Becky Ploughe officiating. Interment will follow in Evansport Cemetery. Friends may call 2:00-8:00 p.m. Tuesday in the church. A fellowship luncheon will follow the graveside services Wednesday. Memorial contributions may be made to the Evansport United Methodist Church.
Online condolences at www.GrisierFH.com.
Arrangements entrusted to Grisier Funeral Home, Stryker, Ohio.