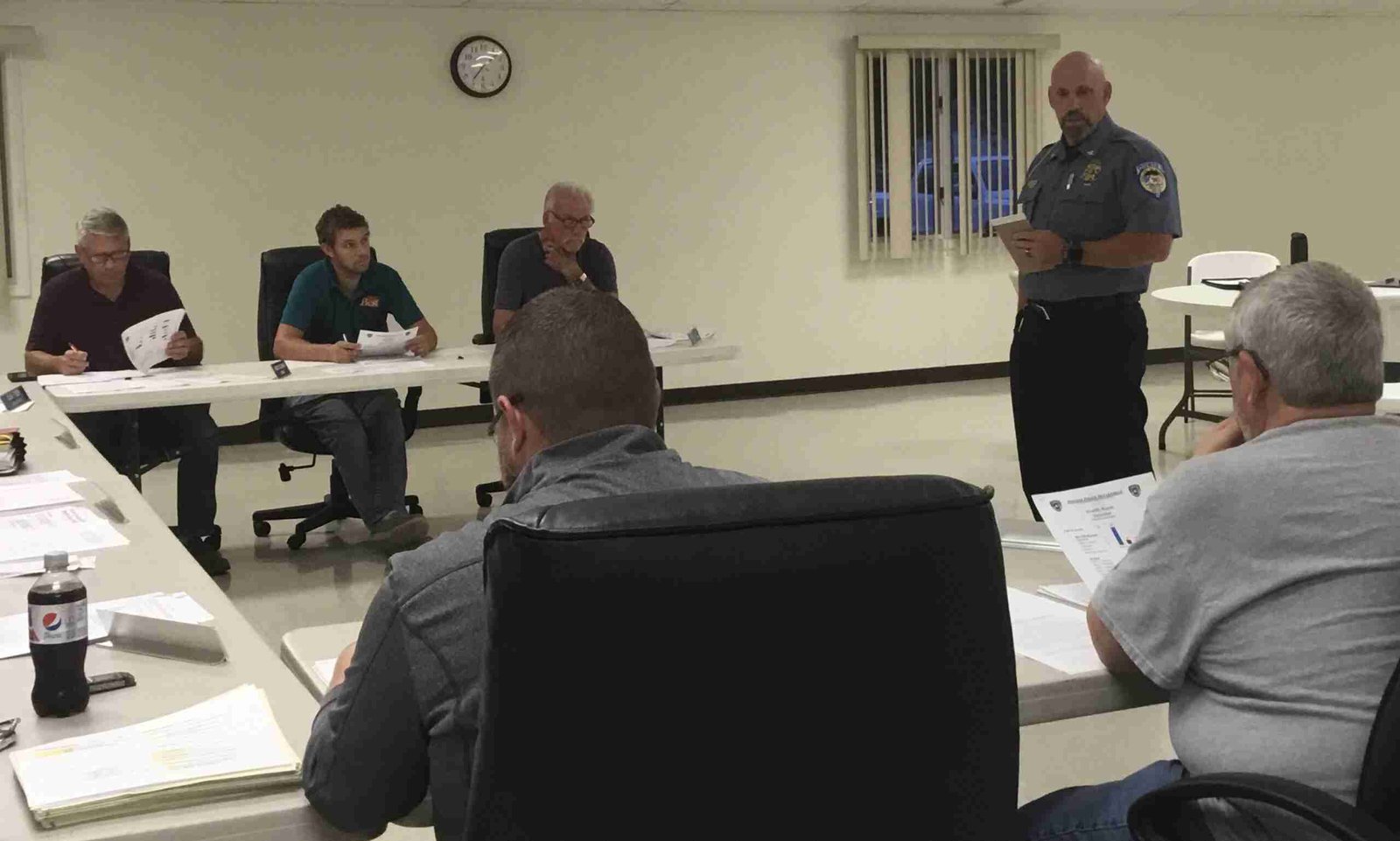 TAKING ACTION … Pioneer Chief of Police Tim Livengood spoke with council about the need to educate students, parents and school staff about "sexting" which "can bleed into human trafficking." He is working with the Attorney General's office to have them come and address this topic at the school. (PHOTO BY REBECCA MILLER, STAFF)
---
By: Rebecca Miller
Pioneer Village Council began the October 11, 2021, Monday night meeting a little after 7 p.m. due to a clerical error which was being corrected on a resolution. Those who were there to the end did not walk out the door until a little after 8:30.
Some Village Councils last an hour and a half, but most are wrapped up in 30 to 60 minutes, so a long one means there was either a major topic of discussion or the council heard from village residents.
For this meeting, both occurred, along with a few minutes in which Mayor Ed Kidston and Council member Albert Kwader called each other liars.
The meeting began with the normal approval of: the agenda with corrections, the minutes of the last meeting (September 13, 2021), the financial report, and payment of all the bills.
In his police report, Chief Tim Livengood informed council that besides the statistics of the last month, he wanted them to know that things went well at the Fall Festival; he is working with the Attorney General's office to have them come into the school to talk with the students about the dangers of "sexting" and to educate them as well as the staff and parents as it can bleed into human trafficking; the safety plans are being updated at the schools; he was recently selected for the Domestic Task Force of Williams County and they also sent their thanks to Pioneer for the $5000 donation; and a goal to have all officers Crisis Intervention trained.
He also asked council to take SRO off probation as he has completed his six months and is doing "a fantastic job." Council member Connie Salisbury said, "At every age level, he is doing a really fantastic job!" Council then voted to remove the SRO from probation.
Fire Chief Denny Fackler reported that they hosted a Fire Safety Day that was a great success for the third graders. He currently has two fire fighters taking the Fire Fighter one class and he hopes for approval of sale of old SCBA items. Mayor Kidston asked both Chief's to stop by his office sometime during the week to chat with him about a few things in their departments.
Kim Oxender thanked council for letting her share about this year's event, the Kalob McLaughlin Ride to Remember. She said it was a great success and the Bull Riding was so good they already have several bulls lined up for next year.
The funds are being distributed, and they have used $1500 for transplant patients, using the last of that specifically for a gentleman who has to have his kidney re-transplanted, who was on Kalob's Tree of Life and got a kidney and pancreas in 2015.
They fully paid scholarships for four FFA students to go to Convention ($2000); gave $1500 to the Pioneer Fire Department, $1500 to Community Tissue Service, $500 to the Transplant House of Cleveland and $100 to Life Connections of Ohio.
They plan to make the event bigger and "more bold" and hope to set if for July 9, 2022. Mayor Kidston said they will decide on the specific date later, adding that July 9 will probably be fine, and mentioned how it seemed that every kid in the town got a new bike at this year's event!
Oxender commented that she loves that it was all free as the bicycles are all donated. "God is just amazing. We never ask for any bike donations. Our town is blessed with good people," she said.
Village Administrator Al Fiser reported that the Street Sweeper was purchased for $273,000. It is a 2019 Demo model and it cost a lot less, because it was only used as a demo.
They are on target with mower trades for next year, with two riding mowers and the gator. He recommended and got approval of a motion to make the trade for new ones, at a total cost of $26,812.21, from Kenn Feld John Deer in Archbold.
The Storm Outlet Box for Lake Pioneer is ordered, costing around $12,000 for the whole project, and it will be put in at the lake in November. He also said they are anticipating the sale of the KB lines, and Nick Carlson has completed his second year lineman schooling and is beginning his third year lineman school.
The final payment will be made to Lukaczek, after two and a half years. The payment came out lower than what the contract stated, so the village did well.
The plan is to issue them a check with the stipulation that they pay some income tax that is due before they are paid. Council voted to approve a final Change Order for this project.
Fiscal Officer, April McMillen, reported that she is working on the 2022 budget and will have it ready for the December meeting. Council member Connie Salisbury announced that the 4th Annual Christmas Tree Lighting will take place at the Gazebo on Saturday, November 20 at 5:30 p.m.
Team Tiffanie will be serving cookies, coffee and hot cocoa and donations will be accepted for cancer research. Mayor Kidston reminded everyone that Trick or Treat will be held from 5:30 – 7:00 on Saturday, October 30, with Costume Judging at the Firehall at 7.
In regular business, council voted to approve:
-Ordinance 44-2021 An ordinance authorizing the sale of certain personal property of the Village of Pioneer, Ohio and declaring an emergency. (This property consists of items from the fire department and Village Soliciter Tom Thompson said it will need to be put out publicly for bids.)
-Ordinance 45 An ordinance amending appropriations for 2021 and declaring an emergency
-Resolution 124-2021 A resolution authorizing the village administrator and fiscal officer to execute a Fire Protection Contract with Bridgewater Township, and declaring an emergency. ($35,000 per year will be paid to Pioneer)
Mayor Kidston called for an Executive session to discuss personnel compensation. Following Executive Session, the regular meeting continued with Mayor Kidston asking Pioneer Lake resident Barbara Wheeler if she wanted to speak with council.
Mrs. Wheeler said she, "came tonight to express my frustration in terms of trying to seek information about the lake levels and the project."
"I had spoken to the council in July and shared my concerns at that time, and even recently, Ed (Mayor Kidston), you and I had an exchange on Facebook. "
"I want you to know that my comments weren't to be accusatory or demeaning in any way, but what I got back felt that way from you, especially when you referenced 'folks like' me."
"And so I came tonight to share that I'm very reasonable about what's happened and just ask for open and honest communication about the situation."
"I understand that there is a plan, but I am not very clear on what the plan is, and how the plan will be monitored and what we will do if that plan doesn't seem to remedy the situation."
"And so that's my concern as a home owner and a taxpayer, obviously having a receding lake in the back yard does not feel very comforting."
She went on to explain that they have never been able to put their boat in the lake and that she would like some answers especially concerning whether the new box is going to work.
Mr. Fiser informed Mrs. Wheeler that this was covered in detail at the last two meetings. She said she was unable to be there so he proceeded to say that he feels it is "to be understood" that if this project with the new Storm Box doesn't work, they will try something else.
Mayor Kidston explained what has been discovered and why the village has purchased this box to be put in during November. The discussion covered the facts of what they think is wrong and what they are going to do to try to fix that.
He said he believes that time will tell and that he did not mean to be demeaning, either. The village is assuming the liability for the problem and are working to get it fixed, and "jumped on the problem right away."
Kidston also shared his frustration that people seem to be "acting like the lake never goes up and down, and it has always done that. Even though there is an issue, we need time to see if it works." He stressed that the property is not devalued by it as that water has done this for years.
At one point Mrs. Wheeler asked Council member Albert Kwader what he thinks, as he lives there on the lake also.
Kwader said, "Obviously we are gonna have oil and salt runoff off the road and it's gonna get pumped back into the lake." Kidston quickly stated, "That is totally untrue. We are not tapping into the line that takes the storm from the roads."
"We are taking the groundwater that's around the pipe, not in the pipe. There will not be any oil, nothing. That is a totally untrue statement." They argued for a few minutes about that, and then Mrs. Wheeler asked for the timeline of monitoring.
The discussion continued with Mayor Kidston saying this is another area of frustration for him. He mentioned that the village built a float to measure the lake level and "one of the lake property owners went out there and destroyed it."
Kwader asked if they had proof that it was done by a property owner and it was stated that lots of people go on the lake that do not live there.
"Well, somebody destroyed the float, so now we are going to come up with this device to measure the levels. The issue is not going to be forgotten, but it will not be solved overnight," Kidston finished.
Mrs. Wheeler again expressed her hope for open, honest, forthright communication in the future. It was recommended to her by the Mayor and by Council President, Joel Burt, that she no longer state her concerns on social media, but call the office and share her concerns with one of them.
There was more said on the topic of the lake, including an explanation of what "seems" to have caused the problem, with the re-statement that this project will be done in November. Mrs. Wheeler said she appreciates that they have covered it at so many meetings.
At that point there was a verbal altercation between Mr. Kwader and Mayor Kidston over storm water pipes and whether or not Kidston has them running to his property off that line.
Mr. Fiser clarified that they tapped a 12" water main, and Kidston said he paid for that. Kwader and Kidston each called each other liars, until after a few seconds, President Joel Burt asked them to stop, reminding them that "this is a council meeting." Mayor Kidston made a few more statements, with Kwader denying he lied, and Burt took over the discussion.
He encouraged Mrs. Wheeler to please call the office from now on about her concerns. She said, "My point in coming tonight was to hold my ground to say that on Facebook, I don't want to be talked down to." Burt said that it can't happen if she calls instead.
After restating her hopes for the lake, Mrs. Wheeler left, and council proceeded to take action from the Executive Session, voting on a motion to approve the Contract, beginning with August 2021, with the Village Solicitor through 2022 for $130 per hour for the first 20 hours each month, and $230 an hour for any hours in excess of twenty hours.
Mayor Kidston left the meeting, as was indicated on the agenda, and President Joel Burt took over for the last ordinances of the council meeting.
Council heard an explanation from Solicitor Tom Thompson, on Ordinance 46-2021 "An ordinance approving the right of way dedication plat for Kexon Drive and Clark Avenue, accepting the donations of right-of-way for the purpose of constructing of streets and utilities with the Village of Pioneer, and declaring an emergency." Thompson said,
"There was a change made today to extend to 1482. If you are looking at the right of way dedication plat that is attached to the ordinance, there was an addition made heading to the east, so where you see the 800 feet towards the east, it now says 1,482 feet."
"So the right of way is extended all the way along the south border of that property, to where it dead ends. So they added an extra 682 feet of proposed right of way. Other than that it is the same."
He also said that the planning commission reviewed and accepted this. "All this is doing," he added, "is accepting the right of way. It is not approving construction of anything."
Fiser said they are presently running power lines to the concrete plant but nothing else at present. It was also clarified the Mr. Kidston owns the dedication plat and Kidston Consulting, but they are two different companies.
When council voted on the ordinance, council voted to suspend the rules with Kwader voting No, and to pass the ordinance with Kwader voting No.
They also voted on Ordinance 47-2021 "An ordinance authorizing the Village Administrator to enter into an agreement with Spectrum Engineer Corporation for design, engineering corporation for design, engineering, and construction observation services for the Pioneer North Substation project within the Village of Pioneer, Ohio."
Fiser explained that six contractors qualified, but they narrowed it down to three and are recommending that council go with Spectrum. A contract has also been reviewed and they would not start the design process until January, with a goal of being completed in mid 2023.
This is just for the design and then council will see bids on the actual project. Council all voted to suspend the rules and to pass the ordinance.
With no further business, the meeting adjourned, and the council members who gave a positive vote on the plat, were asked to sign it.
Rebecca can be reached at rebeca@thevillagereporter.com
---