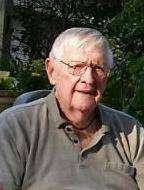 Lawrence Damon "Larry" Wilson, 84, of E. Main St., Fayette, died Monday evening, January 18, 2016, at Fulton Manor Nursing and Rehab Center in Wauseon. He was born July 13, 1931, in Dearborn, MI, to the late Harold and Beatrice (Paine) Wilson . He married Mary Lou Sarnac on February 3, 1951, at St. Mary of Assumption Church, and she preceded him in death on February 4, 2004.
Larry graduated from Gorham Fayette High School Class of 1950 and was a life-long resident of Fayette. He was an engineer and draftsman at the former Fayette Manufacturing for over 25 years. Throughout his life he enjoyed hunting, fishing, and camping. Most important to his heart was cherished time with his beloved family.
Surviving Larry are his six daughters, Charity (Michael) Slyker of Fayette, Valorie (Dan) Sweigart of Atlanta, GA, Melody (Ronald) Lichtenwald of Fayette, Ivy (Dewey) Kunkle of Fayette, Angela (David) Towers of Merry Lake, MI, and Felicia (Robert) Stockman of Fayette; a brother, Kenneth (Shirley) Paison of Waterville, OH; 16 grandchildren; 25 great-grandchildren, and one great-grandson on-the-way; and a great-great granddaughter on-the-way.
In addition to his parents and wife, Larry was preceded in death by a brother, Frank Wilson, and a grandson Shane Kunkle.
A Funeral Mass for Larry will be held on Friday, January 22, 2016, at 11:00 a.m. at Our Lady of Mercy Catholic Church in Fayette with Father Stephen Stanbery serving as celebrant. Burial will follow in Pleasant View Union Cemetery in Fayette. The family will receive friends for visitation on Thursday from 4-8 p.m. at the Eagle Funeral Home in Fayette, with a vigil prayer service at 7:00 p.m.
Those planning an expression of sympathy may consider memorial donations in honor of Larry to SAK Memorial Fund, Our Lady of Mercy Church, or the Fayette Fire Department. Friends can share memories and words of comfort with the family online at www.eaglefuneralhomes.com  [showad block=2]