Since 1990, Erik Belcher had been alone as the only Hilltop Cadet male to surpass 1000 points. However, that all changed on Tuesday, January 3, 2017, when Quinn Smith dropped in his 1000th point against Maumee Valley Country Day. Incredibly, a mark that had not been reached in almost 27 years, was achieved once again less than two weeks later when Senior Tim Maneval reached the milestone on Saturday, January 14. Maneval calmly dropped two free throws with just 37.9 seconds remaining to reach the historic number, finish the contest at point 1001, and securing a 66-57 victory over Hicksville.
When asked summarize the personal importance of the accomplishment Maneval was quick to share. "It means a lot. All the open gyms, practices, evenings shooting outside and playing basketball was worthwhile. It's something I will always look back on. Maneval also put into perspective the significance of having two players from the same team, and graduating class, reach 1000 points. "It's exciting! We're making history. I'm proud and happy for Quinn and all his work paying off as well.
Although the milestone obviously is very important to Tim, he has other, more significant goals to achieve. "Personally I want to become the all-time leader in 3 pointers made. However, it's more important to win the league outright this year and put up another number up on the league champs banner. We also want to advance to Districts, and make a long tourney run. The three of us, as well as the underclassmen on the team, have dreamed about cutting down the nets after winning the league. All the practices and summers playing together are finally paying off. Everything is just clicking with the team right now!"
The "Three" Maneval refers to are Smith, Maneval, and fellow senior Ryan Brooker. Although not in the spotlight as much as the two 1000 point scorers, Maneval gives Brooker his just due. "We can't forget about Ryan. He's always been by our sides since the fourth grade. He's an animal down low and has been a huge part of our success!"
This unselfish attitude Maneval possess is echoed by one who knows him best. Head Coach Sam Boehnlein stated, "I have seen the shot selection from Tim improve throughout the past three years which has helped him individually and improved our team's offensive efficiency. Actually, he and Quinn both look to pass to each other on offense because they know they are passing to a great offensive option."
To anyone who has seen the Cadets play it is rather obvious that Smith is the team's vocal leader. On the other hand, Maneval is quiet, admittedly both on and off the court. He prefers to assume another type of leadership role. "I'm not one for talking much and I try not to let stress get to me. I just quietly sit back and get whatever I need to done. Ever since we were young Quinn has been the vocal leader, I just assumed the role of leading by example."
Boehnlein agreed that for the most part Maneval goes about his business in a very calm manner, but sees the intensity as well. "Tim is very quiet, but deep down he has a lot of passion and enthusiasm in the game. His teammates would describe him as quiet, but a leader by example. At times though, they can really see his enthusiasm when the team makes a great play. Defensively, he often guards the other team's best player and he makes it his personal mission to shut him down."
Hilltop Athletic Director, Tony Gerig echoed Maneval's self-evaluation, but took it a step further. "For me quiet would be the one word I would use to describe Tim. He does nothing for attention. I can imagine that this extra attention of reaching 1,000 points is uncomfortable for him, but the attention is much deserved!"
When asked who has been the biggest influence in his life, Maneval quickly credited his father Scott. "As long as I can remember I've spent every summer helping my father on the farm. I see his passion and it makes me understand that hard work does pay off. He would always take the time to rebound for me and give me pointers about basketball, as well as life. I remember him saying that if you're gonna do something, don't do a half job. That has stuck with me!"
According to Maneval his father's example has been a motivation and also the major factor in his success. "I do everything wholehearted.
Whether it's work, school, sports, or anything you do. Some days aren't fun or easy, but you just have to look at the big picture of things.
Also, I just want to make my family proud of me!"
Gerig agreed with the importance of Maneval's family. "He comes from a good family with a wonderful support system. I think if you were to ask him that would be the number one reason for his success, along with having great friends and teammates that have encouraged him."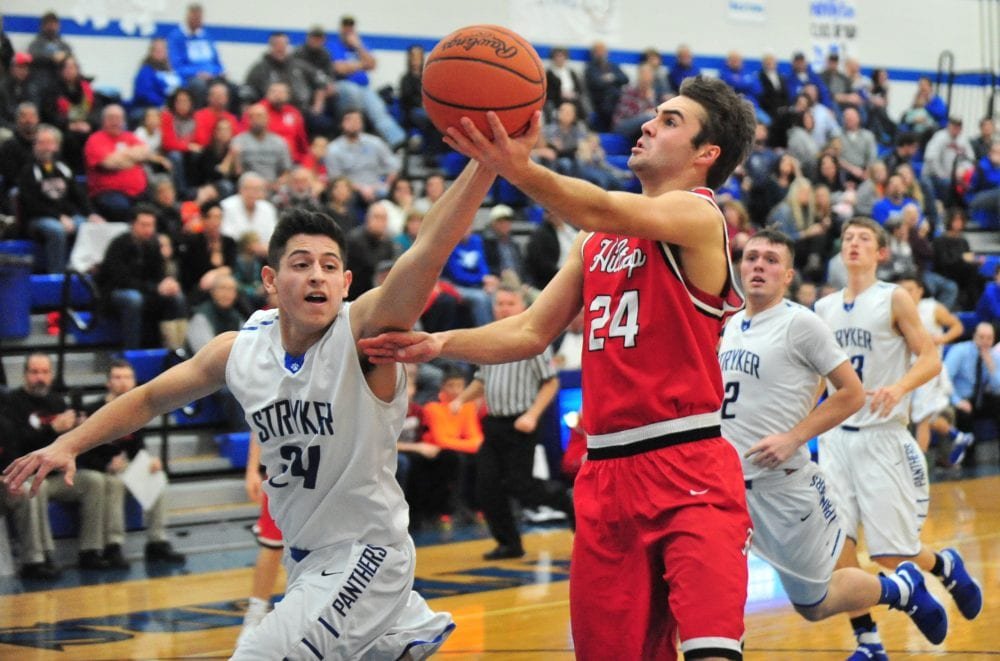 Although Maneval has no plans to extend his basketball career into college, he has mapped out a clear path for the future. "After high school I will be attending UNOH (University of Northwestern Ohio) in Lima to major in Agricultural Business. After college graduation my intention is to come back to West Unity and run the family farm. I also plan to get married, have kids, and live a happy life!"
Although admittedly quiet most of time, Maneval was vocal in his appreciation for the Hilltop Nation. "Basketball is nothing without the fans. Seeing them travel to the opposing schools to support us, and the school in general, means a lot for the team and the school!"
Tim's mother Melissa shared her gratitude as well. "I have say the neatest part to me was how the crowd knew exactly how many points Tim needed at Hicksville. To hear them cheering for him from the tip off was just amazing. This whole season is such a bittersweet journey.
These senior boys have been the best of friends and have played basketball together since elementary school. They have all worked so hard for this. It's great to see them having so much success!"
Gerig too is grateful for Maneval and his fellow seniors. "Tim has always been a model student and great asset to the basketball team. He goes about his business and is never a distraction. He is a great kid who has a great future. It has been a pleasure to watch Tim, Quinn, and Ryan play these four years. I'm just thrilled to see them and the team have the success they are having this season."
That success Gerig refers to includes a record that currently stands at 12-1 overall, a perfect 8-0 mark in the BBC, and a number 12 ranking in the latest OHSAA Division IV State Poll. The excitement that Maneval and Smith have generated so far this season by each surpassing 1000 points is hopefully just the beginning of the thrills yet to come for the Hilltop Cadets in the weeks ahead!
Kent Hutchison can be reached at publisher@thevillagereporter.com