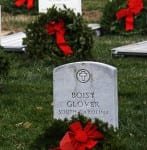 This past December, fresh evergreen wreaths with red bows were placed on some of the veteran's graves in Floral Grove Cemetery. Michael Frybarger of West Unity is part of an effort to have wreaths placed on the graves of all Williams County veterans as part of Wreaths Across America. He first heard about Wreaths Across America in 2007. This movement was begun by Morrill Worcester of Worcester Wreath Company, Worcester, Maine. At age 12, he won a trip to Arlington, Virginia, when he was a paper boy in Bangor, Maine. His visit to Arlington Cemetery "left an indelible impression on him" according to the website at www.wreathsacrossamerica.org .
In 1992, his shop found that they had a surplus of 5000 wreaths. He remembered his trip to Arlington Cemetery and thought that he could pay honor to our nation's fallen by placing those wreaths on their burial sites. With the help of a state senator, he was permitted to have the wreaths placed on graves in an older part of the cemetery. Volunteers fastened bows to the wreaths, and a local trucker agreed to transport them to Arlington National Cemetery. He repeated this yearly as he was able. In 2005, a Pentagon reporter took a picture taken of the wreaths at the graves, covered in snow, and it went viral. Others sought to have wreaths place in cemeteries around the country. From that, Wreaths Across America became officially established as a non-profit organization in 2007. Their mission is to remember, honor and teach. Since that time, the movement has grown, and the amount of wreaths has numbered into the hundreds of thousands. This past year, 110,662 wreaths were placed in Arlington National Cemetery by 20,000 people, with 34 semi trucks needed to bring the wreaths from Maine. The effort has grown on an average of 32 percent each year.
Frybarger became involved after meeting Worcester in 2007. As a truck driver, he signed on to deliver 3200 wreaths to Arlington Cemetery this past year. On his own, he has honored the veterans in his family, including his brother, father, and an uncle, and placed wreaths on their graves. Until recently, Wreaths Across America would only deliver wreaths to designated veteran's cemeteries, but since more vets are buried in private cemeteries than in veteran's cemeteries, they have expanded to include those in private cemeteries. Because of this change, Frybarger registered Floral Grove Cemetery south of West Unity where he discovered that 347 were buried in its plots. His goal is to see every vet honored with a wreath this next year. He would also like to have other individuals across the county get involved and register more cemeteries in Williams County.
Frybarger's aim is to get organizations in the county involved as well. He has contacted Boy Scout and Girl Scout troops, and the Lion's Club, and would like to make many more groups aware. He would like to help civic groups, organizations, and charities set up fundraisers held to purchase the wreaths. Small wreaths cost $15, and the groups may be eligible to get $5 back for each wreath purchased. Those wishing to sponsor a wreath may go to the website and the location ID for Floral Grove is: OHUFGC. He also seeks sponsorships for the bulk purchase of the wreaths. Those interested may contact Michael Frybarger at wreathsforfloralgrove@gmail.com He is available to tell others how they may get their local cemeteries registered. Frybarger has set up a Facebook Event account for the 2013 laying of wreaths at Floral Grove at (https://www.facebook.com/events/337087909736426/).
Each December, usually around the second or third Saturday in the month, a ceremony will be held for the laying of wreaths and to honor vets. Wreaths Across America seeks not only to place wreaths on gravesites of vets, but to teach people about what our veterans went through for their country, to honor those who survived, and to show respect to the fallen.
According to the website, "Wreaths Across America also conducts several programs to honor our Veterans, including our popular 'Thanks a Million' campaign which distributes cards to people all over the country to give Veterans a simple "thank you" for their service. We participate in Veterans' events throughout the year, and have a Veteran liaison on staff to work with local Veterans organizations. WAA is committed to teaching younger generations about the value of their freedoms, and the importance of honoring those who sacrificed so much to protect those freedoms. We offer learning tools, interactive media projects, and opportunities for youth groups to participate in our events. We also create opportunities to connect 'the Greatest Generation' with the 'Generation of Hope'. The inspirational stories of our World War II veterans must be passed on to the leaders of our future."
Michael Frybarger is working to accomplish that very goal.