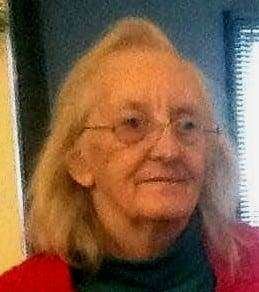 LoisAnn (Malone) Wright went home to be with her Savior on Monday, May 28, 2018 after a brief illness. LoisAnn was born to Carl and Helen (Little) Malone September 12, 1939 in Bridgewater Township. She married Charles A. Wright October 25, 1957 at the United Brethren Church, Montpelier, OH.
LoisAnn was a 1957 graduate of Montpelier High School. LoisAnn worked at Mohawk Tools and Robinair for many years. She was a member of the Montpelier First Church of the Nazarene where she was a Sunday School Teacher and Assistant Bible Quiz Director for many years. What she enjoyed most was spending time with her family.
LoisAnn is survived by 4 children, Robin (Glen) Goulding, Joplin, MO, their children: Robert Goulding, Mariah (Phillip) Moore, Allen Goulding (Tonya Durham), Lisa Goulding; Mike (Rhonda) Wright, Edgerton, OH, their children, Tony (Lynn) Wright, Tyler (Nikki) Bernath, Crystal (Paul Hawkins) Bernath, Bonnie (Norman) Coutz, Montpelier, OH their children, Pastor Daniel (Bethany) Coutz, Julia Coutz; Sarah (Frank) DeWitt, Montpelier, OH, their children, Christian (Annie) Beattie, Apryl ( Duaine) Cluckey, Brandon Beattie,  Allen (Shannon) DeWitt,  Dustin DeWitt, Sarah (Marc) White, Granddaughters, Laura (Rick) Losey and Dawn (John) Brown.  30 great-grandchildren, 4 great, great-grandchildren.
LoisAnn is also survived by her siblings, Ron (Carol) Malone, Margie (Mike) Gill, Susan Harrington, Philip (Janice) Malone, Carol Courtney, Sister-in-law, Vicki Malone and Brother-in-law, Bill Wright. She also has many nieces and nephews. LoisAnn was preceded in death by her husband, Charles Wright; parents, Carl and Helen Malone; Brothers, Bill Malone and James Malone, Brother-in-law; Dennis Harrington, Sister-in-law, Betty Wright; nephew, Philip Malone, II; and a great-great grandchild.
Visitation will be Thurs., 5/31 from 2-8 p.m. at the Thompson-Geesey Funeral home, Empire St, Montpelier, Funeral Service will be at the Montpelier First Church of the Nazarene, 401 Brown Road, Montpelier, OH at 11 a.m. on Fri., 6/1.  Officiated by her grandson, Pastor Daniel Coutz.
Memorials for LoisAnn Wright, at her request, may be made to the Montpelier First Church of the Nazarene Camp Fund or Teen Quiz team. Condolences can be left at www.thethompsonfuneralhome.com.
---