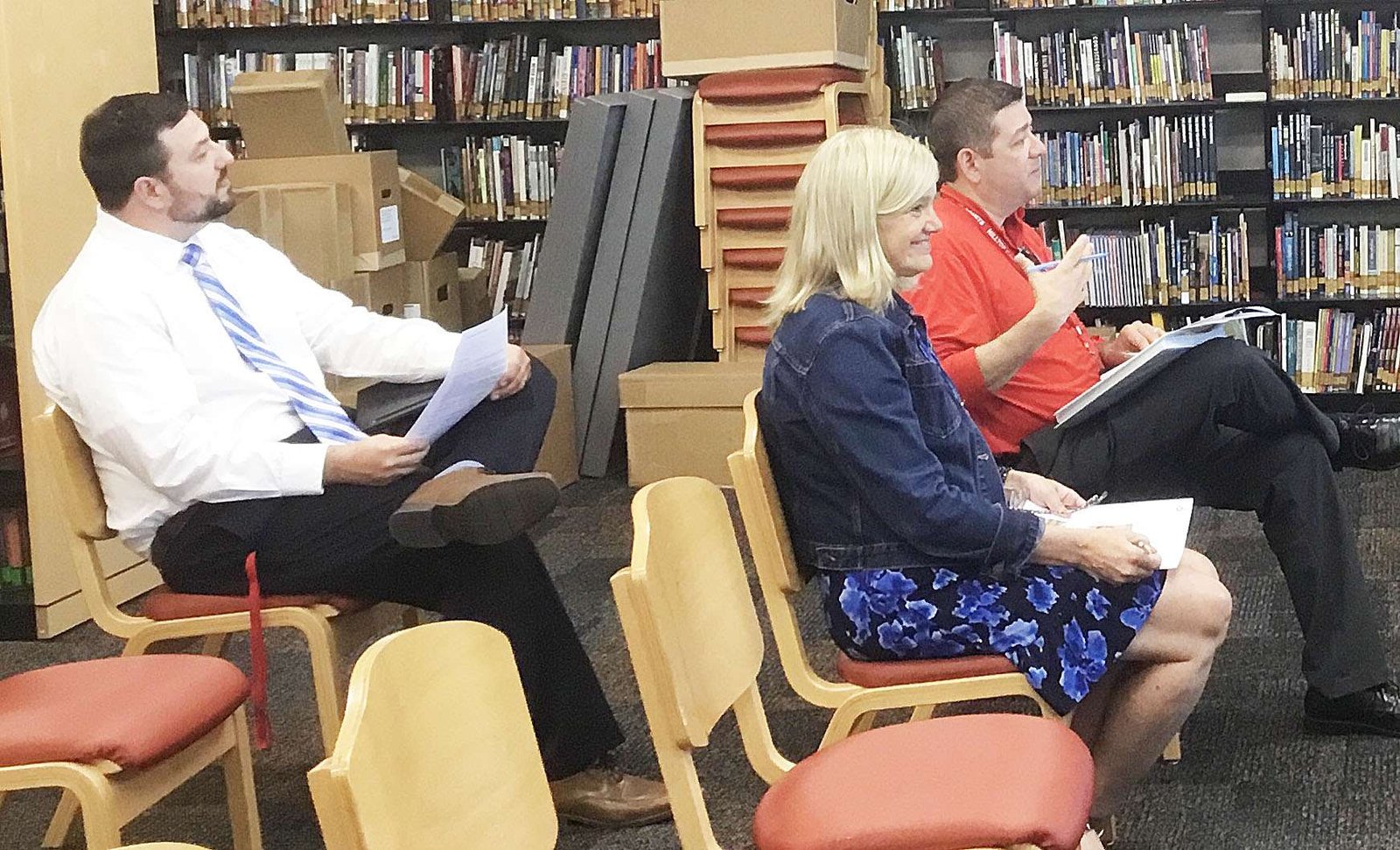 PRINICPALS' REPORTS … Hilltop High School Principal Steve Riley gave report to Millcreek West Unity Board of Education, as retiring Elementary Principal Laurie Worline and incoming Principal Jason Mansfield listened, at the Monday, May 9, 2022 board meeting. (PHOTO BY REBECCA MILLER, STAFF)
---
By: Rebecca Miller
One of the Consent Agenda items approved by the MCWU School Board at the Monday, May 9, 2020 meeting was a Memorandum of Understanding with the Millcreek-West Unity Education Association to establish the position of "District Literacy Coach" in order to comply with the new dyslexia mandates from the state of Ohio.
The Board also approved the employment of Wendy Hogrefe to fill this new position for the 22-23 school year.
Another item which is creating a new job, was the approval of Salary schedule for the new Bus Driver/Custodian combined position effective May 16, 2022 through June 30, 2023 and a one-year limited contract to employ Abbie Sanders for that position. Her contract will be effective May 16, 2022 through June 30, 2022.
Other items approved were:
-Minutes from April Board meeting and financial statements and investments
-Substitute teacher and classified substitute reasonable assurance of employment list for school year 22-23
-Sale of 2009 Bluebird 84 passenger school bus to Edgerton Local Schools
-Fiscal year 22 updated five-year forecast and assumptions
-Transfer of $5,045.66 balance in the Class of 2020 fund, to the Yearbook fund
-Contract amendments for Steve Riley, HS principal
-Revenue increases and appropriation modifications
-Johnnie Roth as a substitute teacher for 21-22 school year pending receipt of credentials
-Resignations of Briton Moore (JH Social Studies teacher) and Tim Allion (Custodian)
-Tutor positions effective June 1, 2022 through June 30, 2022 and commencing again on July 1, 2022 through June 30, 2023 for Karen Cheezan, Wendy Hogrefe, Elizabeth Horton, Kaitlyn Kuhn, Nathan Massie, Amanda Nofziger, Johnnie Roth and Jen Yoh
-Employment for 22-23 school yar of Johnnie Roth and Rachel Baksa
-Meal prices for FY23: Grades K-8 $2.85; Grades 9-12 $3.05; Adult $3.85; Student breakfast $2.25; Adult breakfast $2.75; milk 60 cents; reduced meal prices breakfast 30 cents and lunch 40 cents
-Graduate study for reimbursement for Rhonda Vanarsdalen and Daniel Hurd
-Work book and Lab fees for grades 7-12
-Student/Parent handbook for grades 7-12
-Amendment of supplemental assistant football coach contract for Brayden Gorsuch to be paid out at 50%, as he was unable to fulfill duties for entire season
In her Elementary School report, Principal Laurie Worline, thanked the interview team for their time and commitment and said she is happy to have the open elementary positions for next year filled by Rachel Baksa for Third Grade and Johnnie Roth as Intervention Specialist.
Staff Appreciation Week went well with lots of surprises for the staff, including a salad lunch on Tuesday, another luncheon on Wednesday, cookies and drinks on Thursday and candy treats on Friday. The current enrollment in the Elementary school is 302 at Hilltop.
Several students took field trips as a reward for their reading this year. The fifth and sixth graders went to a Mud Hens game and the third and fourth grade Accelerated Reader winners got to go roller skating at the Rolling Skate Rink in West Unity.
A field trip was taken to Sauder Village in Archbold by the first grade, and despite it being cold and rainy they had a good time.
In a program called The 2nd and 7 Foundation, books are sent to the school and high school athletes read to the second graders. This year they added a scholarship for $2700 and Millcreek West Unity student Kasy Connolly won it.
Mrs. Worline said they are so excited and proud of her for her involvement in this program and for getting the scholarship.
A little more info provided by the school: "The 2nd & 7 Foundation is a non-profit organization based in Columbus, Ohio. Three former Ohio State University football players, Luke Fickell, Ryan Miller, and Mike Vrabel, started the foundation in 1999.
Inspired by their involvement in various community outreach programs as student-athletes, they decided to continue making a difference by promoting literacy and providing positive role models for children in central Ohio.
At Hilltop, our second graders meet with high school athletes to read the books that are provided by the 2nd and 7 Foundation. They meet a second time for an activity related to the book such as a cooking activity (S'mores and pickle making) or a craft.
Kacy Connolly, the winner of their $2700.00 scholarship, is a three-sport athlete that has met with the second graders multiple times over her four years at Hilltop."
All state testing is complete for the school year and she said a huge thank you to Amber Metzger and Amy Welling for their hard work as testing coordinators.
JH/HS Principal Steve Riley reported:
-the list of students of the month for each teacher
-Mock Crash assembly went well on April 27, with Gabby Rodriguez being the Hilltop student participant in the demonstration
-High School Spanish students went to a concert on April 28, performance by Edgar Rene, part of the Justo Lamas Group which encourages Spanish language education through music
-On April 29th, Career Day, Community Service, Prom decoration and Senior Next Day all took place
-Prom was held on April 30 with the dinner and dance them being 1950's Diner/Drive-In
-Students who earned Superior ratings at the District Science Fair and chose to submit their projects to The Ohio Academy of Science for judging at the State Science Day, with virtual judging, were for HS – James Bell, Ella Calvin, Kacy Connolly and Hunter Leupp and for JH – Lakota Siegel and Joseph Williams. Results will be communicated in early June
-Academic Awards for 9-12 will be held during the day on May 17 with Senior Scholarship Night on the same day to be held at 8:30 p.m. due to sports tournaments
-Senior Walk/Sendoff is Friday, May 29 and Senior Breakfast /Graduation rehearsal is scheduled for May 26
-Exams for grades 7-11 are May 24-26
-Graduation is May 29
-Current enrollment at the JH/HS is 240
Treasurer, Tracy Thompson, reported that Income tax receipts have come in higher than predicted, with the fourth quarter up 17% over the prior receipts for last year.
They are up about 13% for the whole year. On the expenditure side, the expenses are pretty close to the fall predictions.
Rebecca can be reached at publisher@thevillagereporter.com
---