---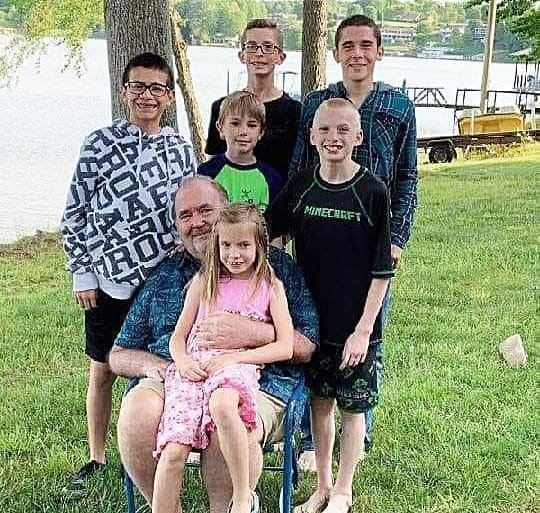 FIGHTING ALS .. Randy McGowen is shown spending a great day with his grandkids. (PHOTO PROVIDED)
---
By: Anna Wozniak
In 1958, Mr. and Mrs. Norman McGowen, of Montpelier, welcomed the birth of a baby boy.
That boy would be named Randy and would go on to graduate from Montpelier High School in 1976.
While in school he became acquainted with Susan Cobb, but it wasn't until after graduation that they started courting.
When asked about childhood nearly 50 years later, both Randy and Susan lovingly said "Montpelier was a great town to grow up in."
In 1978, the Montpelier sweethearts got married, later welcoming three children. The family moved to Florida in 1983 until five years ago, when they moved to a North Carolina town called Hickory.
Randy spent 20 years supporting his family as a manufacturing engineer. He then spent 18 years owning and operating Sarasota Stone and Granite.
In 2017, Randy started developing weakness in his right arm. In 2018, Randy McGowen was diagnosed with amyotrophic lateral sclerosis (ALS), which "is a progressive neurodegenerative disease that affects nerve cells in the brain and spinal cord."
This disease tends to progress extremely quickly, and quality of life decreases greatly as muscular control is lost.
After being diagnosed, McGowen retired immediately to spend as much time as possible with his family. His family sold the house in Sarasota and moved to their lake house in Hickory.
Despite the prognosis detailing a demise within 6 months to two years, Randy is still loving his family and friends Earthside.
When asked what has changed the most, Randy said that "life has certainly slowed down."
Having lost use of his arms first, Randy is now faced with being unable to move his legs, and all of the complications that being wheelchair bound can bring to both him and his caretaker -his supportive and loving wife, Susan.
Randy noted that his breathing capacity has dropped, which is what typically will cause death in those with ALS. Eventually, the lung muscles get too atrophied to work correctly.
Someone with ALS can live a bed-bound life hooked up to breathing machines for quite some time, but Randy said that not only would that not be a way to live, but it puts a lot of "burden on the caregiver to keep going."
Randy is living life to the fullest he can, spending time with his loved ones. He coaches his grandson, Nolan Slager, from the sidelines, as he plays basketball for the Bethlehem Warriors.
When asked why he makes the effort to still coach the kids, Randy replied that "no matter what life brings you, you make the best of it and stay involved."
When asked what Randy wanted people to know, he replied that "ALS strikes one out of every 150,000 people. It is a terminal disease; nobody lives through it."
"That doesn't mean it stops you from living, it just makes it more inconvenient. I still accomplish things that I'm able to do."
"We help raise our six grandkids, and I'm proud to say that all of our children live within four hours." "You never know how long you got left. You've gotta live every day like it's your last."
Anna can be reached at anna@thevillagereporter.com
---