---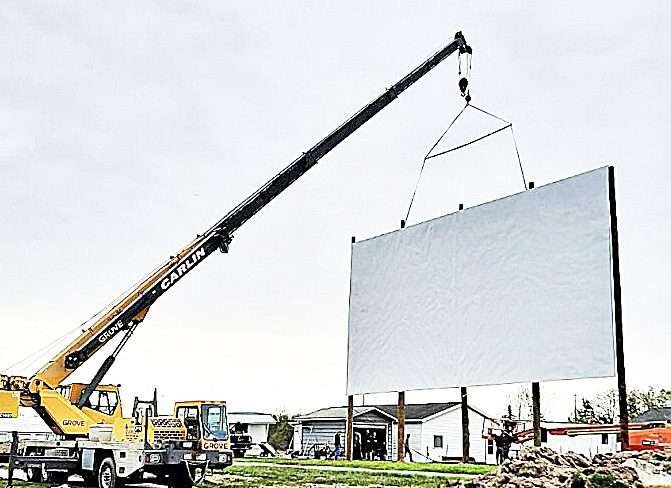 ---
By: Rebecca Miller
As history repeats itself, it is no surprise that things from the past that brought fun and joy to families are popping up all over the place.
Not only are bell bottoms and maxi dresses hanging in the stores for purchase, Theaters are drawing crowds again for the delightful experience they offer.
Covid may have slowed things down quite a bit, but theaters in Northwest Ohio are keeping busy now!In Williams County, the brand new "Fleo's Flicks" of Edgerton, a Drive-In Theater set up to accommodate 200 vehicles, will celebrate opening night on July 8, 2022. Owner Pegge Sines and her son Khris Sines are excited to offer this experience for area residents.
A Double Feature of The Goonies and The Outsiders will be enjoyed on opening night. Gates will open every Friday and Saturday night from July through October, at 7 p.m. and the movies will begin rolling at Dusk.
Every Tuesday, $20 will get a carload in for the movie shown on the past weekend. Costs on the weekend are per person with adults at $8.50 and kids 6 through 17 at $4.15. Children five and under are free.
Once folks have got their car parked, while waiting for dusk they can enjoy the GAGA Ball Pit, Corn Hole, a Playground, concessions, and of Porta Potties will be available.
Fleo's Flicks will be showing movies from as far back as 1916, with access to almost a million movies. They plan to have Theme weekends all summer, covering Christmas, Easter, Halloween, Fifties Night, 70's Night and others.
Khris hopes they can show the Ohio/Michigan Game, weather and sunshine glare permitting, on the day after Thanksgiving. "Hopefully it will be cloudy so we can show it," he said.
On October 1, they will end the season with an All-Nighter featuring a ten-hour Trilogy. The trilogy has not been determined yet, but there are plenty out there from which to choose.
Also in Williams County, the Bryan Theater has had a major upgrade over the past few years under the ownership of Donna Saunders. She has a heart for keeping this entertainment medium alive.
The physical upgrade to Bryan Theater makes has made it a wonderful place to experience the fun of movie night, either alone or as a family.
The upgrades began in November of 2019 but, as everyone remembers, Covid hit in early 2020 and theaters were closed.
Saunders continued work as much as possible on the building, purchasing all new luxury recliners for all three of the Screen Rooms. Capacity is cut in half with the new seating, but the luxury rockers draw folks back who have tried them, and the luxury recliners are wonderful.
To top off the options in seating, they also have three rows of heated luxury recliners in Screen Room 1! That room holds 102 seats, about 50% each of rockers and recliners, including the three rows of heated.
Saunders said she loves how Screen Room 3 back in the corner, which used to be the least chosen room by customers, is now highly desired as it holds 24 luxury recliners, giving it a cozy atmosphere.
In Screen Room 2, the first two rows are recliners, making it pleasant to sit close to the screen, and the rest of the 50 seats are rockers.
All in all, the building seats a little less than 200 at a time, has greatly increased in comfort and enjoyment.
Everything else about the building has been renovated as well. There is now a Wheelchair Accessible Bathroom on the first floor which makes Bryan Theater a place where anyone can go now.
The restrooms upstairs are completely renovated, except at the advice of the plumbers, the urinals in the Men's Room. "That may sound funny to people," Saunders said, "but the wine-colored urinals are still in perfect condition and would be almost impossible to replace."
She said that men who have gone there for years were actually happy to see them still there as they are a part of the history of the building. The bathrooms have new flooring, walls, fixtures and light fixtures making them bright and cheery.
In January of 2022 they replaced all the carpeting in the building and put tile in the areas. The carpet was designed specifically for this building!
Saunders met a woman at a Theater Conference who sold carpet and found out that she could design exactly what was needed for this old deco style building. Not only was the carpet specially designed, Saunders was given opportunity to modify it as it was made.
The designer recommended a different one for the stairs that would be safer for people as a less "busy" pattern would not cause them to trip or fall.
Carpeting was wrapped up with a brocade design made just for the landing on the stairs. Saunders is so impressed that she plans to use the same company for the Van Wert Theater.
Other repairs included the complete replacement of light fixtures, the painting of the whole interior, roof repairs, additional sound proofing between Rooms one and two, upgraded projection and sound equipment in all three rooms, and the refurbishment of the Marquee.
Great things are planned for this summer, with special Free Kids Movies and offering the first showing of each new movie in a format that allows the lights to be up a bit and the sound to not be as loud.
This will be geared for people on the autism spectrum and those who have trouble sitting still for long periods of time.
But Bryan Theater is not all that is available from Saunders. Saunders also owns three other theaters, in Van Wert, Middlepoint and Liberty Center. Field of Dreams Drive In, located in Liberty Center, has great plans for family fun this summer as well.
On the 4th of July Weekend, (during Saturday's hours) Minion Characters will be roaming around for selfies and pictures with customers, as they will be showing "Minions: The Rise of Gru." Costs for Field of Dreams is best if tickets are purchased online.
Saunders said that since they instituted online ticket sales, the line moves much faster and they no longer have long lines of cars down the road. Tickets can still be purchased there, but they cost more.
Online they are $10 for 13 year olds and older, up to $30 per car. At the box office, they are $12, up to $40 per car. All children under 13 are free. The theater holds 250 cars. Hours are Friday through Sunday evenings every week till school starts.
At that point they will not show on Sundays as they want their high school age employees to get their sleep for school on Monday.
On Halloween weekend, their closing for the season, they will do Trunk or Treat again with a costume parade that entails judging and prizes.
So, get out there and have some fun with your families and friends, at all these great opportunities right nearby. Especially since, Defiance Cinemas closed this month, it is good to know that you have these other great options. Happy Hot Days of Summer!
Rebecca can be reached at rebecca@thevillagereporter.com
---