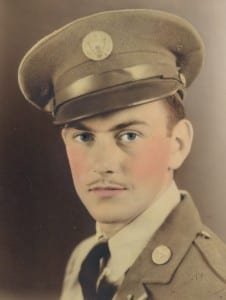 Norman Lyle Hoag, age 95, passed from this life to walk with Jesus into eternal life on Friday, December 14, 2012. Born on September 4, 1917, in North Liberty, Indiana, the son of Silas and Velma (Winzeler) Hoag, Norm grew up in Montpelier, Ohio. At the age of 24, he volunteered for the United States Army during World War II and served as a medic in the South Pacific Theater. Wounded by the same sniper on the same day as his friend, Robert Greek, he subsequently dealt with a fused knee and significant physical difficulties; however, with his "can do" attitude, no one in his family ever saw him as "disabled." With the prayers of many, Norm recovered enough to marry Laura Louise Calvin on St. Patrick's Day in 1945 while on leave from the Army hospital, and together they raised six children.
After the war, while working at Louden's Department Store, a friend, Robert Lougheed, introduced Norm to Jesus Christ and from that time on Norm's passion was to serve others and see them also receive God's love, forgiveness and life. For many years, Norm and Louise held Good News Clubs in their home for neighborhood children through Child Evangelism Fellowship, Louise teaching the visual Bible stories and Norman making benches and other props. Later they helped build and staff Camp Good News, making many friends along the way. Norman loved to travel and wherever he and Louise went, they served and gave of their time, visiting friends old and new.
Norman was preceded in death by his wife, Louise, a daughter, Julia, his parents, two sisters, Rosamond (Eldon) Connolly and Heloise (Kenneth) Miller, and a brother-in-law, Bob Seward.
He will be greatly missed by his family, Jennifer (Chuck) Brock, Rosalee (Phil) Janaro, Jonathon (Shelley) Hoag, Daniel (Patience) Hoag and Mary (Bob) Lloyd, his thirteen grandchildren and three great-grandchildren.
A memorial service celebrating the life of Norman Lyle Hoag will be held on Saturday, December 29, 2012, at 11:00 A.M. in New Hope Community Church near Bryan, Ohio, with Pastor Mark Pittman officiating. A luncheon will follow with all invited.
Krill Funeral Service in Edon is handling arrangements.
To sign the online register or to send condolences, please visit www.krillfuneralservice.com.