FEEL GOOD MOMENT … Lucas Hanak smiles as he poses for a picture with his medal.
---
By: Lacie Fish
The smallest act of kindness is worth more than the grandest intention, and a simple act of kindness can make a tremendous impact on someone's life.
Some moments in time are just worth letting others know about them. And this is one of those moments. On the North Central Team, there is a boy named Lucas. Lucas is in 7th grade and loves to run for North Central. Lucas has ran in Fun Runs in years past.
When coach Lindsey Eckley knew she would be coaching cross country again this year and knew that he was coming into 7th grade, she told his parents he could run on the team if he wanted to run, and she would love to have him.
Lindsey asked her son Landon if he wanted to be Lucas' running buddy. Lucas is autistic, and because of running through town and their places, she wanted to be 100% sure that Lucas was safe during every run.
Lindsey had to write a letter to the OHSAA requesting the modification that Lucas has a running buddy and that the running buddy would not be a competitor in the race, and the buddy could carry a cell phone in case they needed to contact an adult. Landon trained with Lucas all year long, and they never needed to use the cell phone.
On October 7th, North Central had a tri-meet with Hilltop and Edon. Lindsey mentioned to two boys on her team, Carter and Kade, that it would be nice to run their first mile like normal and stop at the one-mile mark to wait for Lucas to catch up to them so they could be his running buddies for the rest of the race.
When the day came, the other boys said they wanted to do the same thing that the other two were doing. When they got to the meet at Hilltop, Lindsey explained to Hilltop what her boys would be doing in case anyone questioned it.
The race started, and everyone took off. Lindsey waited for her kids at the mile, and when Kade and Carter got there they stopped to wait for Lucas with Lindsey. Edon ran by them, and Lucas caught up.
Lindsey told him that the boys wanted to run with him and asked if it was ok and Lucas said yes, and the boys started running again. Lindsey then left the woods to watch the Edon boys win the race, and nobody was running when she walked out of the woods.
She looked and saw all the kids coming out of the woods with Lucas. Edon had caught wind of it and ran a little farther ahead, so North Central didn't know, and they waited for Lucas too.
Every one of those boys held back so that Lucas could win the entire race. So many people have said this was a "feel-good moment." All of the children involved in the race that day are amazing kids.
People will forget what you said, and people will forget what you did. But people will never forget how you made them feel.
Lacie can be reached at publisher@thevillagereporter.com
---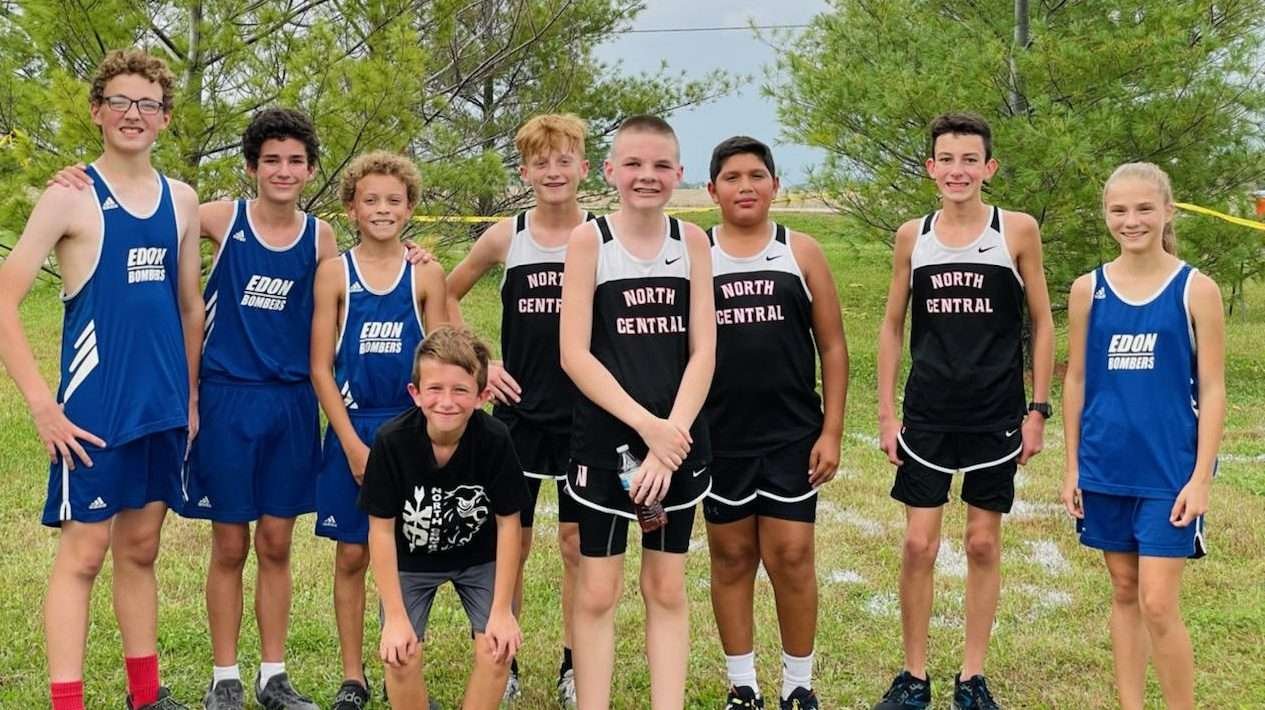 FEEL GOOD MOMENT … Back row from Left to right: Eli Snyder, AJ Hernandez, Kyle David, Kade Stewart, Jaziel Dominguez, Carter Eckley, Zoei Heller. Front row from left to right Landon Eckley and Lucas Hanak.
---