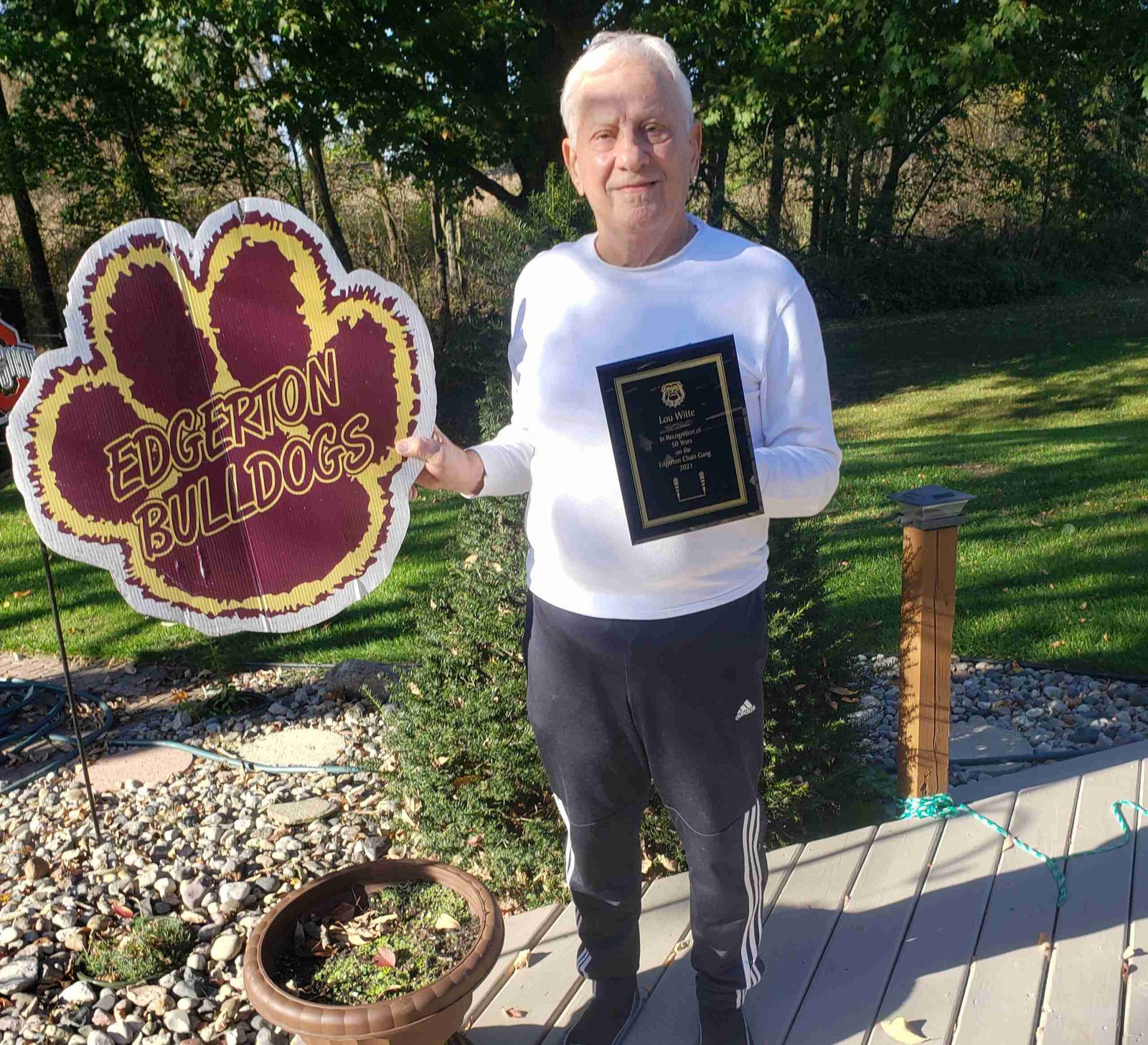 HONORED FOR YEARS OF SERVICE … Lou Witte displays his plaque for serving 50 years as part of the Edgerton football chain gang. (PHOTO BY DAN COOLEY, STAFF)
---
By: Daniel Cooley
Edgerton High School started its football program in 1971. And right along with it, Edgerton resident Lou Witte immediately started working on the sidelines with the chain gang, The original three members of that chain gang were Witte, Wayne Dennis and Roger Strup.
"I believe Wayne is the one who first asked me to be a part of the chain gang," Witte said. "I'm a big sports fan, so I was happy to do it." "Wayne and Roger have both passed away now, So, they're now watching me up (in heaven)."
Witte recently received a plaque from Edgerton schools and the football program for those 50 years of service. And he doesn't plan on quitting, at least for the next two years.
"I'm 88 years old now and I'm still in great health, so I plan on sticking with it until I'm 90 and if I stay healthy, even longer," Witte said.
Witte has witnessed the best of times, like in 2017, when Edgerton finished the regular season unbeaten and hosted a playoff game, He, of course, was on the sidelines with the chain gang, for that home game, which they won. The team made it all the way to the state semifinals, before losing.
Then there are the worst of times, when Edgerton finished a winless season. With those many years behind him, some seasons are hard to remember. Like, for instance, the very first Edgerton season. Witte can recall who the coach was, but he can't remember how the team did.
"Frank Osborn was the first coach and did a good job with getting the program started, but I don't remember if the team won any games or not, that first year," Witte said. .
Witte also doesn't recall what year the chain gang received its first donut, or how the chain gang handled not having one. Back then, it would have been very difficult to measure for a first down, without a donut. The donut is placed on the chain at the first stake, the closest to the nearest yard line.
"We started without a donut, which is basically responsible for helping to determine a first down," Witte said. 'In measuring for a first down, the donut,which is placed (in a specific spot on the chain), is then taken out and the chain is then able to be stretched out."
"We've had a donut for so long, now, I don't remember what we did before we had one, or what year we first got one. We've had a donut for a long, long, time now." Witte remembers a lot about the chain gang and the players.
"I have made a lot of friends among the players over the years, but there have been so many of them, that I can't really single out any one kid," Witte said.
One thing he does regret though, is not having a journal. "If I had known I was going to be doing this for such a long time, I would have had a journal, to write all the things down about each year," Witte said. "But when I first started, I never dreamed I would be doing (this chain gang thing) for this long."
Witte was glad to have the recent recognition, but wishes one other thing would have come with it. To this day, he still doesn't get into any away games for free.
"They wanted me to get a lifetime pass, but the head of the GMC said he didn't see that he could give me one, since I wasn't a coach," Witte said. "I would think 50 years as part of a chain gang would count for something. I still go to the away games even though I have to pay and I very seldom miss an away game."
He very seldom has missed a home game, as part of the chain gang. "I can count on one hand the number of home games that I have missed, but one I remember is when my daughter was getting married and the rehearsal dinner was on a Friday," witte said.
"I asked my wife, Donna, I've got a home game that night, what am I going to do? She said, you know you're going to the rehearsal dinner. So, that's one of the few Friday home games that I have missed."
For a number of years now, Witte has been the down marker guy. He is responsible for marking which down it is and always moves that down marker to the same yard line where the ball is placed. Although Witte enjoys that aspect, he does find one part of his role to be very difficult at times.
"When there is a long play, like that of 50 yards, it's hard for an old man like me to move fast, which is what I need to do, to get the yard line to the right spot ", Witte said.
It became even harder now, since Witte had to have his left knee replaced. Oh, yes, about that,
"I had the surgery done in the offseason," Witte said. "Then, I was in good enough shape to start the next season and didn't miss a game, because of it. I' ve had the best seat in the house for the last 50 years." . .
Dan can be reached at publisher@thevillagereporter.com