(PHOTOS BY TRISHELLE SMITH, STAFF)
---
By: Trishelle Smith
North Central Local Schools presents 2022s graduating class on May 30,2022. Marcia Rozevink, Principal, started off commencement by inviting the graduating class to join her on stage.
As the students took their seats on stage Rozevink introduced them and what they stand for. The Class of 2022 chose its class moto to be a quote by Michael Josephson "take pride in how far you've come. Have faith in how far you can go.
But don't forget to enjoy the journey." The class chose its theme song to be "I'll always remember you" by Hannah Montana, its flower to be the red rose and the colors to be black and white.
Next, Rozevink introduced the class officers as follows: Class of 2022 President- Erin Elser, Vice President- Lauren Balser, Secretary- Maddison Brown, and Treasurer- Kendal Bonney.
Rozevink also introduced the honor students. Rozevink stated that sixteen of the seniors were graduating with honors, out of those three received special titles. Lauren Balser and Erin Elser were deemed Co-Valedictorians.
Balser and Elser both gave memorable speeches not only encouraging the students for what's to come but also thanking the staff and community for their continued support of this graduating class.
Next, Erin Elser presented the class gift of a monetary donation to local businesses. Rozevink honored the Outstanding Senior girl- Raina Cox and the Outstanding Senior boy- Colton Hicks.
After all awards had been handed out the North Central choir sang three songs including the famous North Central Alma Mater.
The seniors were then presented one by one with their diplomas by Anthony Burnett, School Board President.
Elser then lead the class in the changing of their tassels from one side to the other solidifying they have graduated, after this the seniors were dismissed.
Trishelle can be reached at publisher@thevillagereporter.com
---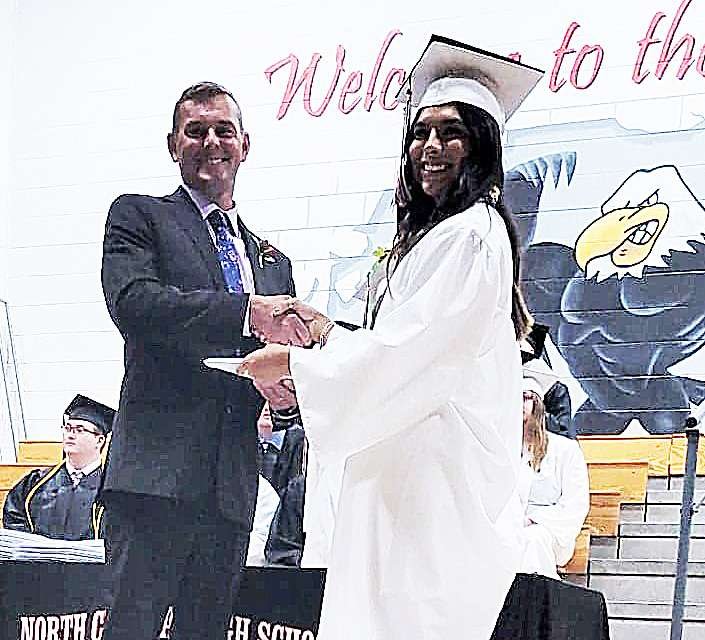 ---