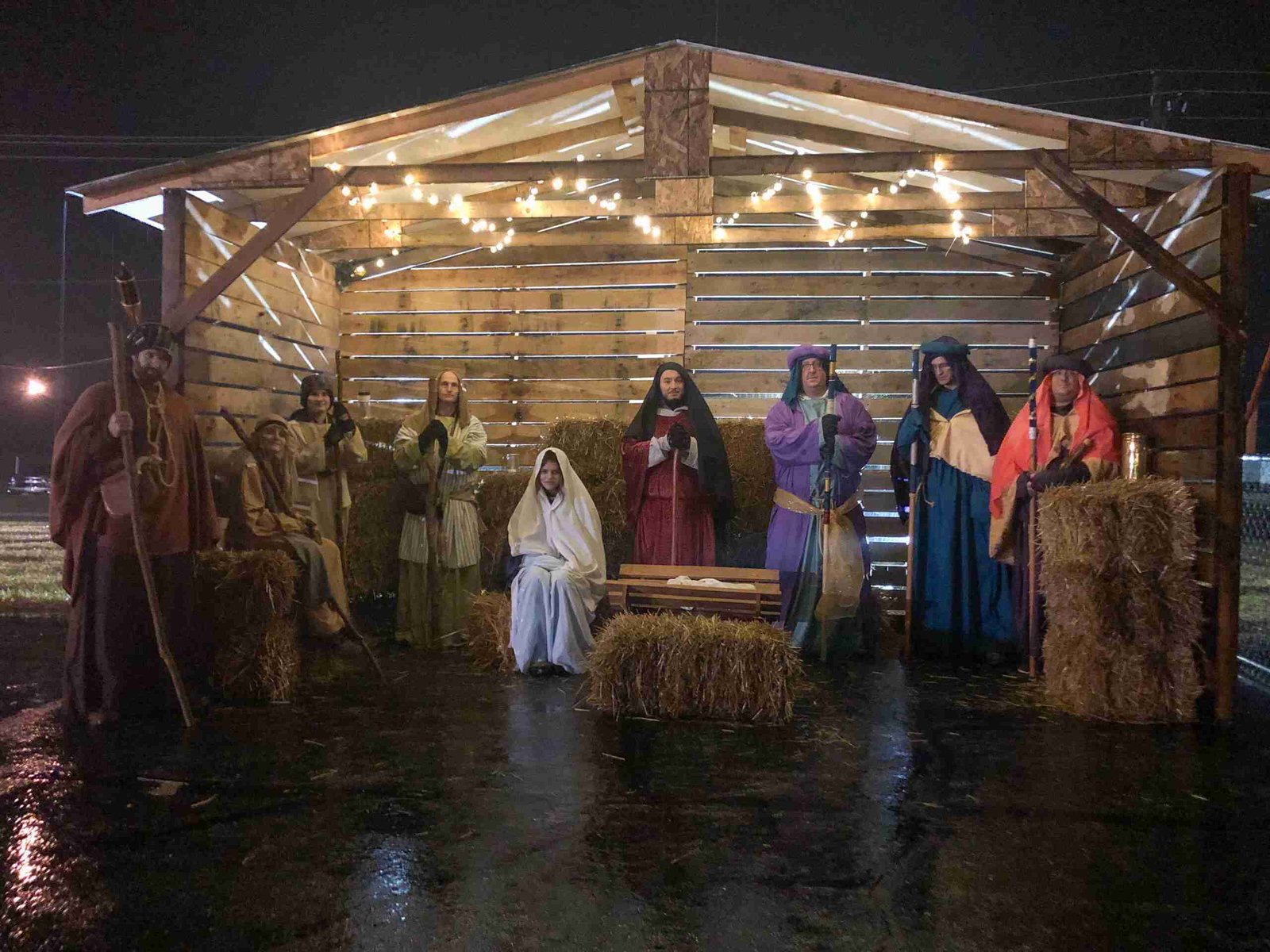 LIVE NATIVITY … Volunteers stand, in costume, to represent a live nativity for the birth of Jesus Christ in Bethlehem. (PHOTOS BY JACOB KESSLER, STAFF)
---
By: Jacob Kessler
The Church of Wauseon put on their first, free to the public, Live Nativity and Bethlehem Marketplace. The event took place at the Church of Wauseon located at 400 Enterprise Avenue and went from 6:00 p.m. to 8:30 p.m.
It featured a live nativity scene that spread out to make the rest of the area feel as though visitors were in Bethlehem. Actors dressed as Bethlehem citizens and roman soldiers and roamed around the event to help with its authentic feel.
Weather was a little rough this time, but no one let it put them down. The event still went on through the rain, although with a few more tables set up on the inside.
Live animals were also a part of the event with visitors being able to pet them as well. Some animals were unable to be a part of the event on this previous Sunday but will be there in the future weather permitting.
Numerous other activities were also taking place such as inside dining, live music and entertainment, a Victorian Christmas room display, Christmas village display, old Christmas Celtic display, huge sleigh and mountain display, paintings and a Christmas tree contest just to name a few.
Outside there were seventeen marketplace booths with various vendors selling things such as funnel cakes, candles and rugs.
The event also had some honored guests come to show their support. Those included: Mark Miller, who was a former NFL QB for the Browns and Packers, Shawn Simms, who was a coach for Ohio State University and was a 1999 Sugar Bowl Champ, Rick Neiman, 2-time MAC Champion, Mike Estep, who was a former Buffalo Bill and Green Bay Packer in the NFL, Wauseon Mayor Kathy Huner, along with Wauseon Fire and EMS personnel.
Next week will have other individuals attending such as administration members from the Wauseon Schools, local pastors, and Stan Brue who is a former ATF Detective, 2-time MAC Champion, and a culinary chef. The following week will see Wauseon Community Leaders attend as well as Stan Brue again.
The event was a success with many of the people who attended stating that they will be back again next week. The event next week will take place on Sunday, December 12th and will go from 6:00 p.m. to 8:30 p.m. Sunday, December 19th will be the events last day and will run from the same time.
Come on out to Bethlehem this Christmas season. It's not as far away as you think.
Jacob can be reached at jacob@thevillagereporter.com
---
ROMAN SOLDIERS … Volunteers Ryan O'Dell and Kevin Kreiner stand in costume, as Roman Soldiers who were in charge at the time in Bethlehem. The soldiers walked around the event to give it a more authentic feel.
---