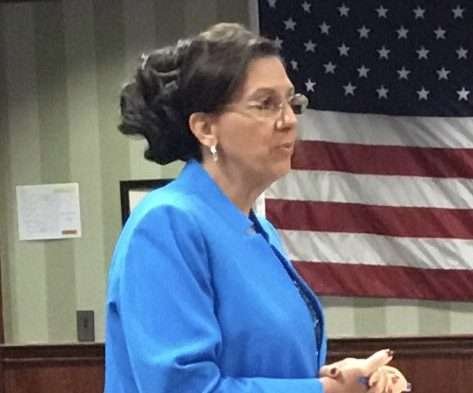 CITY ATTORNEY … During an Emergency meeting held on August 9, 2021, Bryan City Attorney, Rhonda Fisher, clarified the purpose of a lawsuit against three large distributors of opioids in Ohio. Bryan City Council members listened intently and agreed that the city should participate in the lawsuit. (PHOTO BY REBECCA MILLER, STAFF)
---
By: Rebecca Miller
At exactly noon on Monday, August 9, 2021, all but one of the Bryan City Council convened with Mayor Carrie Schlade and Assistant Treasurer Pat Buda, sitting in for Laura Rode, to hear an explanation of an emergency ordinance.
Buda read the following ordinance at the beginning of the Special Meeting: "An Emergency Ordinance Authorizing the Mayor to enter into the Participation Agreement for the OneOhio Subdivision Settlement with McKesson Corporation, Cardinal Health, Inc. and AmerisourceBergen Corporation pursuant to the OneOhio Memorandum of Understanding regarding the Pursuit and Use of Potential Opioid Litigation Settlement Funds and consistent with the Material Terms of the July 21, 2021 Proposed National Opioid Distributor Settlement Agreement available at https://nationalopioidsettlement.com/."
City Attorney, Rhonda Fisher, spoke with council explaining a little background to their involvement, saying, "Originally Purdue Pharma was the largest manufacturer of Oxycodone, also known as OxyContin.They had very large sales of this opioid.
In 2000 they had 1.1 billion dollars in sales of that drug. That drug was distributed…allegations have been that it was distributed by Purdue Pharma with no known ideology of it's addictive properties and between the years of 1999 and 2008, 450,000 people died of overdoses."
Ms. Fisher went on to say that Ohio was hit very hard with this which has led to all types of crime based on the need for money to get drugs.
Portsmouth, Ohio, was deeply affected and Fisher recommended a book about it called Dreamland by Sam Quinones, which gives a greater understanding as to how this problem affects Ohio.
There have been multiple lawsuits in 49 states suing Purdue Pharma and they have filed Bankruptcy. "Now there is a bankruptcy settlement in the works and on behalf of the City of Bryan, I have filed as a claimant with regard to that lawsuit and that bankruptcy," Fisher said.
The reason for the emergency meeting was to deal with another aspect of this issue, the distributers of these drugs so there is a settlement created to handle this, called OneOhio.
The MOU is designed between the State of Ohio and the distributors of this drug, to settle the claims made against those distributors listed in the ordinance.
In order to get 95% of participants from the State of Ohio. involved, this ordinance needs to be sign by August 13, 2021 so it was necessary for everyone to call emergency meetings or take care of it in their regular meeting if it happens before that date.
The amount of distribution will be separated into different areas and the City of Bryan will receive between $40,243 and $57,490, based on participation. There are also regions being set up and there will be a distribution to those.
"Those monies are to be used for addiction help…medicine for addiction, education, counseling, and those types of things, for people dealing with addiction from these drugs," Fisher explained.
She hopes it will also be used for education and training for the area first responders as they need to know how to protect themselves.
She added, "They are asking us to sign it if we are interested in participating." It was also clarified most other political entities in the county are deciding whether to sign or not, not just Bryan.
Mayor Carrie Schlade informed council that they did not receive this information until after their Monday night regular meeting, actually getting it late Tuesday afternoon, so that is why they called the noon emergency meeting.
Council indicated they are all for it and voted to suspend the rules and pass the ordinance to participate in this litigation.
Rebecca can be reached at publisher@thevillagereporter.com
---