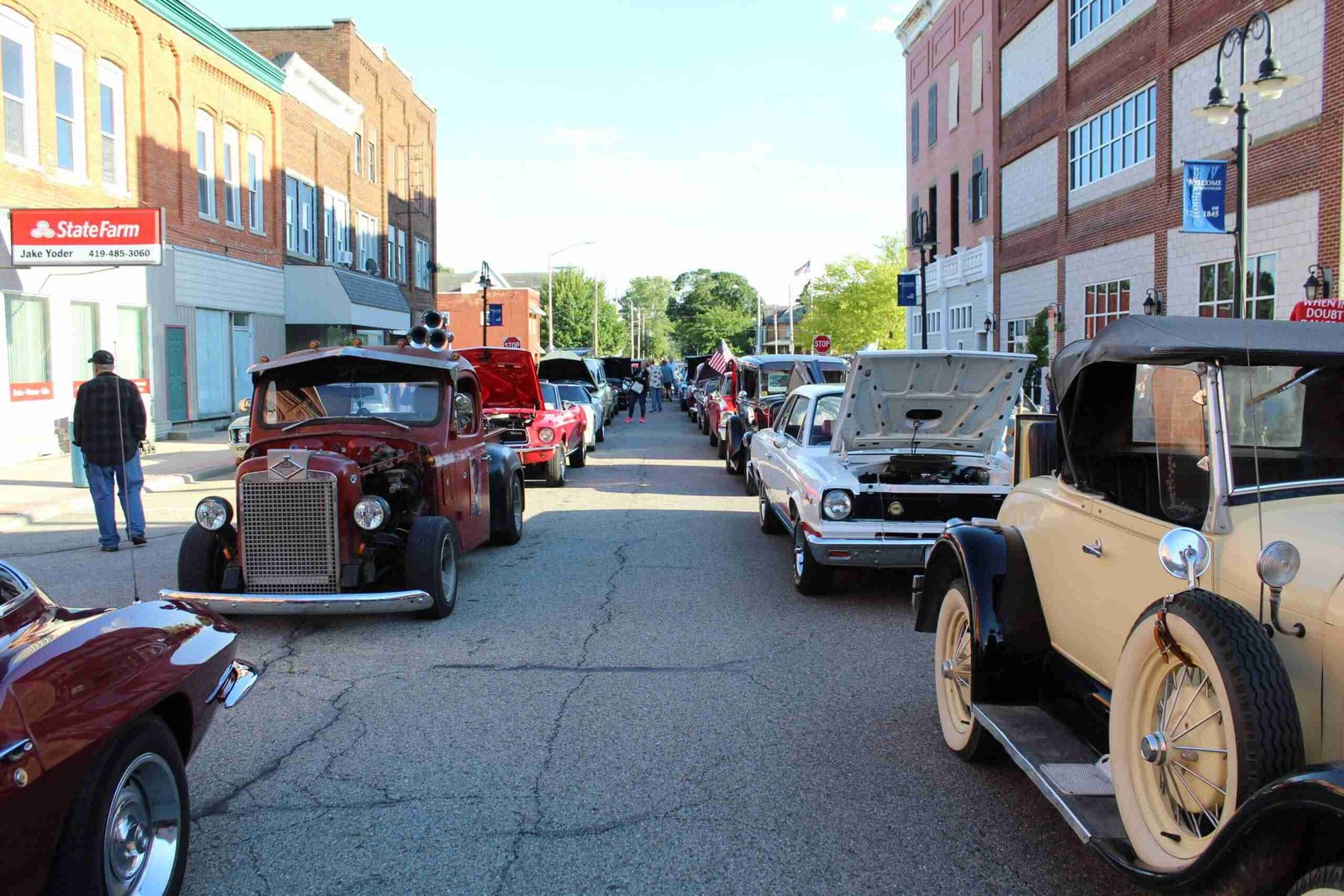 ALL LINED UP … Cars old and new line Empire Street in Montpelier for the 14th annual Cruise-In. (PHOTOS BY JACOB KESSLER, STAFF)
---
By: Jacob Kessler
The annual Cruise-In has returned to Empire Street in Montpelier. The street was lined with cars of all kinds for everyone to enjoy.
This year marks the 14th year for the Cruise-In and takes place on the second and fourth Tuesday of the month in June, July and August. Spence Meloun is one the organizers of the Cruise-In and has been in charge for the past 8 years.
Spence explained that the Cruise-In usually has between 36 cars on a slow night to over 60 on a good night.
"We draw people from the tri state area, every car is welcome and if you love your car then we want you to show up," Spence said.
The Cruise-In also puts on games for those who bring their cars. Featured doors prizes and mystery bags are some of the rewards for the games. Spence explained that the gifts are "unconventional" but in a good way.
They will visit local merchants and they will see something, and they will get it. Merchants will also donate items to be used as prizes as well.
"We try to make it fun; I enjoy putting them on and try to make it fun for everyone," said Spence. Karen Esterline is also an organizer of the Cruise-In but also brings her own car to the show.
She has a Yellow 1972 Challenger that has an interesting story. Her and her husband bought the car brand new after they were married then sold it after 13 years.
Years later, she had been thinking about the car and her sister took her to see one that looked just like the one she sold. "I knew it was my car as soon as I saw the rug," Karen said.
She had made a rug herself and put it in her car. Years later when they found it, that same rug was still in the car.
The VIN numbers also matched but the car was in very bad shape. They bought the car again and restored it to its original beauty.
There are many cars to see and snacks available at the Montpelier Cruise-In. Music also sets the mood with Jamie Shaffer from Showtime Mobile DJ playing older style classics that take you right back to when the cars were made.
"I love it when I see an older person that comes up to me and says, I haven't heard that song in so many years," said Jamie.
So if you are in Montpelier and the Cruise-In is going on, take a walk down Empire street and take a walk down memory lane.
Jacob can be reached at publisher@thevillagereporter.com
---
THE CHALLENGER CAME BACK … Karen Esterline stands next to her Banana yellow 1972 Challenger holding a magazine that her car was featured in.
---