ROBERTA DELL … Someone who was thanked often and mentioned by all who talked about why they were there on July 1, 2021, was Roberta Dell, retired Chief Union Steward. Dell had the opportunity to speak for a few moments and thanked Senator Sherrod Brown for all he did to help get the Pension Fund bill that was so needed. Listening are Teamsters Local 20 President Mark Schmiehausen and Senator Brown. (PHOTOS BY REBECCA MILLER, STAFF)
---
By: Rebecca Miller
With absolutely perfect weather for an outdoor press conference, U.S. Senator Sherrod Brown and his entourage from local offices and Washington D.C. pulled into the parking lot of Spangler Candy in Bryan, Ohio on Thursday morning, July 1, 2021.
They were met by Spangler corporate leaders, production employees, Teamsters Local 20 as well as Bryan Mayor, Carrie Schlade, and the media.
Channels 26 and 11/36, The Blade, The Bryan Times and The Village Reporter were all present to cover the event.
Immediately upon arrival, the senator was given a tour of the facility with CEO Kirk Vashaw, President Bill Martin, Union Teamsters 20 President Mark Schmiehausen and a few others, making up a small enough group to still meet covid standards.
Brown, Vashaw, and Schmiehausen all spoke at the podium upon completion of the tour, along with Roberta Dell, the retired Chief Union Steward, whom Brown invited to come up and say a few words.
All who spoke and many who were mentioned played a large part in getting the Central States Pension Fund moved along and eventually passed.
Rejoicing together over the passage of the Pension Fund was the reason for the gathering and all members of Browns team and the Spangler leaders were ready to talk about it.
As a part of the American Rescue Plan Act of 2021, a special financial assistance program was signed into law to help multi-employer Pension Funds. Quoting an online article about the pension relief, "Thanks to the passage of this legislation, Central States can avoid its current projected insolvency in 2025 and prevent a near-total loss of benefits for our 360,000 participants."
With only 1000 companies trying to cover all of the pensions for their own employees and the employees of all the companies that have folded.
Senator Brown was there because he helped in the bi-partisan work, chairing with Senator Rob Portman, to get the federal government to move this passage through. Brown said in his remarks, "Fixing pension for Ohioans was the best day of my political career."
He mentioned that some people were about to lose 30 to 40% of their pension and he is thrilled that this act has passed. He shared how he and Vashaw, Dell, Martin and Schmiehausen all worked together to make it happen.
Mr. Vashaw thanked Senator Brown for visiting and for his support of Spangler Candy and for making their newest investment possible.
He made some comments, saying," Supporting labor means having pro business policies and if you want to support businesses, you have to have pro-labor policies. Addressing the pension issue helps both business and labor at the same time."
Spangler has faithfully made every pension payment for the past 50 years and Vashaw stated that it "was fundamentally unfair to require our company and our employees to pay pension benefits of bankrupt companies who did not put their fair share into the pension funds."
He went on to say that it truly benefits the community as well, as they are planning to build "a 300,000 sq.ft. 21st Century, world class food manufacturing facility just six blocks from their downtown Square."
It will be called the Spangler West Campus and will be fully up to date, with a new candy kitchen to make Bit-o-Honey, which is the newest candy they have acquired and are excited to begin producing.
They will be hiring forty new employees for the new factory building. He also thanked President Bill Martin and Roberta Dell for their hard work and Mark Schmiehausen for all the Teamsters did to make this Pension Fund Bill come to being.
Mr. Scmiehausen stepped up to the podium and also thanked Senator Brown for his leadership and hard work and all the others who were involved.
"There are folks that are retired right now and folks still working who will get the benefits they deserve. It was a well fought fight. Teamsters Local 20 has had a good working relationship with Spangler Candy for fifty four years. They just finished the contract that will bring Bit-o-Honey to the community."
Roberta Dell, who retired after 49 years at Spangler Candy, thanked Senator Brown, on behalf of Spangler Candy, for everything he has done for the company and said "Without you standing behind us and fighting for us, this wouldn't be possible."
She also thanked Kirk Vashaw and Bill Martin for all the times they went to Washington D.C. to fight for this pension fund relief.
She joked about how she could have gotten it done sooner if she had been sent to Washington.
She thanked all the employees for calling and writing letters and told them she hopes they can retire someday because "it is a great thing."
Mr. Vashaw thanked everyone for coming and the Senator took some time to address the Press. He answered questions about how he felt when it passed, how it felt for it to be a bi-partisan vote and other things which were brought up by the media.
He answered that he hopes to have as good a rapport with whoever wins Portman's seat as he has had with Portman, as it has been a productive relationship despite their disagreements on major issues.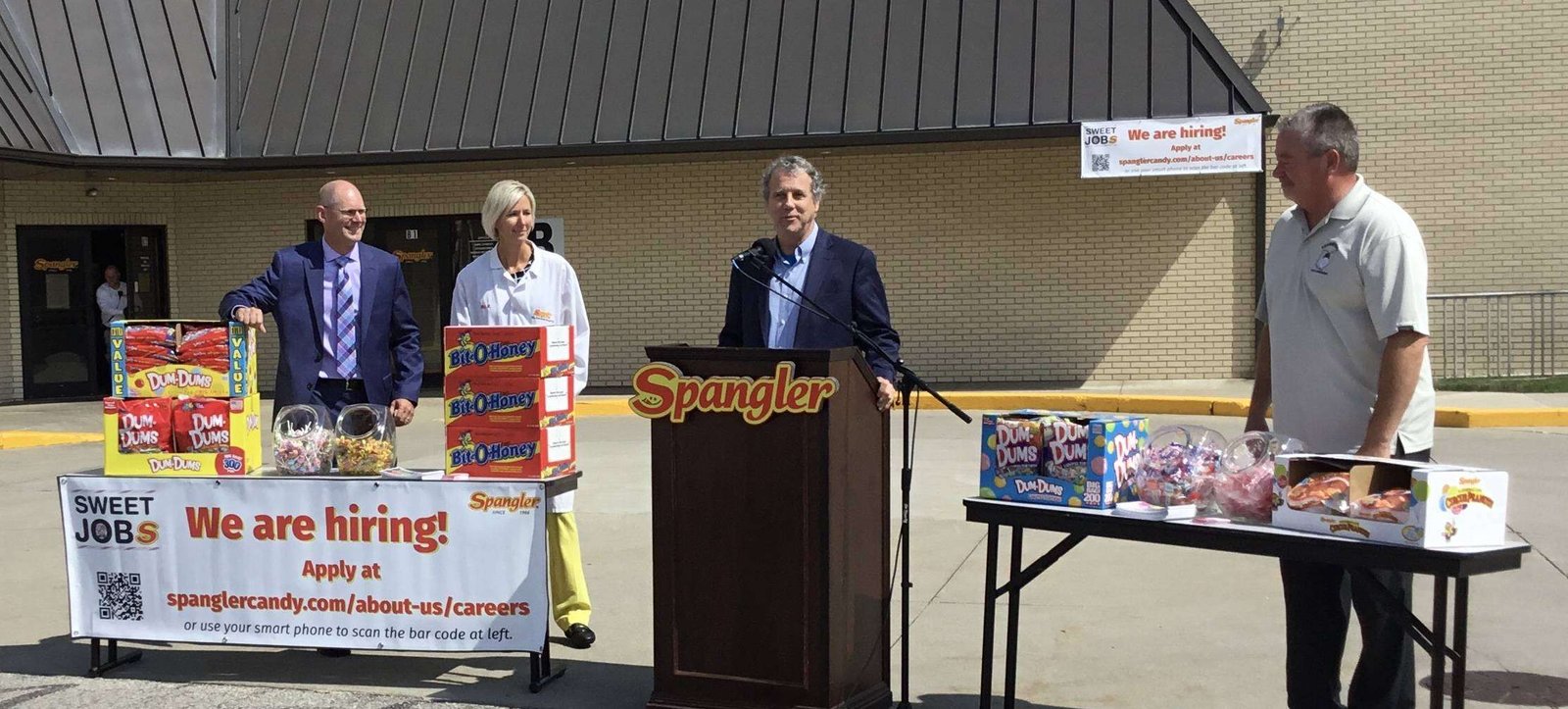 THANKS ALL AROUND … Niki Mosier, VP for Human Capital, was invited up by Senator Brown to be recognized for her work in leading Manufacturing Camps for kids in 4th through 8th grades, to work with their hands and their brains. "It gets them to see how forward and progressive our manufacturing base is in the state and in this country. In part it was to get kids to want to make things and use their minds." He stressed the importance of going to a Tech school or college to keep forwarding the employee force. From left to right are Spangler Candy CEO Kirk Vashaw, Ms. Mosier, Senator Brown and Mark Schmiehausen.
---
MULTI-EMPLOYER PENSION ISSUE – FACTS
Information Provided by Spangler Candy Company
•Spangler Candy Company's production employees joined the Teamsters Local 20 union in 1959.
•Spangler Candy Company entered the Central States Pension Plan in 1972.
•Central States Pension Fund is the largest of about 130 multi-employer pension plans who were predicting insolvency.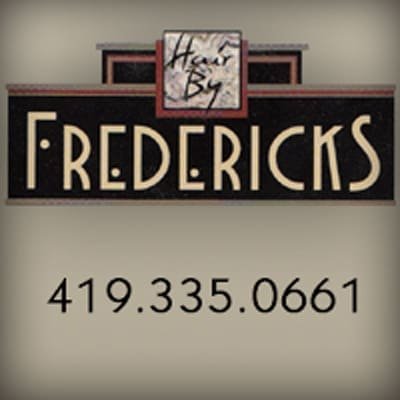 •In 1980 Congress passed the Multi-Employer Pension Amendments Act that created employer withdrawal liability rules that required companies who had made all their pension payments on time to make up for companies that have failed and left the pension funds with their unpaid pension liabilities.
•Multi-employer pension plans were severely impacted by the financial crisis of 2008, bankruptcies, and an influx of retirees.
•In 2008, Spangler's cost to participate in the Central States Pension Plan was $65.90 per week per employee.
•By 2018, Spangler's cost to participate in the Central States Pension Plan was $120.40 per week ($6,260.80 per year) for each employee, about 20% of our employees' wages (the normal average is about 8% of wages).
•By 2018, trustees of the Central States Pension Plan (and other multi-employer pension plans) were predicting that these plans would run out of money and fail by June of 2025.
•Impact of the pension withdrawal liability rules to Spangler Candy and other companies included:
•Excessive pension withdrawal liability rules prevented companies from growth.
•The threat of further increased costs to participate in Central States prevented companies from cutting back.
•To understand the impact, consider this: If Spangler had been able to bring new business and hire 100 new employees to our plant in Bryan, the cost to the Central States withdrawal liability would be $225,000 per employee, or $22,500,000.
•Many long-time employees of Spangler Candy Company who were approaching or who had already reached retirement age felt unable to retire due to the potential loss of their pension income.
These included many loyal employees who had been with the company for more than 25 years, and some nearly 50 years.
•Bill Martin, President of Spangler Candy Company, and Kirk Vashaw, Chairman and CEO at Spangler, met with US lawmakers about this issue for well over 10 years. Their efforts included many trips to Washington DC to meet with Members of Congress.
•Bill Martin, President of Spangler Candy Company, and Robert Dell, former Chief Union Steward, addressed a Joint Select Committee hearing on July 13, 2018. The JSC included a bipartisan group of government leaders including Senator Sherrod Brown (D-Ohio), Senator Robert Portman (R-Ohio), Senator Joe Manchin (D-West Virginia) and others. Sen. Brown chaired the JSC.
•The multi-employer pension crisis was addressed as part of the U.S. government's American Rescue Plan Act (ARPA), approved by Congress in March of 2021.
•This resolution removed a major financial roadblock to expansion at Spangler Candy Company, and advanced the opportunity to move the Bit-O-Honey brand candy operation to Bryan, Ohio.
Spangler Candy Company purchased the brand in November of 2020, and anticipates moving the manufacturing equipment to the Spangler West Campus (formerly known as New Era Ohio) in Bryan sometime in the first half of 2022, from its current home in St. Paul, Minnesota.
Rebecca can be reached at publisher@thevillagereporter.com
---