---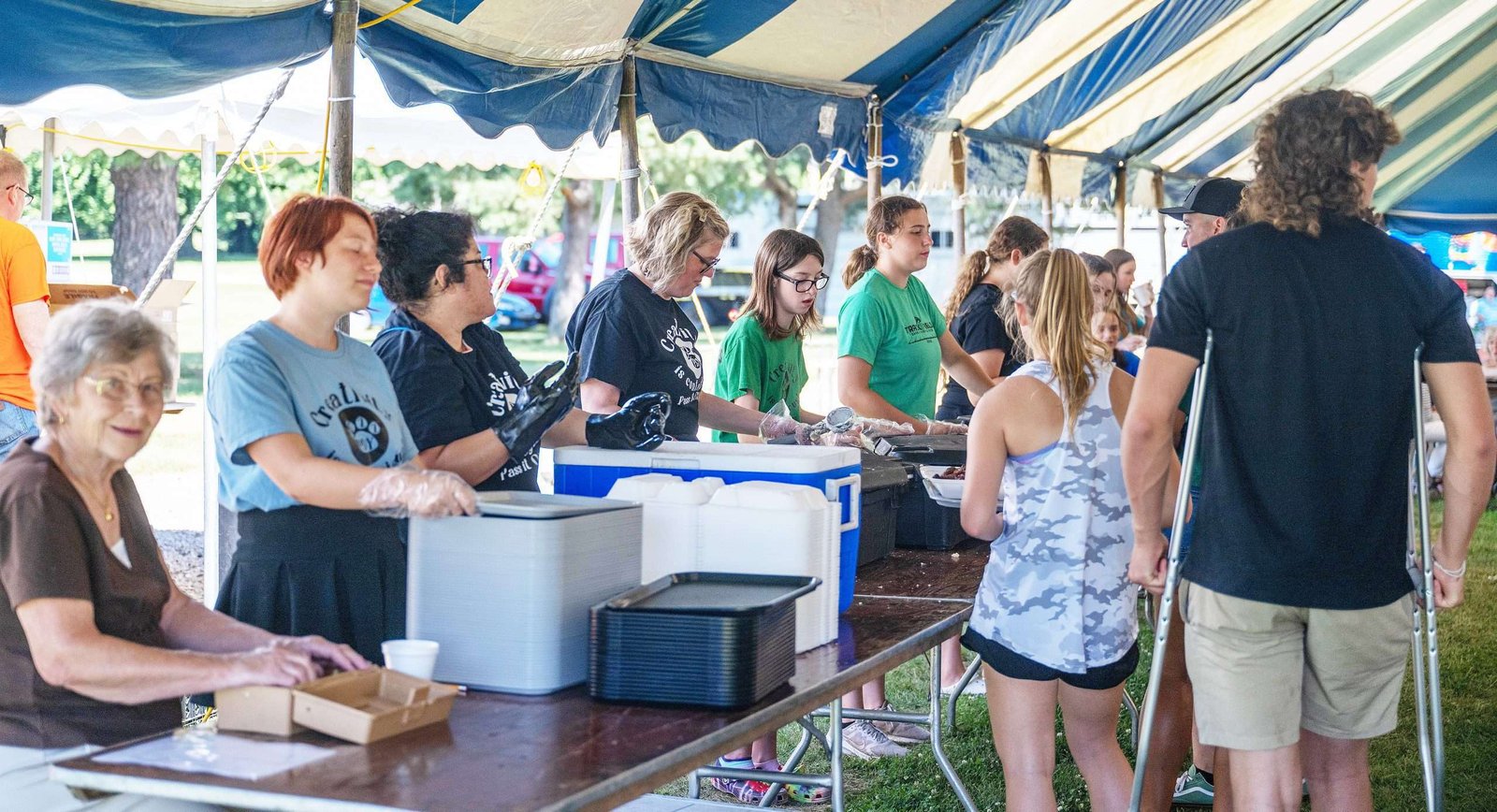 CHICKEN DINNER… Volunteers serve chicken dinners to those who came out to spend time with family. (PHOTOS BY JACOB KESSLER, STAFF)
---
By: Jacob Kessler
The Annual Delta Chicken Festival returned to the community this past weekend. The festival took place from Friday, July 8th to Sunday, July 10th.
Each day saw different family activities including a midway with rides for the children and all kinds of food vendors.
Also known as the Chicken Fest or the Bawk 'n Squawk, the festival was first held 66 years ago. The festival people experience today is not all that different than what it was back at that point in time.
The events core purpose has remained the same as well. All proceeds go to support Delta Parks and Recreation where it is used to help with costs associated with bettering the park.
The festival started at 5:00 p.m. at the Delta Municipal Park. The midway was open along with the vendors and a Bingo tournament.
The beer tent was opened up later at 6:00 p.m. on Panther Pride Drive along with live entertainment by the Lee Warren Band. At 10:30 p.m. everyone was treated to a fireworks show put on by the Delta Eagles #2597.
On Saturday, the chicken run was held at 8:00 a.m. before the parade at 10:30 a.m. Several games were also going on nearby at various fields including baseball and soccer.
The beer tent was opened again at 6:00 p.m. Live entertainment by The Forest Family Band also took place at the beer tent along with the Delta High School All Class Reunion.
Sunday closed out the event with a car, truck and motorcycle show taking place from 9:00 a.m. to 2:00 p.m. A worship service was also held at 10:00 a.m. before the midway was reopened at noon.
Of course, chicken dinners, burger and milkshakes were also served each day as well.
The festival has always been a great event to promote family fun and the parks. Co-Chair Kathy Miller explains that family is the most important aspect of the event.
"We usually make around $10,000 for the park each year. Last year was the exception due to making that much in the first two days and the third day being rained out."
"When we took over seven years ago, I wasn't worried about making money as much as I was worried about making sure the event was about family and fun. I look at the festival as a way to lift up the community and drum up pride for the community."
The Delta Chicken Festival is worked on by people who volunteer their time to put together an event that provides fun for the whole family. It has been estimated that around 230 volunteers give around 1,400 hours to make the event possible.
Many are students from the Delta School system who are working to build up community service hours. These hours have been well spent as evident by the success had each and every year.
Jacob can be reached at jacob@thevillagereporter.com
---
---