---
ESCORT … Pioneer police and fire department blocked roads and escorted the bikers out of town on their roughly 60-mile journey. (PHOTOS BY LINDSAY PHILLIPS, STAFF)
---
By: Lindsay Phillips
Kaleb McLaughlin was a Pioneer Ohio resident who changed the lives of over one hundred people when he unfortunately passed in 2013 with organ donation.
While a single organ donor can save up to eight lives, someone who is also a tissue donor could save up to fifty lives. Over thirty thousand lives are saved a year from organ donation.
In memory of Kaleb, promoting organ donation has become the family's mission. Each year since 2014, the family of Kaleb has held a special event to remember him.
Early in the morning, at 7 a.m. the Tracksters for Team Tiffanie registration began, with the fun run starting at 8:00 a.m. and the 5K at 8:15.
All the runners/walkers were past the finish line and the winners were announced just before 9:10 a.m.
Connie Salisbury announced the winners and shared, "All proceeds will go to the Cancer Research Society in memory of our daughter Tiffanie." Tiffanie Salisbury lost her battle to cancer in 2014, to Neuro Endocrine Carcinoma.
As the last 5k participants finished the race, motorcyclists began pulling into the parking lot at Crommer Park. Starting at 11:00 a.m. registration for the Kaleb McLaughlin Memorial Ride started.
With the Ride's Memorial Butterfly Release beginning at 12:00 p.m. and the Memorial Ride not starting until 1:00 p.m. many vendors, tents and activities were going on from 11:00 a.m. to 4:00 p.m. The ride was about 60 miles long
Kids got to enjoy free inflatables throughout the day, along with yummy food vendors selling donuts, dipping dots, Tropical Freeze and Eicher Subs.
From 9:00 a.m. to 3:00 p.m. a blood drive and silent auction was held, with the Duck Race beginning at 3:00 p.m. sharp.  Duck race winners for first place won $1,000, second place $500 and third place $250.
To continue the fun after dinner, a Pro-Edge Bull Ride was had at the North Central Schools. A bicycle Give-A-Way was a huge hit with many children's bikes given out at 8:00 p.m.
To finish off a great day had by all, the night ended at dark with a great firework display. All were welcome to go to the Pioneer Community Worship Service Sunday morning in Crommer Park by Rev. Stephen Smith, with lunch to follow.
Food was provided by the Pioneer Mayor, Ed Kidston, and prepared by JJ Winns Restaurant.
Lindsay can be reached at publisher@thevillagereporter.com
---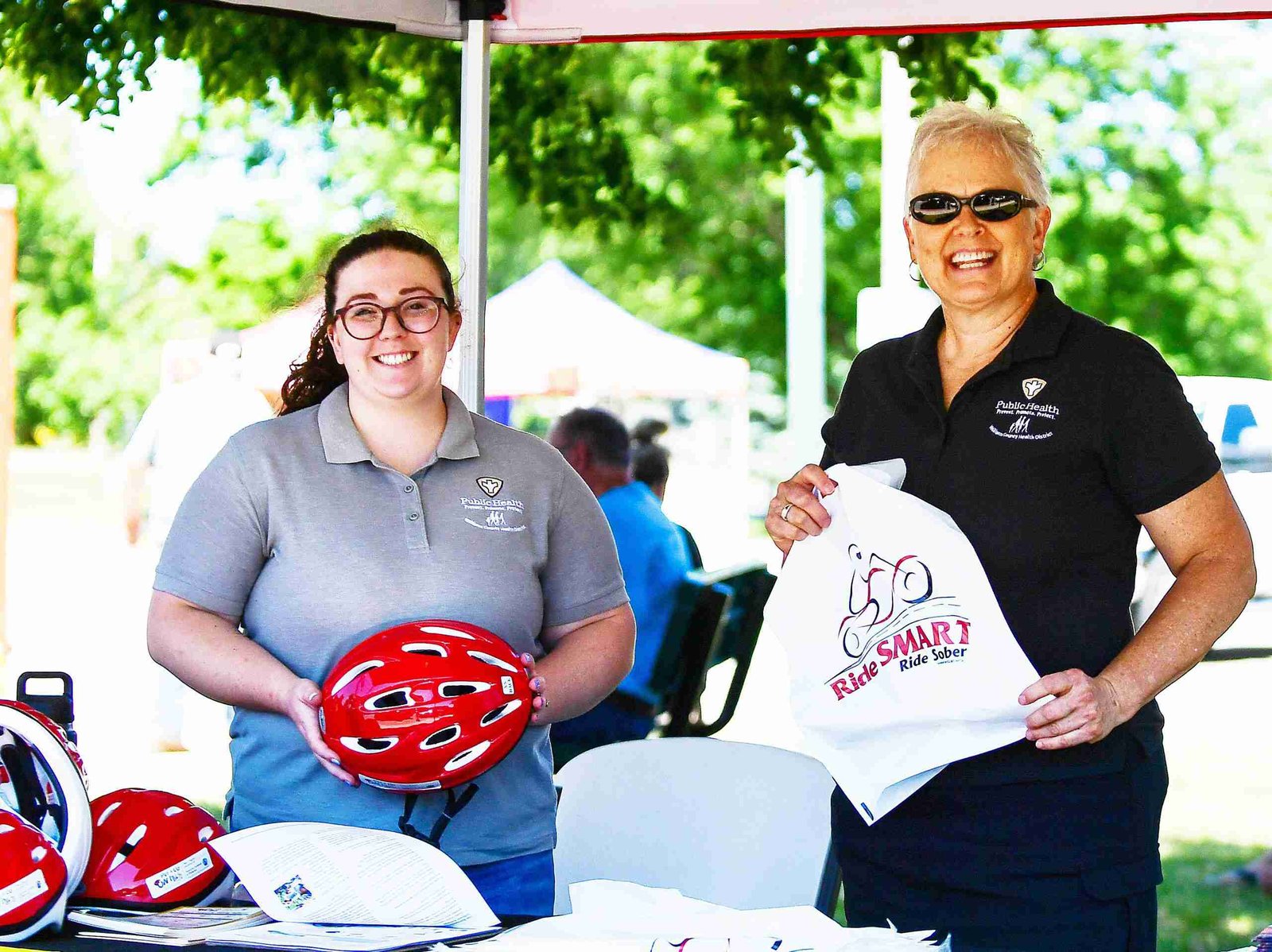 HELMETS … The Williams County Health Department sat their booth up at the corner of 1st Street and Crommer Park advocating for bike safety and handing out free helmets.
ON YOUR MARK … Tracksters for Team Tiffanie 5k participants lined up behind the balloon start and finish line waiting for the countdown to take off.
PRAYER … Pastor Steve Smith gives a heartwarming prayer just before the riders got onto their bikes and kicked up their stands.
---