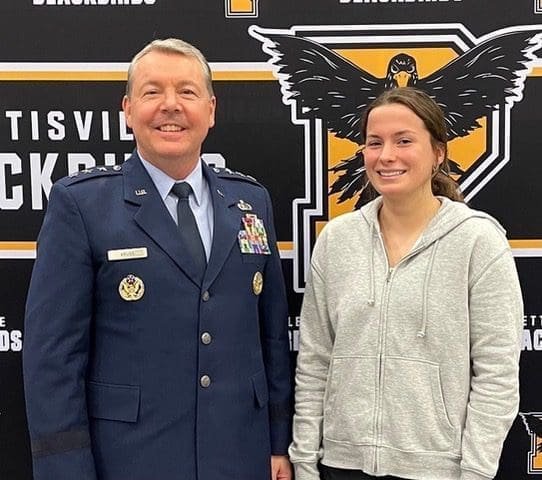 Less than two weeks after driving from Washington, D.C. to present the first Kruse Leadership Award at his alma mater, Pettisville High School, Lieutenant General Jefferey A. Kruse was appointed by President Biden to serve as the director of the Defense Intelligence Agency. 
Lt. Gen. Kruse (PHS 1986) and his wife, Dr. Susie Kruse, created the Kruse Leadership Award, through the Pettisville School Foundation, to be given annually to the PHS senior who has exhibited outstanding leadership and service to others. The inaugural award, which carries a stipend/scholarship of $1,500, was presented by Lt. Gen. Kruse to Pettisville senior Leah Beck, daughter of Reg and April Beck, at the May 19 awards ceremony.
The director of the DIA is the nation's highest ranking military intelligence officer, who serves as the principal advisor to the Secretary of Defense and the Chairman of the Joint Chiefs of Staff on matters of military intelligence.  He will serve pending confirmation by the U. S. Senate.
During his Pettisville visit, he was presented a copy of the sign that the Pettisville School Foundation has sponsored at town limits honoring outstanding accomplishment by Pettisville High School students.  Also honored were the 1991 State Track Championship team of one person, Lincoln Cobb and Girl Named Tom, Winners of NBC's "The Voice" competition in 2021, Caleb, Josh, and Bekah Liechty.
---