---
By: Tim Kays
When you see news headlines about Space-X rockets and Tesla cars, you tend to think of innovative technologies being designed and manufactured far from Northwest Ohio.
The same thing can be said of Lucid Motors, a startup that is producing premium luxury electric vehicles (EV) with prices ranging from $77,400 to $169,000.
These companies are pushing back the frontiers in both earth and space travel, using technologies that are truly beyond the cutting edge. They are forward thinking science fiction, come to life.
They are also constructed from parts being manufactured in part by Toledo Tool and Die, located in the former ArcelorMittal facility on the north side of Pioneer.
Pioneering technology, coming from Pioneer, Ohio. It just makes sense, and it took a growth-oriented, pioneering company like Toledo Tool and Die to bring it to Williams County.
Founded by Tommy Kujawa in 1940, Toledo Tool and Die, or TTD, is a third generation family owned business, currently guided by Tony Kujawa, the grandson of Tommy. 80 years ago, Tommy Kujawa opened TTD on property right next to his house.
Tony Kujawa recalls his youth, picking and eating apples growing in the orchard directly behind his grandfather's house.
The house was removed in one of the many expansions of the facilities over the years, and that expansion has continued to meet the needs of Tesla, Space-X, Lucid, and 56 other corporations such as Honda and Nissan.
That growth has continued unabated, and according to a 2019 survey measuring the fastest growing metal stamping companies in America by business data supplier IndustrySelect, TTD ranked #8.
It is therefore no surprise that in 2019, when a facility the size of the ArcelorMittal building in Pioneer became available, TTD was quick to acquire it in order to accommodate their expanding operations.
Expanding operations obviously means more business, more production, and the need for more and more personnel to fill vacant positions within the rapidly expanding company. TTD is looking to hire more than just people with mechanical skills.
They haven't been around for 80 years without being ahead of the curve, not just in manufacturing technology and dedication to excellence, but also in their company culture.
The 'Help Wanted' ads that you may be frequently seeing from TTD aren't the result of turnover. Their growth rate is actually outpacing their potential employee pool.
"The machines are doing the majority of the work here, when it comes down to it," said Human Resources Recruiter Chris Smith. "Our press operators are just an additional stop when it comes to the quality side of things."
"They're responsible for checking each one of those pieces, and ensuring that that first quality-approved part is consistent throughout that shift. Our short team will also go through all of our products at the end of the day."
"They go through every single one of the pieces that have been manufactured, again double checking them for quality."
"They're literally our last line of defense before a product goes off to the customers, so they're making sure of quality parts, the labels are packaged correctly, and everything's ready to go for shipping."
"Plus," said New Model Launch Manager Heather Schwemmin, "…the employees that we do have, have been there for quite a long time. We take pride in their work."
"As of last year," Smith continued, "…we celebrated 80 years of business…a third generation family owned company."
"When I say family owned company, I do mean the current owner of the facility was just out there on the machines a few weeks ago, getting our 3,000 ton press up and running, working with associates who have been here for years, and associates who were starting their first week."
"He's one of those guys that's out there on the floor getting just as dirty as everybody else. You probably wouldn't even know he's the owner because of how dirty he is getting on some of the machines, until somebody says, 'Hey…that was the owner that just walked past us.' It's a very hands-on team." "He carries his own tool bag," added Operations Manager Rodger Swank.
"At this facility right now," Smith said, "…we currently have 77 employees. We've been hiring in stages throughout the last year, so as we get a press online, we'll get some of that workforce built out."
"As that press gets streamlined, we start to manufacture more products without any issues; we'll start to build out that team. Right now, we're implementing our third shift production."
"The biggest area that I think that we're struggling with right now is just finding people that are open to working second shift in Pioneer."
"We still have about six or seven openings currently. It's just been difficult in the area of finding enough people in the area that are interested in second shift opportunity. We do have the job posting right now in The Village Reporter, that's going on for the second shift."
"We are in the process of getting everything switched over for the Pioneer location to demonstrate that this is no longer ArcelorMittal, that the Google page for Pioneer will show up as Toledo Tool and Die."
"One of the concerns that I previously had is that when anybody searched Toledo Tool and Die, they were finding the main campus in Toledo, and not understanding that we were directly here in Pioneer."
"So, we're in the in the midst of trying to get that resolved, and get all that set up so people do know that we have this presence here in Pioneer as well. We have currently four of our five presses up and operational right now."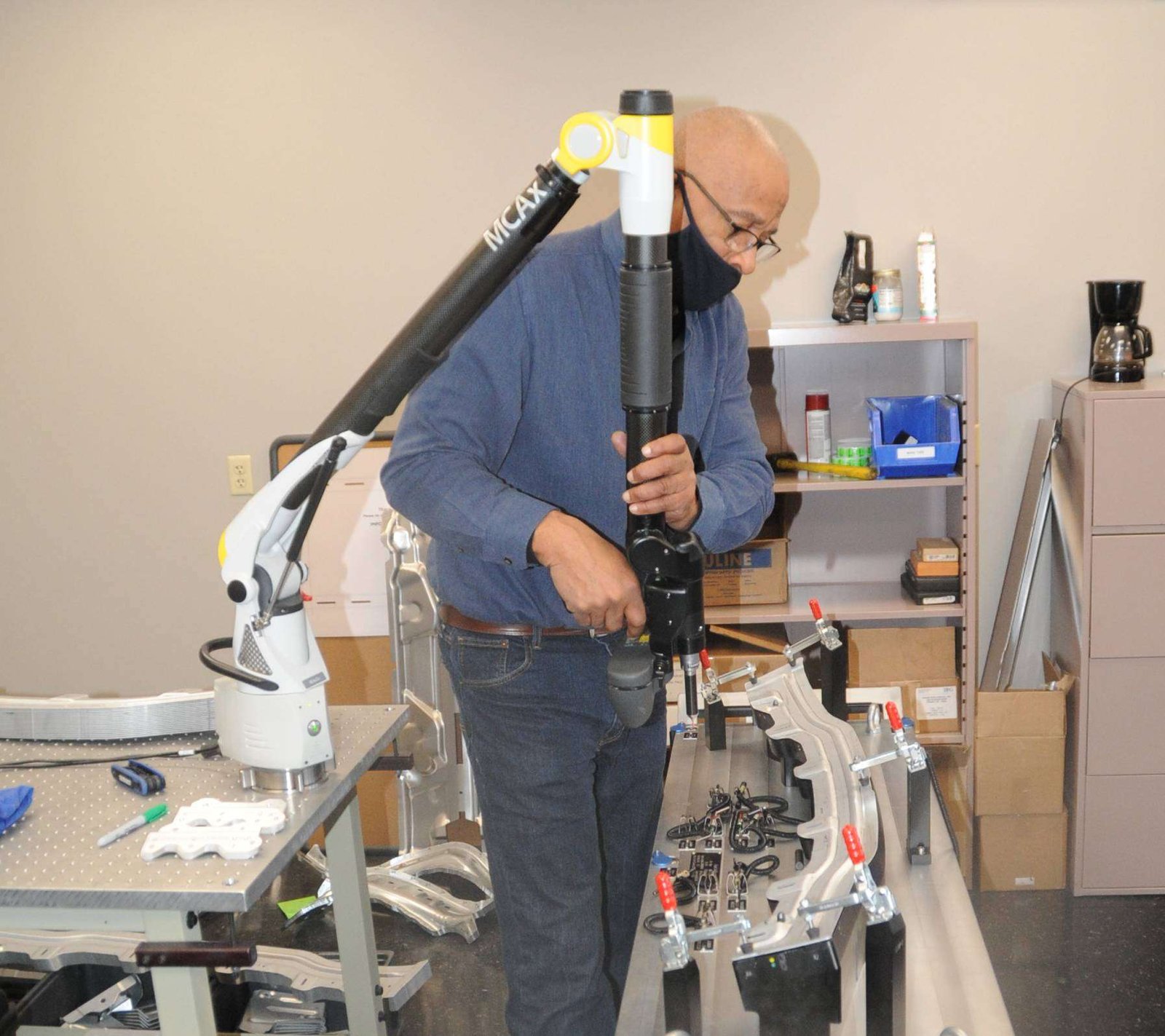 ---
"One came from our Temperance, Michigan location. We were leasing that out from another metal stamping company who unfortunately went out of business, so we did purchase that press from them and that is in the process right now being put together in our facility as well so."
"It's really cool that a lot of the associates that are coming onboard right now get a chance to see what the…whole entire process looks like when we're getting a press up and operational."
"From the point of digging out the hole in the concrete, to actually putting the press in and getting it up for the first piece approvals, the team members really have a hands-on opportunity to see that."
Schwemmin added, "You look at things differently when you know how everything's put together. There's major opportunity for growth for a lot of people."
The COVID-19 pandemic threw a wrench into practically every manufacturing operation from coast to coast, but TTD employees didn't just survive…they thrived. Despite the pandemic, internal promotions in the Pioneer facility were commonplace.
"We really put a huge emphasis on our internal employees," said Smith. "When we're looking at somebody that comes onboard as a press operator, the thought process is, we still need to build on our shipping. We still need to build out our die setting team."
"We still need to build on our engineering or quality teams. So we're looking at the associates that come onboard, and kind of get a feel before they're even ready for where is that potential career path for them."
"All of our associates, when they come on board, that's the first target that we're looking at when we have internal promotions. So they are in our system every day."
"They log into it; there's announcements that we have any internal promotions available, and they're the first associate that we're looking at before we look at anybody external. In this facility, I think we've already had quite a bit of people that have been promoted into to higher up roles."
Normally, one could expect to find a lengthy probationary period and a long waiting line before even hoping for a promotion. Getting in on the ground floor of TTD-Pioneer is a career launching pad.
"Initially we were slated to have this team start March 23 of 2020," Smith said. "March 22, the Governor…shut everything down. We were kind of unsure of when that target date was going to happen. We knew with everything happening here, a target date was happening, but we just weren't sure when everything was going to be implemented."
"One of the great things during that time is that, I myself didn't feel any concerns about the layoff. I knew where we were going and what the company expectations were, so I knew it was just a matter of time until we were called back."
"The team kept us in the loop on a weekly basis of what was going on with our suppliers, and gave us an idea of what percentage of that workforce was coming back and when."
"After a few weeks of people being on unemployment, they weren't eligible for health benefits. The company itself took on the responsibility of covering all the health benefits to make sure that everybody was taken care of."
"Tony made sure that everybody was taken care of," Schwemmin said. "Like we said, there's some people that have been there a long time. They're loyal, and he made sure. During the COVID, we stayed open because we were essential."
"So where we laid off a lot of the workers, the management had to work. The management packed the parts, worked on the presses, did all the things just to keep everybody's health insurance up and keep everything going."
"It was just nice not having to worry about anything, really," Smith added. "Yes, there's a global pandemic happening, but you know, job security wise, I knew I was coming back."
"I knew I had a place to be and I knew that once we came back it was pretty much hit the ground running. So the teams officially began in August…and some of those associates have already been promoted into quality techs and supervisors."
"Normally we would ask that an associate comes on board and stays in their role for six months before they move to anything else. But with all the activity that's going on here, if you have the skill sets and you're demonstrating that you're a reliable associate that we can count on, we're going to go ahead and start to make that happen."
"Actually today, I'm going to be doing a die setter test with this associate that has only been with us less than a month. So it's really about the people that want to come on board and demonstrate that willingness to learn, that that are out there frequently asking questions."
"The press operators at the end of the day…they're going to catch on to that fairly quickly. It's up to them to really identify, 'Do I have an inkling towards quality? Do I have an inkling towards the die setting, the maintenance or the engineering side of it?'
There's so many things that need to be built out here right now. It's just about them engaging those team members and really starting to have those conversations of, 'Is this a potential path that I can go down?'"
---
While career opportunities abound at TTD, the opportunity to be hands-on with the latest innovations is equally abundant. "Our primary customer in this facility would be a majority of Tesla products that we're sending out right now," Smith said.
"And then Lucid we just launched in February." "That's a new company that's come up," said Engineer Vighnesh Nayak. "That's a startup, but they're launching a car named Lucid Air, hopefully this year, for which we're doing a lot of production."
"Their first car is called Lucid Air Dream Edition, which is going to come up. It's a luxury electric car. Basically, it will be…an alternative to Tesla, and we have had more EVs that have come in recently to Toledo Tool and Die, such as Rivian."
"We're doing some work for Rivian; we're doing some work for a new startup called Canoo, and we already have some of the major customers like Honda, Acura and Nissan."
TTD has brought the heavy power to Pioneer, with a 3,000-ton press that is currently operational. Why is 3,000 tons of pressure needed? Schwemmin said, "We're working a lot with the high tensile strength steel."
"That helps the environment as far as building a car is concerned, because you're eliminating a forging, which emits carbon emissions, and you're eliminating the casting, which becomes into hazardous waste."
"So, this is cutting edge. Working with the high tensile strength steel, it's very difficult…and we're very good at it. It's light. You can take all the weight out of the body, and keep the strength."
"That's the primary focus of EVs," Nayak said, "…because of how much load you put on the battery. Less weight is less strain on the battery. Longer range, which is what the EVs are struggling with recently, giving you power and range to give you the best of both worlds."
"A lot of the established car companies we do work for," Schwemmin added. "We have something for Ford…their break shields and different things like that."
"We're Tier One to Tesla; we'll be Tier One to the other electronic vehicle companies, or Tier Two to larger companies like Honda, Nissan, Magna."
"And we're dealing with Space-X as well," Smith added.
So then, what does it take to be a part of a cutting edge company that is forging the future like TTD? "The primary focus is we're looking for somebody who has that quality mindset," Smith said, "…who also has the mechanical background."
"Like I mentioned, with the promotions from within, our die setters are responsible for changing out each one of the dies as we have a new product that comes to the facility."
"There's not tons of businesses out here that I can really pull a die setter from, maybe one in the immediate area that I could probably pull…who has an experience, and even that experience is going to be separate.
So having somebody who has that mechanical aptitude, who's a hands-on learner that can come on board and really follow that process and learn what they're supposed to be doing is ideally what we're looking for.
Smith continued, "Right now we have everybody go through an Indeed application. They go through an online assessment which gives us their overall work productivity background, as well as their mechanical aptitude, then they will go through a phone interview where we're going through and reviewing their previous history."
"We're looking for people that have solid stable work history, or at least can demonstrate a story of why they made those moves in the last few years. We'll bring everybody at passes that portion out for a face-to-face interview."
"We'll go through a lot of behavioral based as to what we're looking for. One of the biggest ones is, 'Tell me about a time that you've been with a company that's gone through a lot of changes.'
"You know, that's very instrumental here because one thing somebody may be doing this week could be completely different six months from now."
"They have to be flexible and be able to go with the flow of changes. You know we have a plan that things are going to go this way, and I'm sure there's going to be some dips and curves, so we need to make sure that our associates are really flexible when it comes down to those changes."
"Some of the other things that we're looking for are people that show up on a regular basis. I think that's one of the biggest issues that anybody's experiencing right now…people being here as scheduled."
"The other thing is, I typically look for people that I call that fit into our 'We Culture.' If it's just about me or what can I do, or where can I get my money or where's my promotion, that's not the associate that I'm looking for."
"Nothing here is done without your team, so if you can't rely on your team, then that's not somebody that I'm looking for.
"Nothing's above anybody," Schwemmin added, "…as we said with the management working. You will see the owners out here working a lot of times."
Does premium pay in an essential industry that has its feet firmly planted on the ground, and a reach into outer space appeal to you? Are you one who sees the future as not just a destination, but a journey of innovation, imagination and opportunity?
If you have the skills and the team mentality, then Toledo Tool and Die has a place for you in Pioneer, Ohio. Visit ToledoTool.com, or text 2KEXON to 22100 to take that first step on the road to your future.
Tim can be reached at tim@thevillagereporter.com
---