BOUNCY SLIDE … Children had a blast at the Stryker Heritage Days Festival. Children slid down the blow-up slide and bounced in the bounce house and had fun. (PHOTOS BY JACOB KESSLER, STAFF)
---
By: Jacob Kessler
The Village of Stryker held their annual Heritage Days event on Saturday August 21st. A parade through town kicked off the event at 5:00 p.m. which was followed up with a fun time at the Springfield Township Park.
Sean Ingram, who is a member of the Village Council in Stryker, explained that the event was a late addition this year due to covid which also canceled the event last year.
"COVID is still an issue, but we hope people still come out and hopefully by next year we will be back to full strength," said Mr. Ingram.
Mr. Ingram also went on to explain that there are parts of the event this year that are new. One such thing is the corn hole tournament that was being held at the park.
Another is the location itself. In previous years it was held in the center of town or closer to the Fire Department. There were also food vendors to choose from and blow-up slides and bounce houses for the kids.
Bobbi Schlosser, who is a children's book author, was at the event to talk to children and show them some of her books that showed her experiences rescuing pets.
Matt Reid from MNM Sound DJ came from Kendallville Indiana to help out with the event and make sure that everyone had a good time. "We are here for everyone to gather with each other and have that sense of community and show our citizens a good time," said Mr. Ingram.
The event lasted as long as people kept coming out and gave everyone a good time.
Jacob can be reached at jacob@thevillagereporter.com
---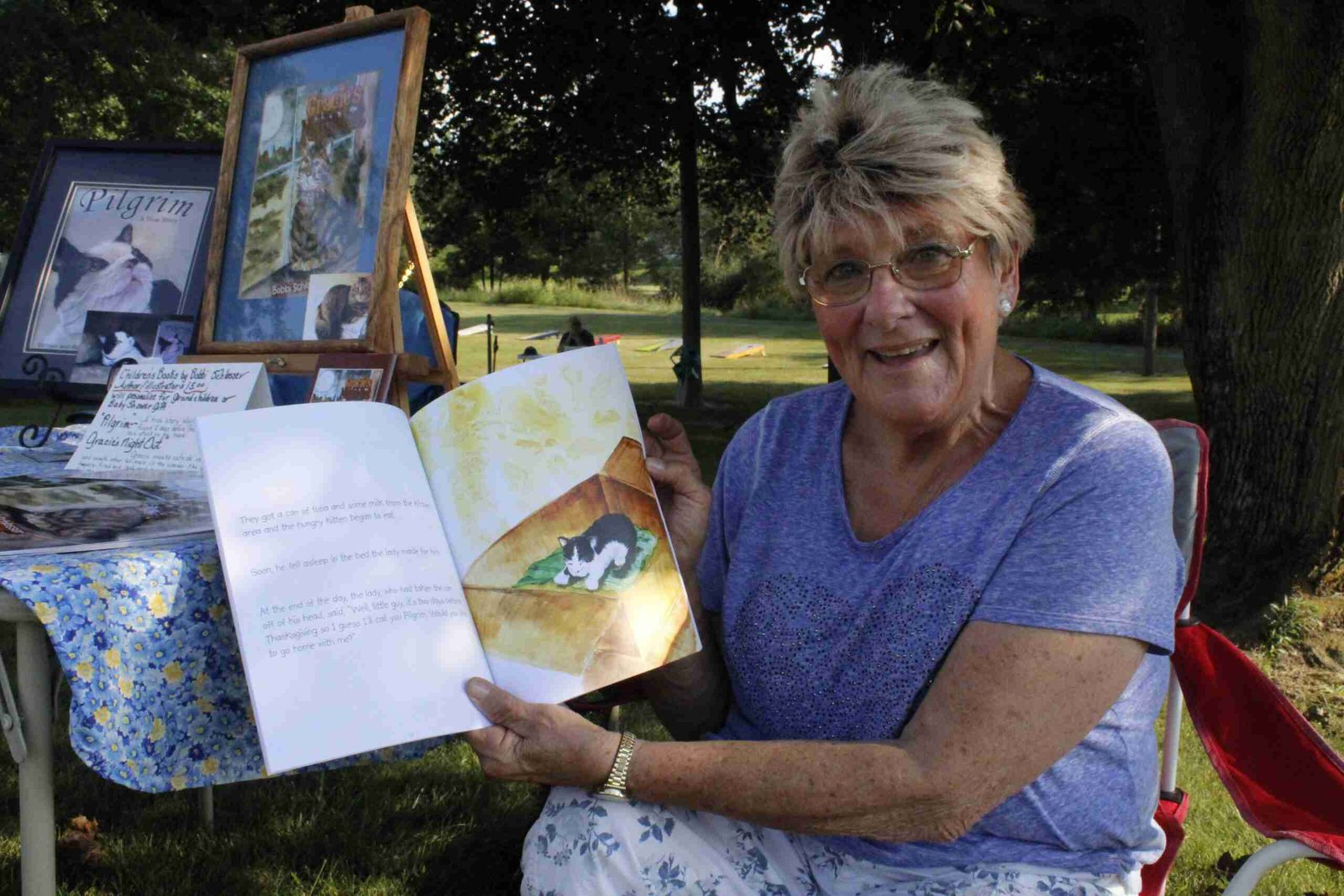 BOBBI SCHLOSSER … Bobbi Schlosser was present at the Stryker Heritage Days Festival to meet with children. Bobbi is a children's author and has written books about rescuing animals.
GET TOGETHER… People gather at the food vendors to order food and sit down to talk to one another.
---