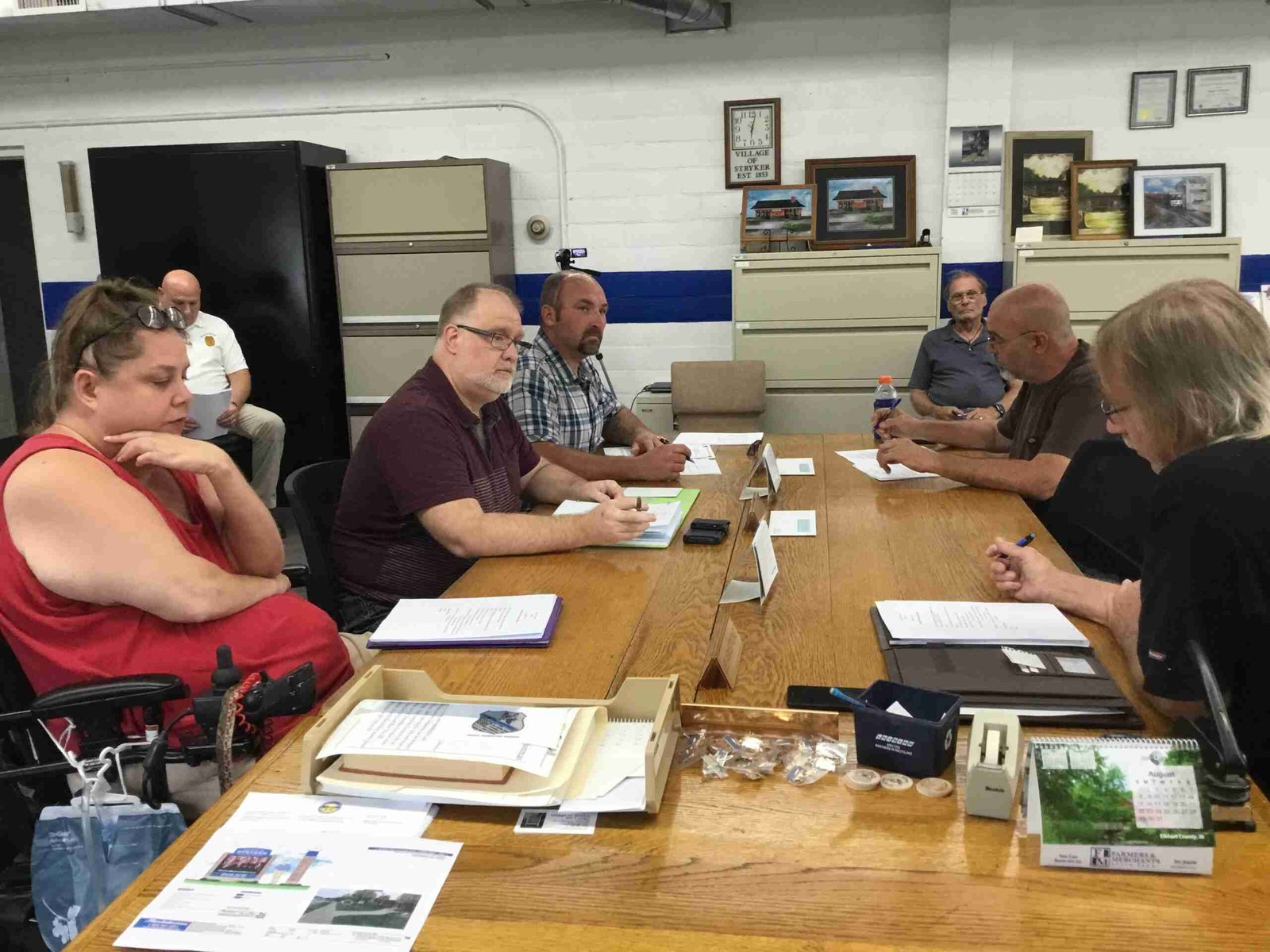 VIEW FROM THE MAYOR'S DESK … Starting on the left at the Stryker Village Council meeting held on August 16, 2021 are Council member Kim Feehan, Police Chief Steve Schlosser in the background, Council members Sean Ingram and Sam Farmer, resident Chuck McColl in backgound, and Council members Dave Benner and Lee Armstrong. President Lee Armstrong was leading the meeting as Mayor Joe Beck was not able to attend.
---
By: Rebecca Miller
Stryker resident Chuck McColl wants to decorate an area building for Trick or Treat night this year, so was present at the Stryker Village Council August 16, 2021 meeting to find out the date.
Council set it for Saturday, October 30th from 5:30 to 7:30 and McColl thanked them and said he would check into reserving the Park Shelter house for that night.
Mayor Joe Beck was absent so the meeting was led by President Lee Armstrong. Council member Vicki Cameron was also not present.
Council voted to approve the minutes of the July 19, 2021 meeting and the Finance Report, as well as the Judiciary Committee meeting minutes from July 19, at which it was determined not to change the ordinance to allow goats in the village.
A Finance Committee meeting was scheduled for September 20, 2021 at 5:00. In legislation, the council voted to suspend and pass Ordinance #2021-02 for Permanent Annual Appropriation Ordinance.
Rediger explained this was just to add the $68,000 COVID money to the budget. The thought is to use $11,000 of that for the water plant filter. That will leave money for Johnson St.
Armstrong announced that the "Good Neighbor of the Year" will go to Nick and Linda Woodall this year. They were nominated by Gary Stuckey and Armstrong said, "they are very active in the town and very caring people."
Village Clerk Beth Rediger said that usually the mayor will present a plaque and they will ride in the parade. The parade will be held on Saturday, August 21 as a part of Stryker Fest.
Council members Sean Ingram and Sam Farmer reported that they had a hard time this year getting Stryker Fest ready as they started too late and there were not enough people showing enthusiasm for it.
The Corn Hole Tournament will be held during the day, and the parade is scheduled for 5:00, run by the Stryker Area Heritage Council.
They expressed their hope that plenty of vendors and food trucks will show up. There will be music also. Ingram thanked Farmer for all of his help.
Following an Executive Session to discuss the possibility of hiring a new employee, with no action taken, Village Administrator Al Riegsecker reported that the sign will be completed at the factory on September 20 so the construction of that will begin soon.
The water tower inspection, of the 1939 tower, is completed and he got results. The total rehab of the old tower is $431,000.
The replacement would cost $1.5 million and grant money could be used for that. To just repaint the tower, with no updating, it would cost $72,000 and that would be good for ten years.
Structurally it is sound and basically they just think it should be brought up to today's standards. "It is fully safe as it is," he said so he leans toward the repaint.
Chief Steve Schlosser announced that Abe Stottlemeyer resigned and went with Defiance Police. "He is another one we have trained and sent off to bigger and better things."
There were 64 complaints, 15 traffic warnings, one citation and no arrests in July.
With no further business, the meeting adjourned.
Rebecca can be reached at publisher@thevillagereporter.com
---