---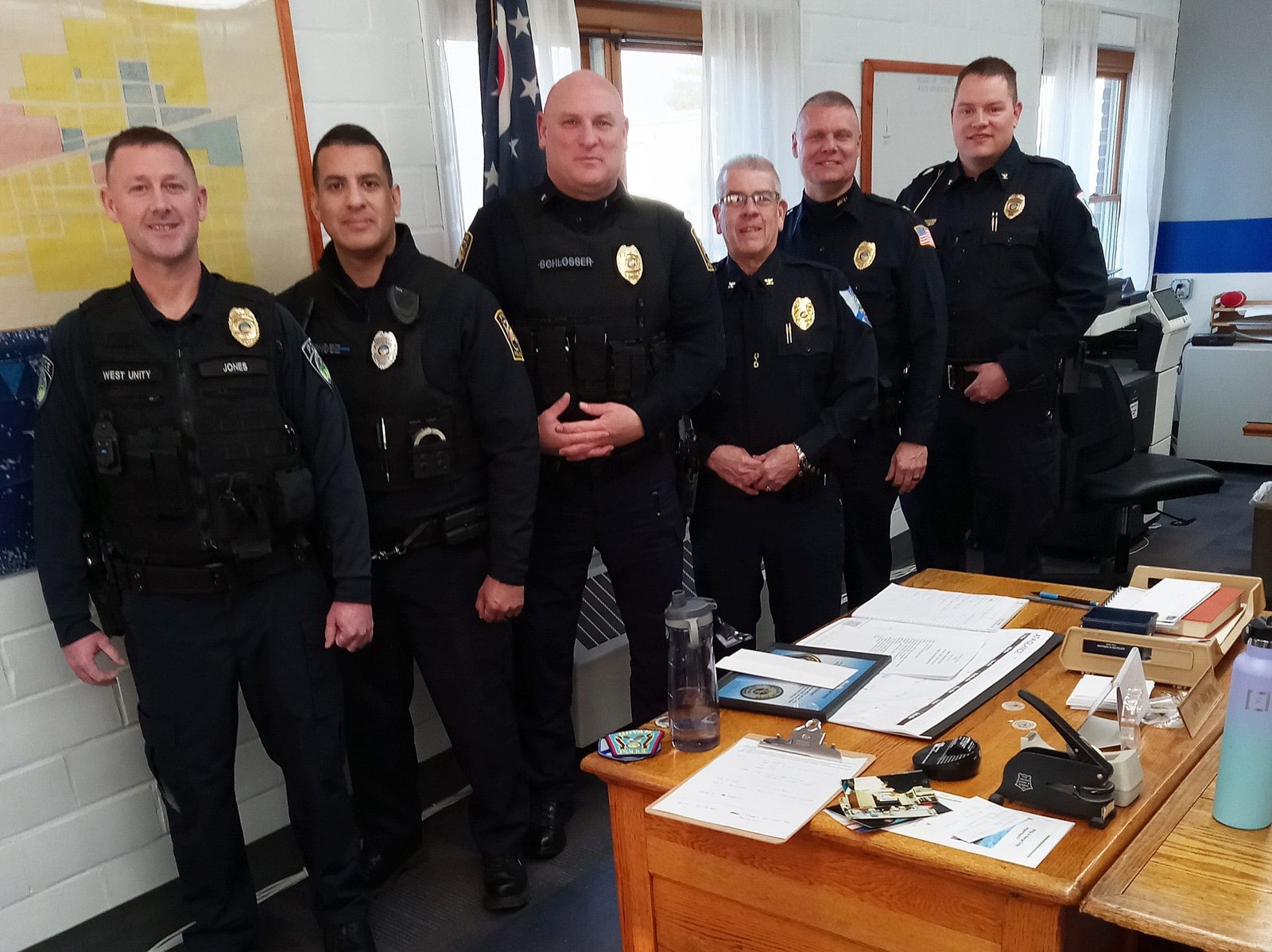 RETIREMENT CELEBRATION … Pictured, left to right, are West Unity Police Chief J.R. Jones, New Stryker Police Chief Steve Mendez, retiring Stryker Police Chief Steve Schlosser, Edon Police Chief Tom Szymczak, Montpelier Police Chief Dan McGee and Bryan Police Chief Greg Ruskey. Most of the Williams County police chiefs gathered at the Stryker Village Council meeting to celebrate Stryker Police Chief Schlosser. Schlosser served in the police force for 22 years, including four years in Montpelier. Schlosser served on the Stryker police force for 5 years and 13 years as the Stryker police chief. (PHOTO BY DANIEL COOLEY, STAFF)
---
By: Daniel Cooley
The Village of Stryker council meeting began with a judiciary meeting first, at 5:30 p.m., on March 20. Judiciary embers attending the meeting were Nick Wlasiuk, Sean Ingram and Rachel Garcia.
Members discussed the policy of motorized vehicles on sidewalks and streets, involving codified ordinances 371 and 373.
The members decided that the codified ordinances were adequate, regarding motorized vehicles. The three members then adjourned the meeting.
Next, promptly at 6 p.m., the Village of Stryker's regular council meeting of March 20, began. Patti Rosebrock opened the meeting with prayer.
The Pledge of Allegiance then took place, followed by roll call. All six council members, Vicki Cameron, Dave Benner, Wlasiuk, Dusty Potter, Ingram and Garcia, were in attendance.
Next, council recognized the retirement of Stryker Police Chief Steve Schlosser, who was attending his last council meeting.
Guests in attendance to honor Schlosser were West Unity Police Chief J.R. Jones, new Stryker Police Chief Steve Mendez, Edon Police Chief T.J. Szymczak, Montpelier Police Chief Dan McGee and Bryan Police Chief Steve Ruskey. Schlosser's wife Linda also attended the meeting.
All told, Schlosser was in law enforcement for 22 years. He spent the first four years on the Montpelier Police Department, beginning in 2001.
In late 2005, Schlosser joined the Stryker department and then became Stryker's police chief in 2010, where he served for 13 years.
Schlosser said he still plans to serve Stryker as a part-time police officer, but will take some time off first.
Schlosser then received a plaque from council member Cameron. Stryker Mayor Joe Beck then presented Schlosser with a special sign.
Next, council approved the minutes from the previous regular meeting of February 20 and the minutes from the special meeting held on March 2.
Council then approved the financial report from Fiscal Officer Beth Rediger.
In communications, Beck reported that there will be an open house for Chief Schlosser's retirement on March 30.
Village Administrator Alan Riegsecker reported that there will be a big trash pickup scheduled for May 6. Items for pick up can be put out one week in advance.
The village does have a list of items that the trash pickup will not take. Also, the council's dumpster will return at the beginning of April.
Riegsecker also stated that the water line on Johnson Avenue will begin soon.
Rediger reported that there will be a local government conference in the office, on March 28 and 29.
Next, council approved Resolution 3-2023-01. This resolution, according to the agenda, urges "the legislative branches of the federal government as well as the state of Ohio to enact legislation to further protect the citizens of the village of Stryker from the inherent dangers of a train derailment on the tracks located at or near the village."
Council then approved Resolution 3-2023-02. This resolution strongly urges the governor and the Ohio General Assembly to restore the local government fund, to what it was, before pre-recession levels and COVID-19. This fund, according to Riegsecker, represents a big part of Stryker's funding.
In council comments, it was decided that the time and date for Trick or Treat will be set at the next meeting, on April 17. Also, Riegsecker said that there is a list started for sidewalk repairs that are needed in the village.
Cameron said that she is working on getting book boxes within the village. Cameron also said that as a reminder, most of Route 191 is a no parking area. People seem to be disregarding that.
Council then voted to adjourn the meeting. The next council meeting is slated for April 17, at 6 p.m.
Dan can be reached at publisher@thevillagereporter.com
---